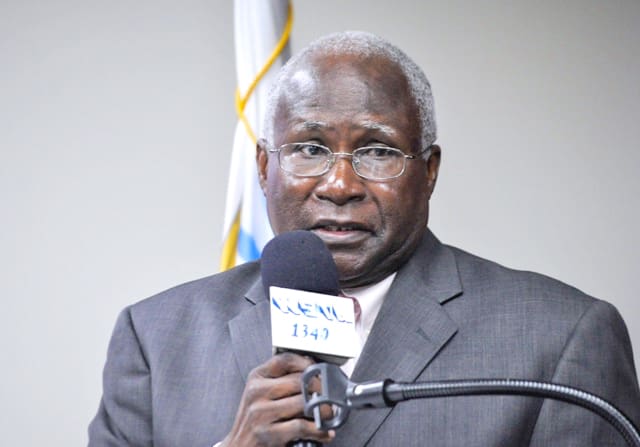 Vincent Liger, a member of the Government Employees' Retirement System Board of Trustees, congratulated Austin Nibbs, the System's Administrator, Thursday like he was history.
Liger said, "I know you have given the System your best."
Nibbs said when he came on board in 2007, the system faced many challenges. He said, "We were really down but we accomplish many things. He added that getting the System a funding source was the "Big Hurrah" for him.
No official announcement about who would be Nibb's successor was made but Dwane Callwood, chairman of the board, said after the Board's half-hour executive session, someone was selected during the session.
Although the board had a quorum of four when it went into executive session when the meeting was reopened, only members Liger and Callwood were still present, so no more action could be taken, and the meeting was adjourned.
Nibbs announced in December 2020 that he wished to retire in June 2021. The board has given him contract extensions since then. The latest extends to the end of this September.
The extensions have not been without controversy. Last year, after Nibbs was given a raise to $250,000 a year, Nellon Bowry resigned as chair of the Board of Trustees in protest.
Callwood did not respond to efforts by the Source to get the name of the selected candidate. Nibbs told the Source that he was not in the executive session and could not comment.
Present when the meeting started were Callwood, Liger, Andre Dorsey, and Leona E. Smith.