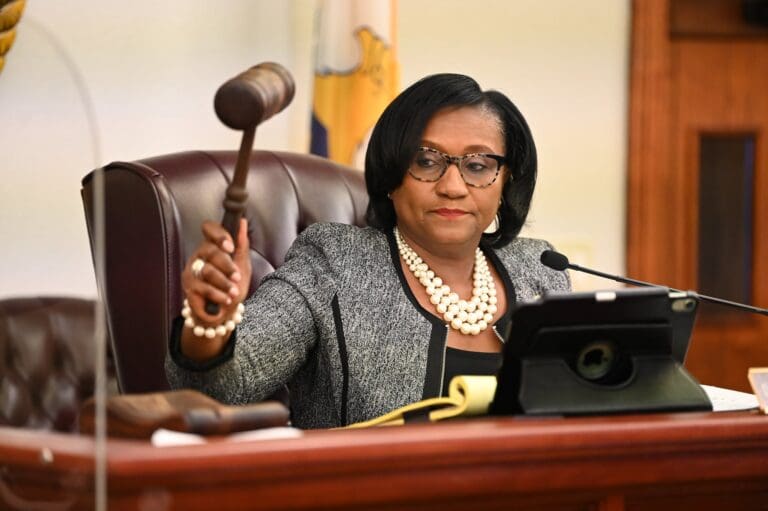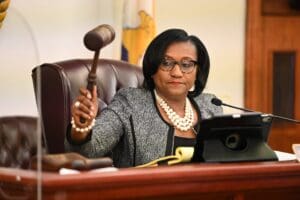 Legislators met in the Committee of the Whole on Wednesday to discuss zoning applications, one of which seeks to bring a five-story business hotel to St. Thomas. The plan involves the V.I. Government Employees' Retirement System rezoning land and leasing it to a developer.
Testimony and documents presented to the Legislature indicate GERS's role is to lease the land to a developer, who would raise the funds and build the hotel. GERS is asking that the land be rezoned to allow a hotel.
GERS is currently rapidly selling off its trust fund and will be insolvent in a few years. It previously loaned money to business enterprises in the territory. There was no mention of GERS financing at Wednesday's hearing, just a land lease and a rezoning request.
According to GERS Administrator Austin L. Nibbs, five years ago, plans were intended to demolish warehouses in the Havensight Mall to construct buildings that would serve as stores and apartments. At the time, the space was intended to be renovated to serve as a welcome center, parking, green space, and storage facility. However, within the last year, a proposal was brought to the GERS through V.I. Port Authority Director Carlton Dowe to construct a five-story hotel in the Havensight Mall.
[adrotate group="6"]
St. Thomas businessman Shaun Miller is listed as the developer. Miller is a managing member of Standard Aviation, a St. Thomas flight services company, and president of United Electronic Industries Services, a St. Thomas company that receives Economic Development Commission tax benefits to make electronic circuit boards.
"There has not been any construction of a new hotel on St. Thomas in over 30 years," said Nibbs. "The development will not only be a boost to the economy of the Virgin Islands and the GERS portfolio, but also a game-changer for the Havensight Mall."
If built, the anticipated hotel has plans for 126 rooms and 191 beds, an above-ground pool, fitness center, bar, and restaurant. Twenty-five employees are anticipated to be hired to operate the hotel.
The hoped-for project is similar to a 2018 proposal shepherded by then Gov. Kenneth Mapp for a private hotel project at Yacht Haven Grande. The 2018 plan called for 110 rooms. It, like the new proposal, envisioned saving money with new, modular construction methods. But this new project is projected to cost $20 million in private money, while the Mapp/Yacht Haven plan was to cost $38 million, with the V.I. government lending $10 million.
The Legislature ultimately nixed the Mapp plan and the contracted refinery payment that would have enabled the government to lend the money never materialized.
According to Nibbs, with this plan Havensight Mall, low-income residential areas like Paul M. Pearson Garden and Oswald Harris Court, and Roy L. Schneider System would be placed on a separate grid system operated by the Water and Power Authority, in the event of power outages. Further, Nibbs said that the hotel will aid in boosting the economy of the territory.
"We have learned from COVID-19. We took over this mall in 2020. It was managed by WICO for 20-something years, and that's when the pandemic came in. So, we have been struggling with the mall. We know we have to diversify. We have to have more local foot traffic. We cannot depend 100 percent on cruise ship activity anymore," said Nibbs.
Varying opinions were given by senators. Sen. Alma Francis-Heyliger inquired about the possibility of lessening the height of the structure so as to not impede the view of the landscape. She asked about making the structure wider and less tall. However, Kent Michaels, senior vice president for Strategic Advisory and Asset Management at JLL, a company that assisted in providing a feasibility study for the hotel, said that doing so would subtract from the greenspace of the property.
"Usually constructing hotels that are shorter rather than taller is actually less expensive, so from an economic perspective tends to be easier, in fact," said Michaels. "But having green space in the community is a desirable feature as well."
Sen. Janelle Sarauw, however, was not in favor of the hotel. She shared concerns about the influx of visitors and the impact on the environment.
"Do you saturate a 32-square-mile island with hotels?" asked Sarauw, as she listed some of the hotels on St. Thomas. "I am really concerned, as a millennial, of the landscape of the territory, moving forward … Taking good space, for a hotel."
Should it happen, the hotel is anticipated to be constructed in two phases over a period of 14-16 months.
In addition, two other proposals were discussed:
• ZAJ-22-1- Application for property in Estate Susannaberg on St. John to be zoned from public land to residential medium density to construct villas.
• ZAT-22-1- Application for property in Estate Frydenhoj on St. Thomas to be zoned from residential low density, one and two-family to business scattered for the development of a two-story commercial building.
Matters were not voted on in the committee. Action on the zoning applications will be taken during a legislative session.
Sens. Donna Frett-Gregory, Marvin Blyden, Samuel Carrión, Dwayne DeGraff, Novelle Francis, Jr., Alma Francis-Heyliger, Kenneth Gittens, Javan James Sr., Franklin Johnson, Carla Joseph, Milton Potter, Janelle Sarauw, and Genevieve Whitaker were present.