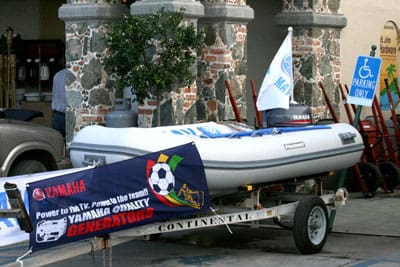 The Friday after Thanksgiving, November 28, is when all the fun starts and it continues through Saturday night, October 29, in Coral Bay. This year, the Race Committee is changing things up a bit.
On Saturday, as usual, the PHRF class will start together. All other classes will have staggered starts in a Pursuit Race. Boats' handicap ratings will determine their start time with the goal of most boats finishing together.
Skinny Legs Restaurant is the home of the Coral Bay Yacht Club, and the place to meet for Skipper's Meetings, music, food, drink and the Awards Ceremony.
Schedule of Events
Friday, morning November 28: Gaffers, Single Handed 30 ft. and under; Single Handed over 30 ft. but under 40ft.; Single Handed 40 ft. and over; and Multi-Hulls Race. Registration at 8:30 a.m. at Skinny Legs. Skipper's Meeting at 9:30 a.m. at Skinny Legs.
Friday evening 5 – 7 p.m.: Mandatory registration for all Saturday Pursuit racers. This is all boats other than PHRF. If a skipper is unable to attend, call Dick Burks at 340-643-5261 or Bill Wilson at 340-642-2728 to obtain a start time for Saturday morning.
Saturday, November 29: PHRF I, PHRF II, and Pursuit Class Race. Skipper's Meeting at 8:30 a.m. at Skinny Legs. Pursuit Racers' start times announced.
Saturday evening, November 29: Awards Ceremony at Skinny Legs starting at 5:30 p.m.
Please Note traditional boat class shall have a gaff or low aspect ratio sail. Consult the Race Committee for luff-foot ratio. The Race Committee reserves the right to disallow non-traditional vessels. Pursuit Class will have open sail choice.
The entry fee is $40. All proceeds go to the St. John Kids and The Sea program. Raffle tickets — for a chance to win a brand new dinghy and motor — are for sale at Connections East and West, St. John Hardware and Paradise Lumber. For more information call Denise Wright at 340-513-4022.