GHS students with Frank Cummings of VI SNUBA Excursions helped ease the island's lionfish threat recently. Photos by Fernando Ramos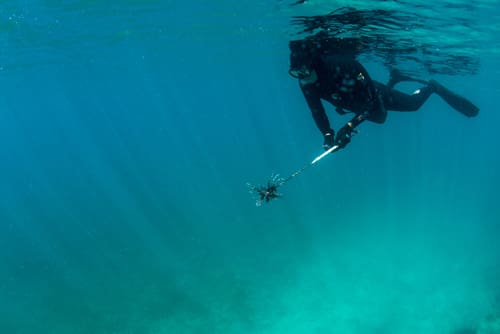 One of the estimated 12 lionfish speared by volunteers during the GHS mini-mester.
Eleven Gifft Hill School upper campus students helped ease the island's lionfish threat recently.
Students spent their "mini-mester" session snorkeling with Frank Cummings of V.I. Snuba Excursions and officials from the Caribbean Oceanic Restoration and Education (CORE) Foundation in four bays searching for the invasive lionfish, which pose serious threats to local resources.
A native of the Pacific and Indian Oceans, lionfish have been wreaking havoc in the Atlantic Ocean and Caribbean Sea since the species were likely dumped off the coast of Florida in the early 1990s. Lionfish have no natural predators in the Atlantic or Caribbean and feed voraciously on reef fish.
The declining number of reef fish lead directly to declines in reef health, as seen in Bahaman waters, where lionfish virtually wiped out large numbers of local reef fish. The death of the fish led to serious declines in coral health.
Locally, officials have launched a campaign to educate residents and visitors about the threat. Since lionfish often remain in the same area, swimmers and snorkelers who spot a lionfish are asked to mark the area and report the sighting to CORE at (340) 201-2342. A trained diver will then respond and, hopefully, spear the fish.
The GHS mini-mester went even one step further, educating the island's next generation about the lionfish threat, explained Cummings.
"The kids were awesome," Cummings said. "They were diving down pretty deep and they were all very excited to be helping out on this. They are the next generation and they'll have to get a handle on this lionfish problem."
"It's not going away," he said. "We need to get everyone involved in this."
The group snorkeled in bays from Haulover to Chocolate Hole and successfully eliminated about three to four lionfish each day, according to Cummings.
While the students themselves did not handle the spear guns, they were a huge help in identifying the fish, Cummings added.
While CORE continues to host trainings and routine searches for lionfish, the group needs assistance.
"We need funds," said Cummings. "It's a pretty effective response, but we  need money. We were flat broke and then got some funds from Friends of V.I. National Park, but that will only last a few months."
For more information about CORE and how to help in the fight against lionfish, call St. John CORE representative Leslie Charpentier at (340) 344-2989.