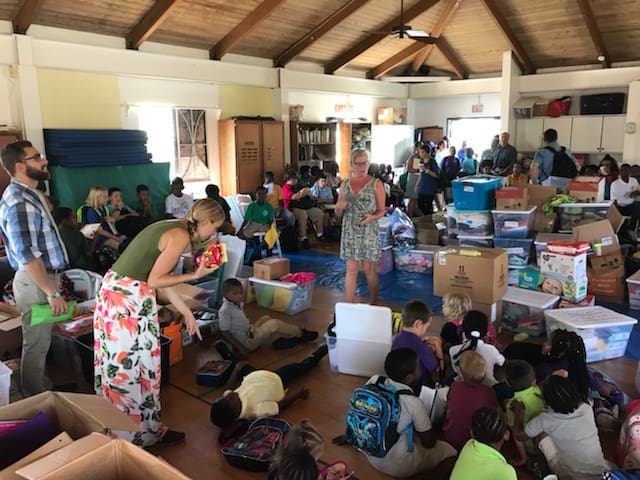 "We have a lot of friends right now who we wouldn't recognize if we saw them," Gifft Hill School head Dr. Laurie Bottiger told the student body at a recent afternoon meeting.
The school's 113 preschool through 12th grade students sat in the lower campus great room among boxes sent to the school via the Adopt A Family program; enough boxes were sent for each student to take one home. More boxes of donations collected by Girl and Boy Scout troops in New York, delivered to the school via the Bloomberg USVI Recovery group, sat on the great room stage. A significant donation of 18 pallets of clothing, toiletries, food, and school supplies, organized by GHS teacher Rachael Fox's family, had already been distributed to classrooms and students. Kindergarten and first grade students read cards at the afternoon meeting with sweet messages sent by students at a school in Utah.
"I hope you have power at your house," one student read.
"I'm sorry this happened to you," said another.
[adrotate group="6"]
"I hope you're safe," read one young student.
Indeed, GHS has many friends who have reached out to the school with donations, financial support, and messages of hope. The school's aim to provide a compassionate community for its students has never been more apparent than in the days since category 5 Hurricane Irma made a direct hit on the island of St. John on September 6. Less than three weeks after the devastating event, and less than one week after category 5 Hurricane Maria swept just south of the island, GHS opened its doors to all island children they could reasonably accommodate free of charge. Many people who love St. John, and even those who'd never heard of the island, have opened their hearts to the school.
Miss Rachael was blown away when her stateside family members brought in a $5,000 cash donation and an incredible amount of clothing, toiletries, food, and school supplies following the storm.
"It started with my family asking how they could help," says Miss Rachael. "My sisters pretty much took it and ran."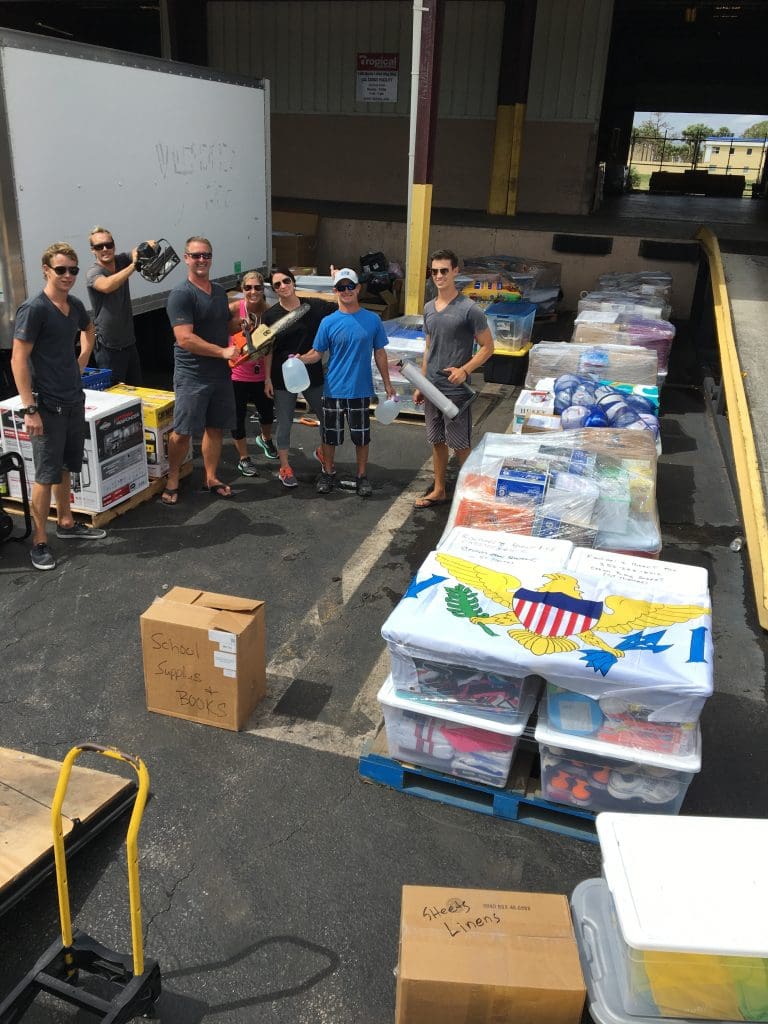 The money and supplies were raised at various drives and events, including a tennis tournament at the North River Shores Tennis Club in Jensen Beach, Florida. Thanks to many helping hands along the way, the 18 pallets were packaged, shipped, and delivered to the school's great room, where each student was given the opportunity to "shop" among the items for supplies to bring home to their families. The remaining supplies were then donated to the St. John Christian Academy and the Julius E. Sprauve School.
"I was in awe of what my little community did," says Miss Rachael. "I've received emails from people I don't even know asking what else they can do. My family loved seeing pictures of the joy on the kids' faces, and knowing how many families their kindness affected."
Each item the students bring home, from plush Mickey Mouse dolls donated by the Red Cross to brand new backpacks, brings with it a sense of comfort stemming from the realization that so many people, whether friends or strangers, care about Gifft Hill School and its students. Now, as the school's supply wish list dwindles, financial support remains a high priority.
"What we need to do is make sure that our school has the funds we need to remain safely, productively, and sustainably operating," says Dr. Laurie.
GHS has waived tuition for all families for this academic year, and many costly repairs are in the works on the school's property. To support GHS, please visit https://www.giffthillschool.org/support_donate.html.