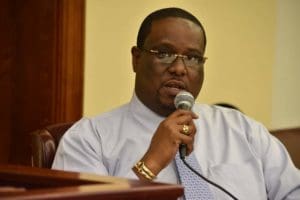 Sen. Kenneth L. Gittens thanked the community for prayers and well wishes on Sunday after being admitted to the hospital Saturday afternoon.
Gittens remains in stable but serious condition at Juan F. Luis Hospital on St. Croix following a diagnosis of blood clots in his leg and lungs. He sought medical attention over the weekend after feeling unwell for several days, the senator said in a news release issued Sunday.
According to other news reports, Gittens at first thought he was suffering from gas pains, but then sought medical help when they did not resolve.
The senator said he was awaiting further information from his doctors and would keep the community informed.
"I was hoping I would have more information to share before I made a public statement," Gittens said. "However, I deeply appreciate the concern and thank all who have reached out to me. Unfortunately, I am unable to respond directly at this time and beg your indulgence. I would also like to thank Acute Alternative Urgent Care and the staff at JFL for the care I'm receiving. Keep praying for me," the senator said in his statement.