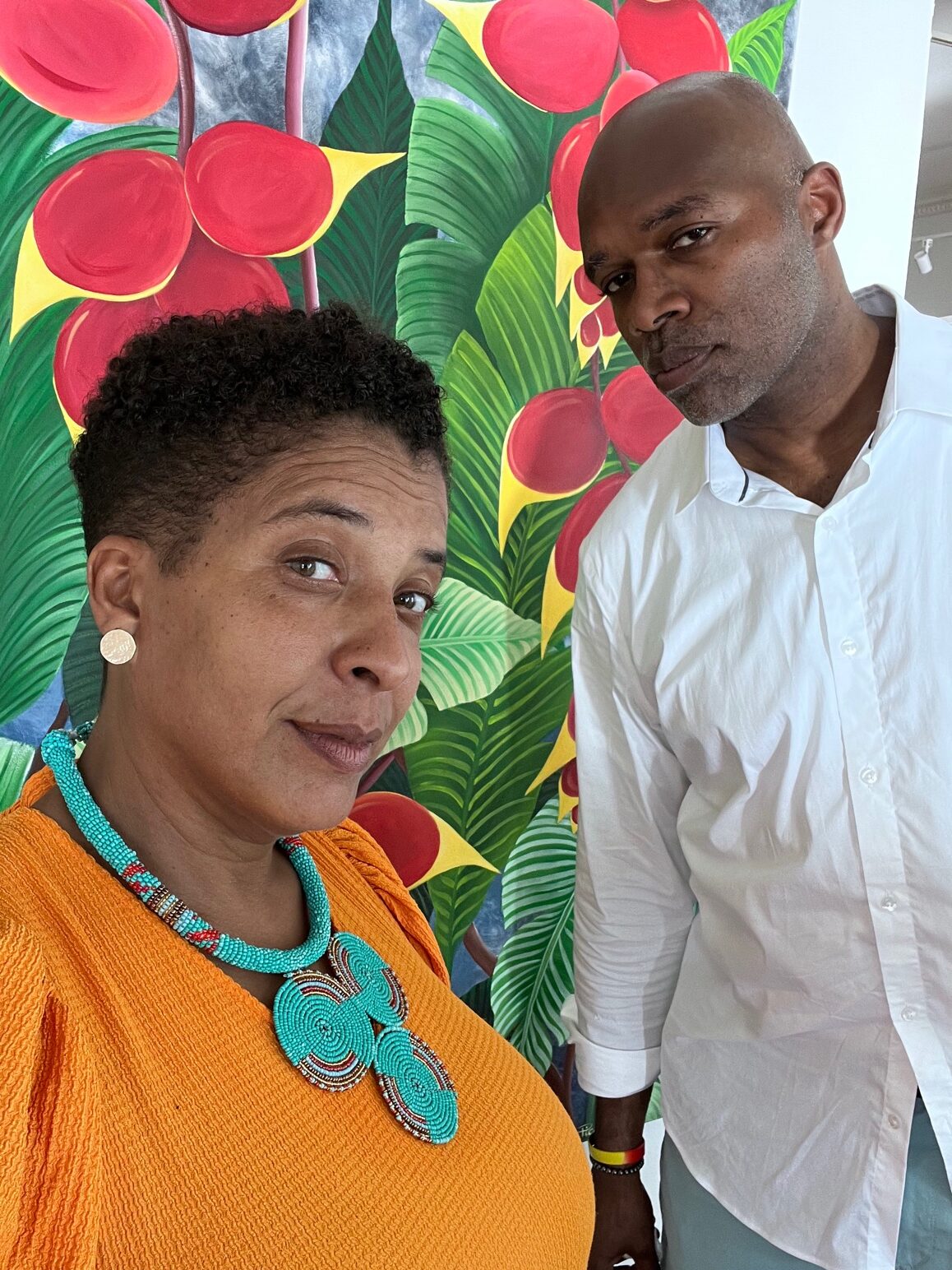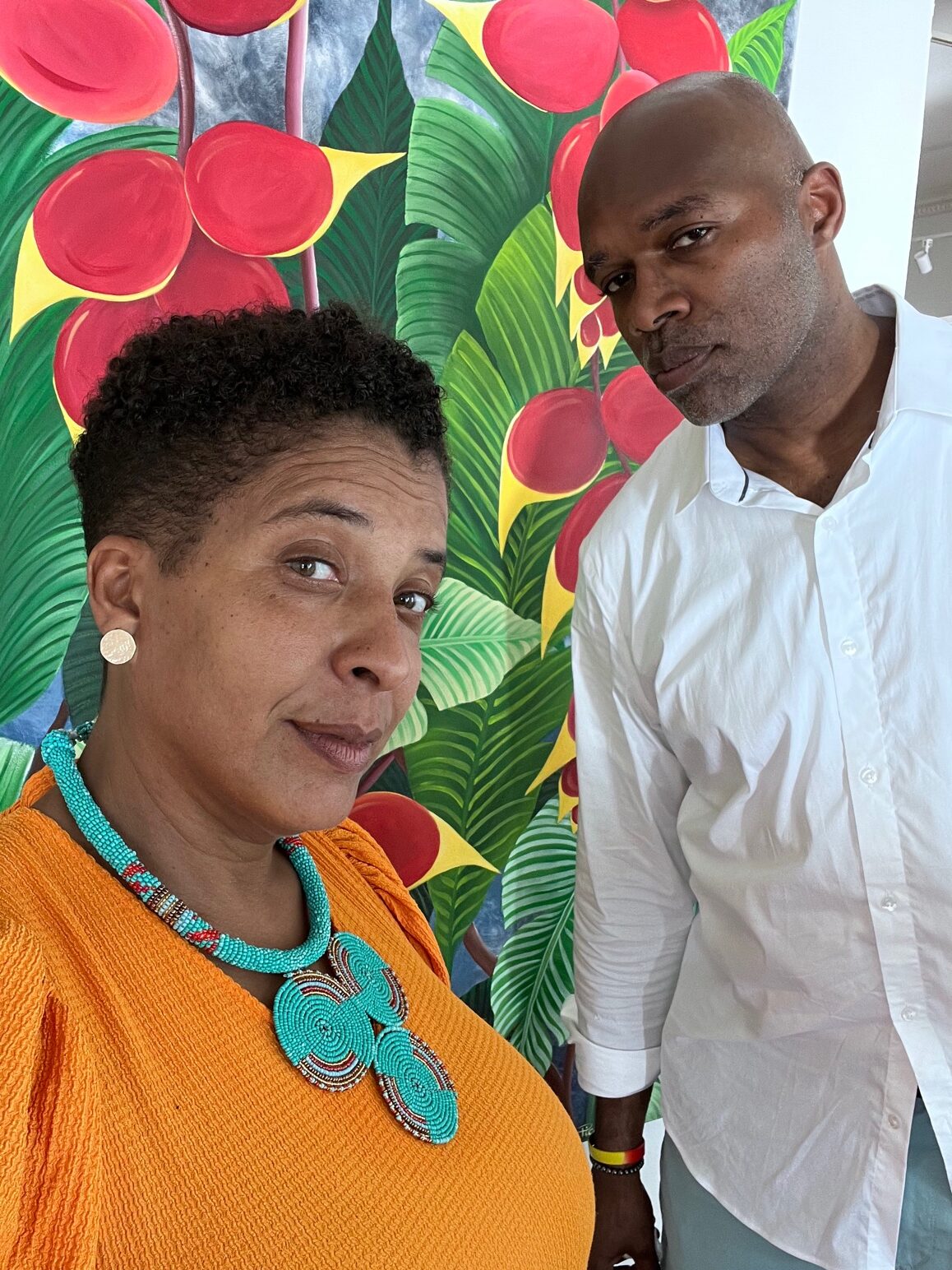 Local youth will take a mic in the courtyard of the Caribbean Museum Center for the Arts, Saturday, April 29, from 1 p.m. to 3 p.m. This free event is a collaboration of CMCArts Artist-in-Residence Tai Allen and St. Croix Educational Complex High School drama teacher Sayeeda Carter. 
A Poetry Adult Workshop was offered April 25, 6 p.m. – 8 p.m. Eleven adults over the age of 18 and up attended. Three attendees were seniors over the age of 50 years. Poetry is bridging the years with teens and seniors mixing it up. Look out for the "Open Mic" portion of the event!
Allen worked with 60 students at SCECHS during the week of April 17: Lynch and Carter's classes Monday and Wednesday and Copemann's classes Tuesday and Thursday, in school. Carter's SCECHS and St. Croix Central High School after-school drama club Monday through Thursday.
Fifteen students [four from St. Croix Central High School, ten from SCECHS, and one homeschooler] who were part of last week's program, took time from their spring break to attend the workshop at CMCArts April 25-28, 1-4 p.m. Allen and Carter worked with them in preparation for the upcoming performance on April 29.
The first day was productive as students perused the artwork in the upstairs gallery and wrote poems on the feelings that evolved from the artwork. Some students shared their writings. 
Several expressed their interest in learning more about poetry. Some said they like to write and looked forward to the interaction with the other students. Those who worked with Allen and Carter at SCECHS felt motivated to continue in their week off from school.
Darines Sanchez is a grade 10 SCECHS student, who played Lady Capulet, Juliet's mother, in "Romeo and Juliet" produced by Carter and performed for three evenings in the school auditorium recently. "I didn't have faith in my performance and I was so nervous backstage." But she got a "thumbs up" from the audience, she said with a huge smile. 
Sanchez loves being in Carter's after school drama club. It gave her a chance to interact with Allen in preparation for this week at CMCArts. The assignment to write a monologue is not an easy one for Sanchez. "I find it hard to write about myself, because it will expose my insecurities." She will do her best, she said, although it would be easier to write about anything else.
Nyah Hamann is in grade 9. For the CHS student, this is her first year in the drama club and her first time writing poetry. "I took part in the after-school program with Mr.Allen and I thought it would be a good experience for me to take time from my spring break and join the project."  
"I found it a little difficult to write the monologue and to write about the artwork, but I did take notes for both," Hamann said. She also said writing about herself was so revealing and the artwork she chose had more in the image than meets the eye.
This was Day One in the Emancipation Project. Both students expressed an air of maturity and self-knowledge in their conversation. The community can look forward to a valuable program coming from the Youth with a Mic this Saturday.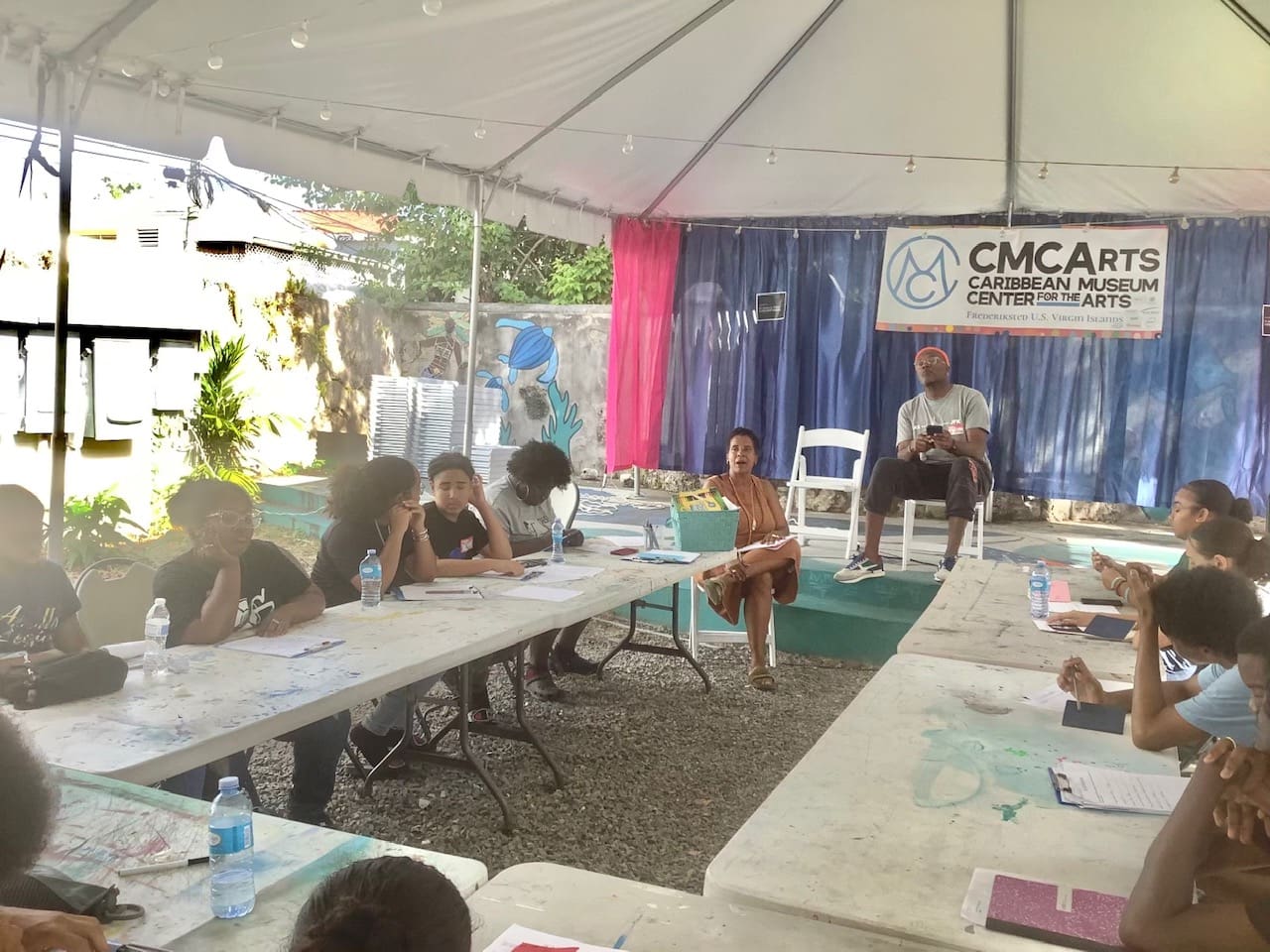 CMCArts Education Coordinator Jessica Parker White told the Source it was a privilege to see Allen and Carter working with the teens during the week at the Complex, helping them in their delivery. The words are the students' own, she said.
"Their messages are powerful. My hope is to see every chair at CMCArts is filled with our supporting community members. Quality instructors will always help inspire students to create their best. CMCArts continues to create educational programs to help promote and inspire all forms of the arts, White added.
As students walked around the upstairs gallery, White captured photos of grade 12, Ashaun Derricks and grade 9, Zahara Perez. Both were focused in their study of the artwork and their notetaking for their assignment. Later, when the students gathered under the tent in the courtyard, Derricks, Ray Belardo, and a few more students took to the stage and shared their completed poems.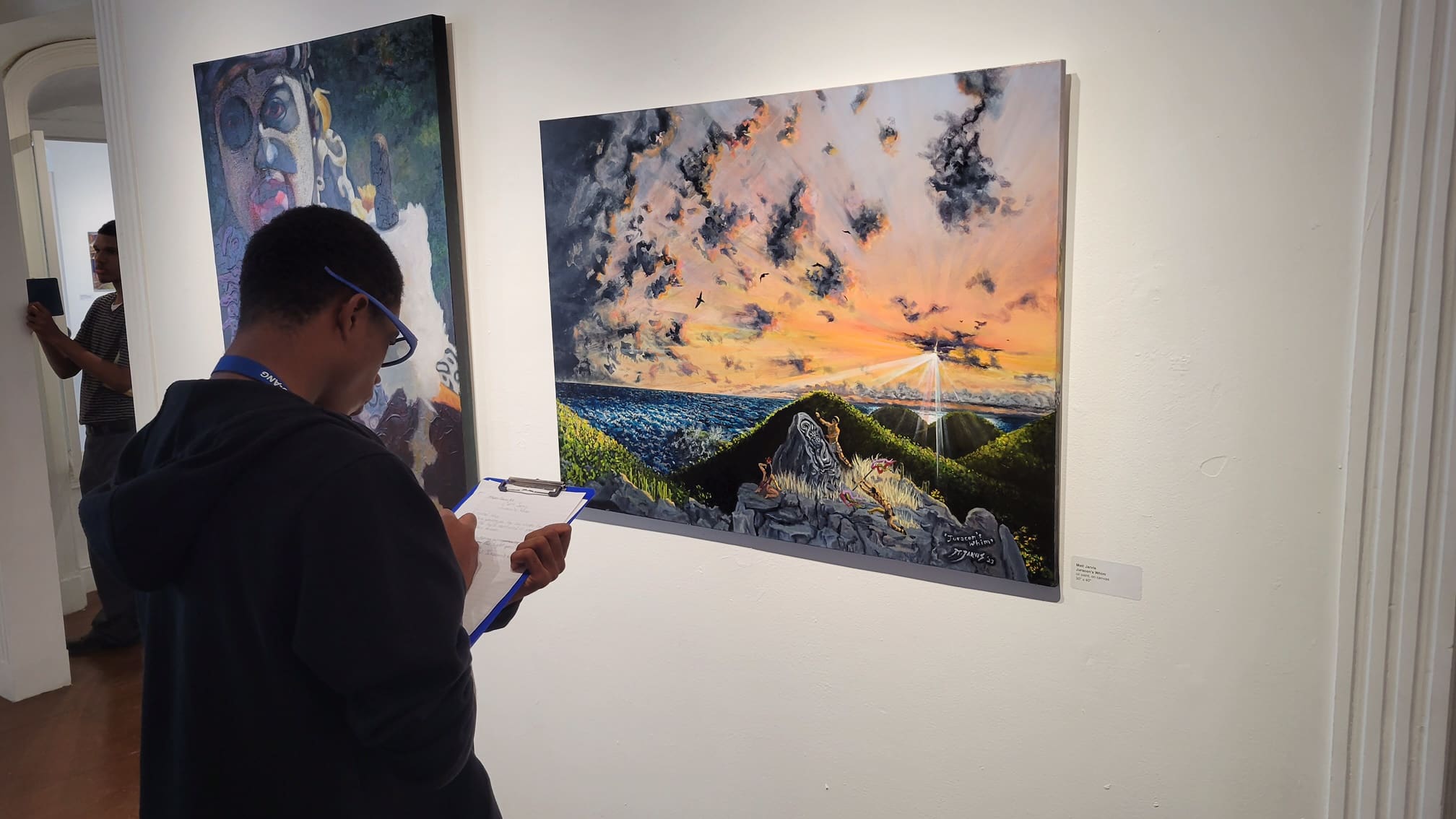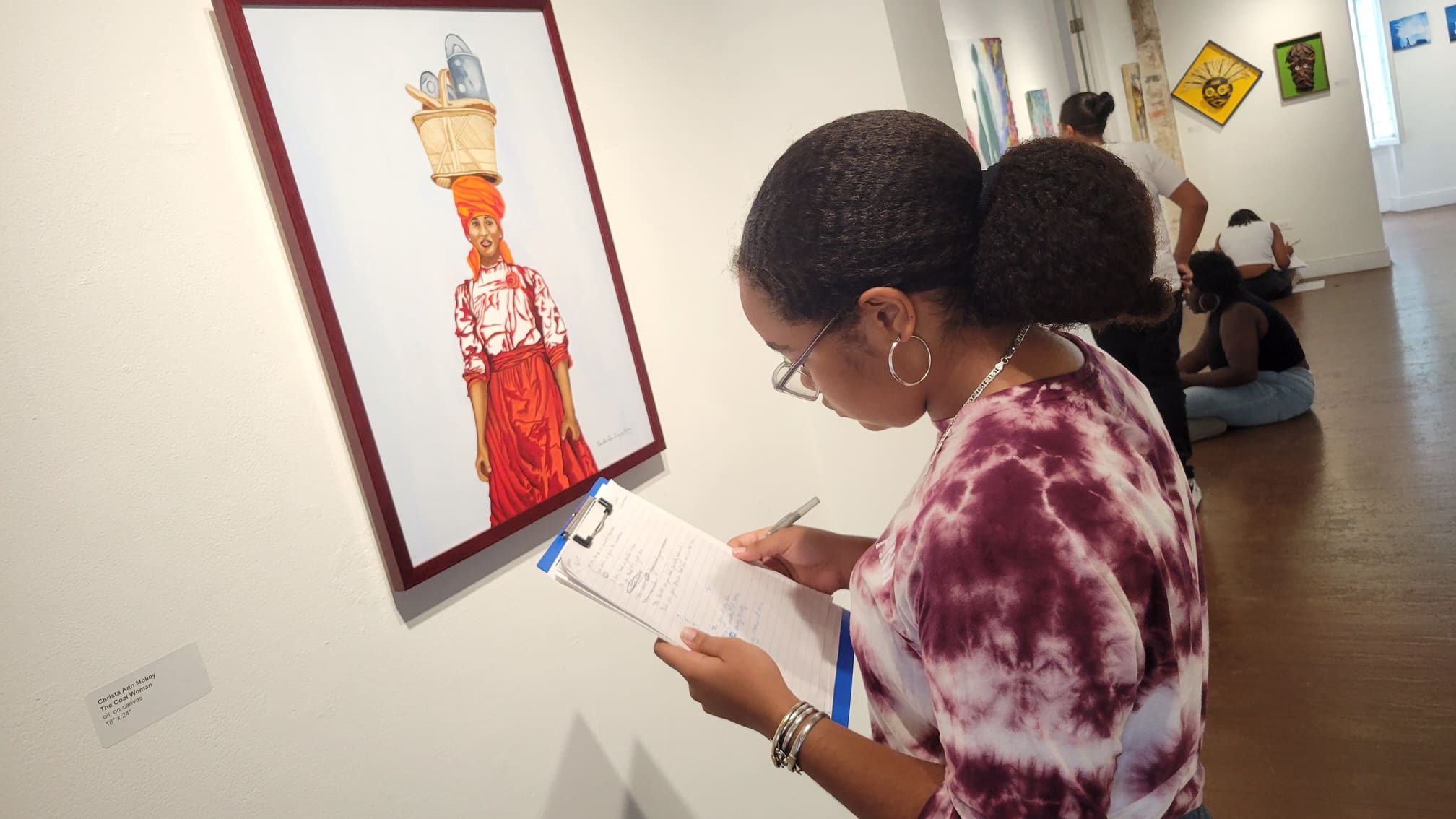 Allen's interactions with the students were great, he said. "I used poetry as a facade to get them to warm up, to show them how to treat their message, and how they could express themselves doing community work in their writing about the Emancipation. I got them to think critically. I used poetry and jokes to get them to do it without knowing they're doing it, until they finally knew what was going on. I used art to discuss and build critical thinking."
Allen is a "poet, singer, social justice activist, curator from NYC, who loves making and enjoying art." His art is not for art's sake, but for the upliftment of communities and, sometimes, for the communities to dance the jig, he said. 
As a performer, since 1997, Allen has been blessed, he said, to headline or feature at: Apollo Theater Music Cafe; Brooklyn Academy of Music Cafe; American Jazz Museum; Art of Cool; Blue Note; Brooklyn Art Council; and National Black Writers Conference. 
Allen is also an advisor and strategist to non-profits, agencies, and community-minded organizations. He has been doing this work since 2007.
When asked how he feels about working with young people, Allen answered that he loves it. "It's been a long time since I've worked with the youth and this trip has reminded me just how much I miss it." I have to figure out how to reincorporate that into my life, he said. 
Allen has been invited to come back to St.Croix to take part in the 2023 Literary Festival. He will be on a panel and will also perform. "Looks like I'll be back on St. Croix every year," Allen said with a laugh.
Carter is in her third decade as a public school educator and an advocate for encouraging students on a path to excellence. Carter challenges young people to develop themselves, especially those cast aside by structural oppression and left for dead by benign neglect. Carter has posited the brilliance of her students' black and brown "historical" ancestors as the rallying cry for their growth and development. 
Using theater, literature, and student writing, Carter directed and produced over a dozen student productions that foster pride in self and give young people the satisfaction of collaborating to achieve a shared goal. 
In 2020, Carter launched Act Out Ensemble Theater of the Oppressed Virgin Islands, [still in its infancy] an ensemble of community activists, educators, museum curators, environmental conservationists and completed a six-week training to set the stage for tremendous and impactful community dialogue.
"We have had over 15 public events and three dozen ZOOM meetings, but there is so much to discuss proactively and there are so many concerns for this unique way to unpack our dysfunctions and save ourselves," Carter said.
The community can expect the Allen/Carter collaboration to usher in a powerful display of talent from our youth and the adults. 
Give A Youth A Mic features DJ KAZZ and an Open Mic. The event is FREE… Registration is encouraged.
CMCArts Artist-in-Residence Program thanks the sponsors: 
CFVI Popular Bank VI Community Grant Fund and Alpine Securities
For more information:
cmcarts.org
www.taiallen.com/why-tai
www.taiallen.com/movingpix
Connect with Sayeeda Carter on Facebook