While it was a few days early, the large crowd gathered at St. Ursula's Senior Citizens' Multipurpose Center to honor five members of the community at a pre-Thanksgiving luncheon on Tuesday, November 20, was in the true holiday spirit.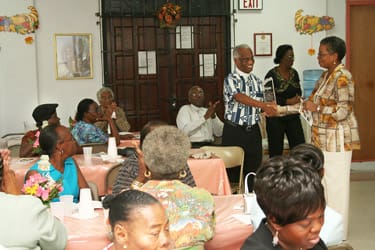 Leone "Lee" Morris, Esther Clarke, Victor Sydney, Clarissa Belleau and Julia Matthew were awarded glass plaques in recognition of their dedication and volunteer work at the center, explained St. Ursula's Multipurpose Center director Clarence Scipio.
"The five honorees are worth their honor in gold in recognition of their collective and distinguished service to the wider Virgin Islands community," said Scipio.
"I am gratified by the opportunity to acknowledge the special efforts for their dedicated contributions, unselfish and unconditional support and being role models to their families and indeed the entire community."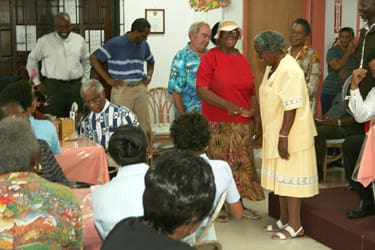 Surprised By Award
Although Morris, who moved to Love City from California more than 10 years ago, recently helped spruce up the Episcopal Church and often sits in the with band, she was surprised by the honor.
"I'm really overwhelmed," she said. "I didn't think painting the front of the church was too big of a deal. And I love to play the organ any chance I can."
Instead of discussing her own works on behalf of the center, Morris told the crowd about her husband Bill, who is a volunteer math teacher at the Julius E. Sprauve School.
"My husband loves children and has been a volunteer teacher at JESS for six years now," said Morris. "He's teaching math, which kids must learn to succeed in today's world. That is why he isn't here now — he's down at the school teaching."
Retired nurse Esther Clarke was unable to attend the luncheon due to health reasons, but her husband Reverend Canon Julian Clarke accepted the award on her behalf.
Nurse And Activist
A graduate of the University of the Virgin Islands, Esther Clarke worked as a registered nurse for more than 30 years in Tortola, St. Thomas, Georgia, South Carolina and Miami. But there is also another side to Esther Clarke, explained her husband.
"Esther was a nurse, but she was also an activist," said Julian Clarke. "She was on the front page of the Daily News not too long ago because the Department of Health was not taking care of the facility she was working in. Esther spoke out and they fixed it up."
"I am honored to receive this award for her," Julian Clarke said.
Acting From the Heart
Sydney, a Montserrat native, has owned and operated Victor's New Hideout in St. Thomas for 32 years and consistently supports non-profit organizations including St. Ursula's Multipurpose Center.
A founding member and past president of the political action group V.I. Restore Hope, Sydney regularly fills in on radio programs on WVWI and WSTA.
Helping others is so natural for Sydney, he doesn't even realize what he is doing, the restaurant owner explained.
"You do things out of kindness and don't even realize you're going out of your way because it comes from the heart," said Sydney. "Thank you for this public recognition."
As grant monitor/evaluation manager for the Department of Human Services, Belleau works with non-profit groups throughout the territory.
Before joining the Human Services team, however, Belleau was employed with the Department of Family Services where she was instrumental in establishing the V.I. Victims' Advocate program, explained Human Services Assistant Commissioner Michal Rhymer-Charles, who presented the award.
"Clarissa is an asset to our community," said Rhymer-Charles. "She continues to help in many ways through her job and beyond."
Matthew, a native of St. Kitts who moved to St. John in 1962, was showered with gifts, flowers, cards and hugs from family members and friends. Matthew was employed at a number of establishments over the years including the then-famous Hulda Sewer Guest House, now known as the Inn at Tamarind Court.
She also worked at the Julius E. Sprauve School for 12 years before retiring in 2001. While Matthew has officially retired, as a member of the Retired Senior Volunteer Program she continues to give back to the community, explained Delegate to Congress Donna Christensen, who presented the award.
"After retiring professionally Julia came back and volunteered," said Christensen. "She still gives back to this community and we are blessed for that."
While Matthew has many friends across the island, she singled out John Gagliotti whom she met at the seniors' center.
"I want to thank God for all of my friends especially my friend John," said Matthew. "This is a great surprise for me and I thank everyone."
Rhymer-Charles was still recovering from a recent bout of the flu, but was not about to miss the St. Ursula's luncheon.
"I may not be in the best of health, but I wanted to come here," said the assistant commissioner of Human Services. "This is a day of thanksgiving which I believe is not just a day, not just words and not just saying, 'thank you.' We should all have an attitude of thanksgiving all the time."
Senior centers are places full of life and the department will continue to support St. Ursula's Multipurpose Center, explained Rhymer-Charles.
"I love going to senior centers because they are so full of life," she said. "This place is a beacon and a ray of hope. We will continue to support St. Ursula's — I pledge that to you."
While the community faces many challenges, people have much to be thankful for, explained Christensen.
Youth Need Guidance
"This is a community with many challenges, but we're going to meet those challenges and put them behind us," said the Delegate to Congress. "We have many, many things to be thankful for including the staff and volunteers here. You give of yourselves so tirelessly."
Seniors have a responsibility to share their knowledge with younger people, according to Professor Kortright Worrell, who spoke at the gathering.
"Seniors have a strong responsibility to our society," said Worrell. "The things you know, the things you have suffered and the lessons you have gleaned from your experiences — the youth don't know those things. They need your guidance."
And youngsters were at the luncheon. Members of Charlotte Amalie High School's Inter-Act Club, supported by St. Thomas Rotary, helped serve the food along with members of the Perfect Ashlar Lodge #766 and the Heroines of Jericho Stafford-Hall Court #205.
St. Ursula's Senior Citizens' Center can always use donations and volunteers. For more information call the center at 693-8685.
Go to:
www.stjohntradewinds.com/forum
to discuss this story on our forum