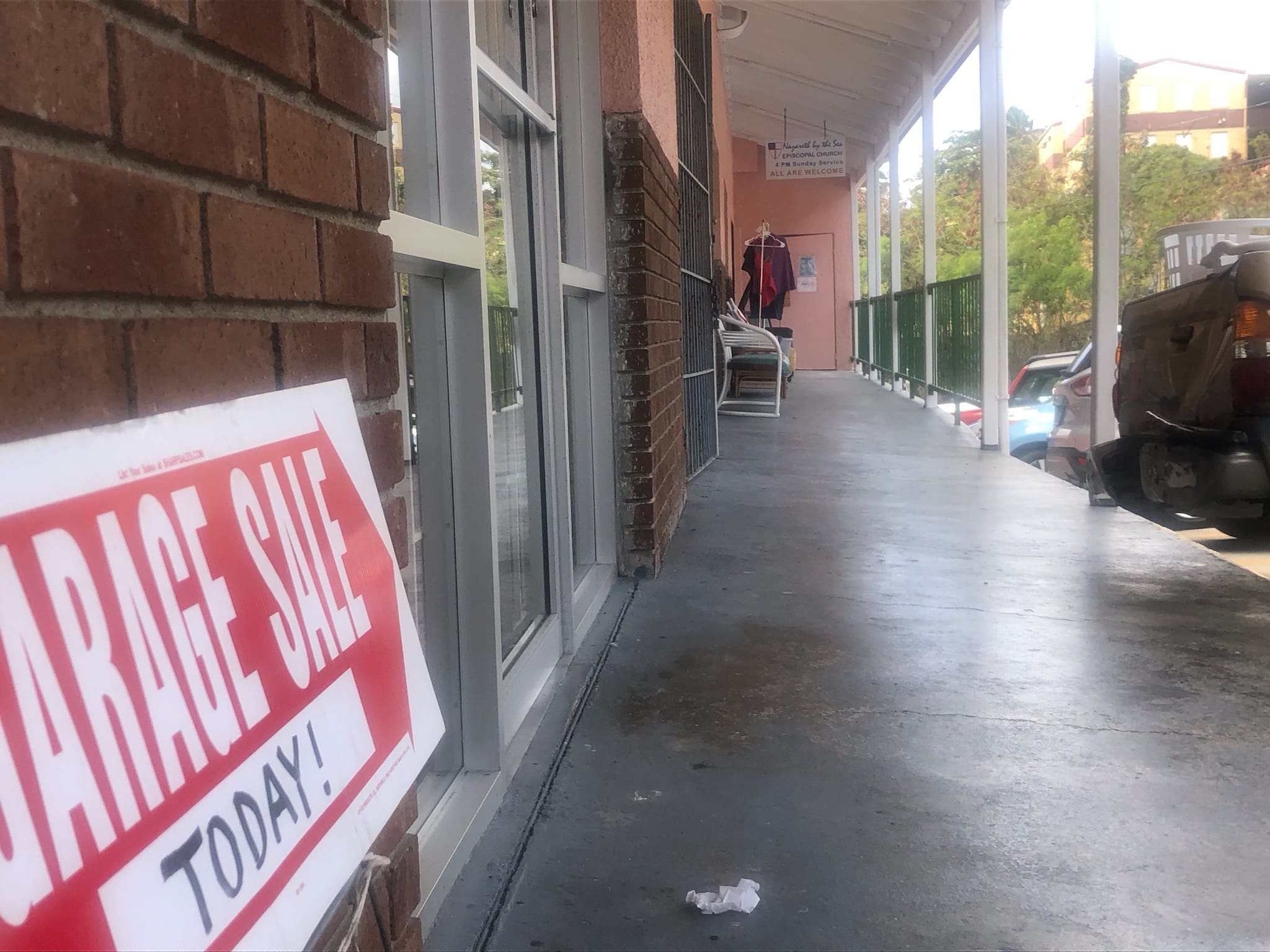 On a Saturday morning at the Red Hook Shopping Center, a stream of cars and pickup trucks pulled into the back parking lot. Donation day had come to St. Thomas' newest thrift shop.
The shop is part of a new initiative by St. Thomas Rotary East and a new approach by Rotary International to expand its mission of service. The club has changed its name to St. Thomas Rotary East-Eco, reflecting an emphasis on environmental action. Helping residents reduce clutter in their home while keeping gently used goods out of the landfill is one way the club is doing its part.
"The thrift store is another way that our club can bring eco-living to the territory, to St. Thomas in particular. Instead of throwing all these clothes away, all this jewelry, all these housewares that you see, they're now available for people to repurpose and reuse," said club member Debbie Finley Jackson. "This is the place where you can find some hidden gems."
Jackson and about a half dozen members spent Saturday morning accepting goods as they streamed through the door. In a back room, member Corinne Van Renssalier and her mother sorted through boxes and bags, getting items ready for the racks and shelves set up out front.
Saturday is the day when Rotary East members and volunteers have time to work on inventory, Van Renssalier said. Four weeks have passed since the store first opened in the space used by Nazareth by the Sea Church. A wooden cross rests against a wall in the back room.
But one of the hidden gems Jackson spoke about is stashed in a storage space outside the front door. Members Andrew Jackson and Doug White hauled a cardboard box filled with wine and beer bottles out onto the walkway and trundled out the GLSand Glass Bottle Crusher for a quick demonstration.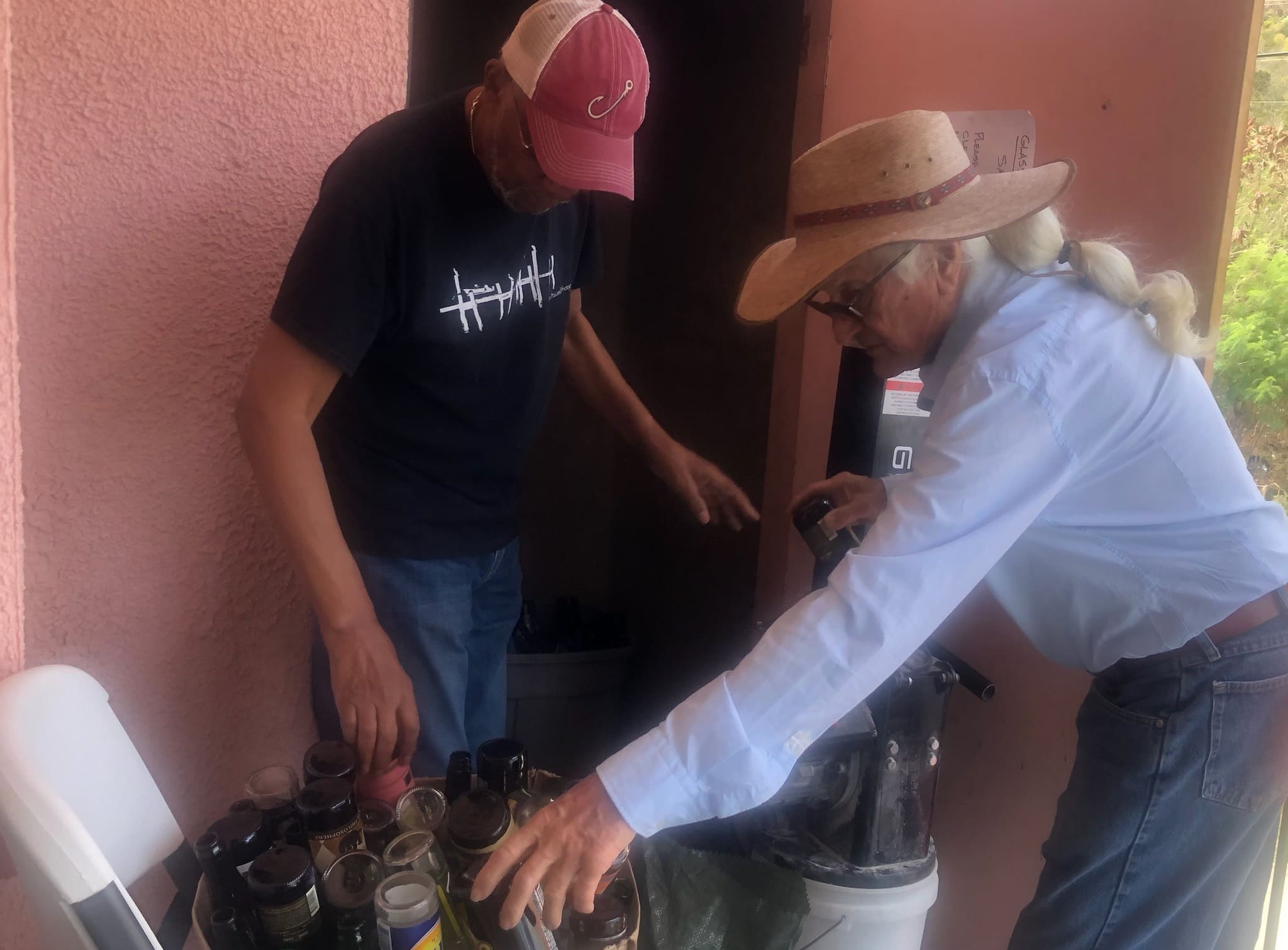 For residents who have long gathered aluminum cans and plastic containers to send for recycling, it was a moment many have been waiting for.
"This is our St. Thomas Rotary East-Eco Club glass recycling program where we're recycling bottles … We have a crusher that was provided to us by the University of the Virgin Islands. We crush the glass. It pulverizes it until it's soft; it's so soft you can walk on it," White said.
Processing discarded glass helps reduce the volume of such items entering the territory's waste stream by a ratio of 10:1, White added. The sand-like byproduct is currently being used to fill sandbags. "People can take sandbags home. During hurricane season, we'll give them away. We just gave one to the Frederick Lutheran Church, which they're using in a labyrinth they're making," he said.
The concept of eco clubs was adopted by Rotary International about two years ago as a way to increase the group's appeal to younger potential members. St. Thomas Rotary East was among the first clubs to apply for a change in status. When the change was approved, St. Thomas Rotary East-Eco became one of the first 20 clubs to shift its Service-Above-Self focus towards environmental awareness.
Thrift shop operators said their enterprise also seeks to do its part by keeping clothes and household goods that could have been turned into trash out of local landfills.
"We're offering that for the planet. We're also offering low-priced quality goods to those who might be interested," Debbie Jackson said.
Editor's Note: The Red Hook thrift store is a joint enterprise between the Rotary East-Eco Club and Nazareth by the Sea Episcopal Church.