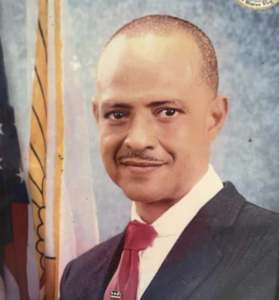 Glenn Webster died on June 1, 2022.
He was preceded in death by his father, Wilfred Webster.
He is survived by his daughter, Guinnivierre R. Webster; grandchild, Analiz Jayda Suarez; mother, Evelyn Viola Webster; brothers: Gilbert Webster, Fernando Webster Sr., Frank Webster, Christian S. Webster, Martial A. Webster Sr., Augustin Webster Sr., Mario Webster and Shawn Webster; sisters: Verona Hendrix and Debra Prioleau; brothers-in-law: Otis Prioleau and Drew Hendrix; and sisters-in-law: Calara, Luz, Sandra and Debra Webster, Sandra Myvett, Masserae and Marisela Webster.
He is also survived by nieces and nephews: Trinita, Fernando Jr., Justin, Zulima, Brittany, Brandon, Crystal, Evelyn, Martial Jr., Azhuwa, Lionice, Arin, Marquida, Augustin Jr. and Ronique Webster, Tres, Zion Hendrix, Mario Jr., Emmanuel and Sheera Webster, O'Sheyree, O'Bryaan, O'Tia, O'Dhori Prioleau, Shaylese, Nzhinga, Shawn Jr. and Sean Webster;
Other survivors include close friends and family: Caroline Fawkes and the Virgin Islands Board of Elections and staff, Roger McKnight, Carol Burton, V.I. Association of Independent Living, St. Croix Kidney Dialysis Center, Juan F. Luis Hospital and staff, Greg Richelieu, Tamaria Marsh, Coralyn Lynch, Javois Family, Hodge Family, Bryan Family, Titus Family, Samuel Family, Annie Suarez, John Yob, the V.I. Republican Party, Berth Bryan, Seales family, St. Maarten and Anguilla family; other friends and family too numerous to mention.
Funeral service will be held on Thursday, July 14, at St. Patrick's Catholic Church, Frederiksted. Tributes will begin at 9:30 a.m., with service at 10:30 a.m. Interment will follow at Kingshill Cemetery.
James Memorial Funeral Home is in charge of the arrangements.