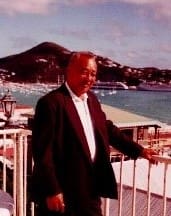 Godfrey Evan Smalls has died.
He was preceded in death by his grandparents: Carl and Daisy Penn; parents: James and Inez Smalls; brother, Paul Smalls; and nephew, Marvin Smalls.
He is survived by his wife: Jean Donovan-Smalls; daughter, Asta Smalls Gabriel-Aaron; son-in-law, Cosric Aaron Sr.: grandchildren: Coretta L. Fraser, Carlos C. L. Clendinen and Anthony A. Joseph Jr.; great-grandchildren: Brianna Aladegbami, Jazmine Lang Alexander, A'zhaneé Lang, Aḿijah Lang and Liam Ryan; great-great-grandson, Náno S. L. Lennon; brother, Ralph Smalls; sister-in-law, Doris Y. Smalls; brother-in-law, Gustave Dowling;
He is also survived by nephews: Kevin G. Smalls and Paul A. Smalls; nephews-in-law: Sheldon Turnbull, Mario Turnbull, Charles Hawkins, Hubert Fredrick and Gary Benjamin; nieces: Rosalind Harkins and Jasmin Fredricks; nieces-in-law: Audrey Smalls, Dawn Smalls, Kayavril Smalls, Kimba Turnbull, Sherrimae Benjamin, Su-Layne Walker, Laura Esannason and Sandra Williams; uncle, Carl A. Penn; uncle-in-law, Guy Donovan; and aunt-in-law, Mavis Brady.
Other survivors include loving cousins: Edith Harrigan and family, Rev. Dr. Earl Harrigan and Erna, Harrigan and family, Genevieve Donovan, Elroy Donovan Jr., Brent Donovan, Charles and Lydia Edenborough and Olaf, Carl B. Penn and family, Richard and Liz Penn and family, Gregory and Michella Penn and family, Shawn and Carolyn Gullett and family, Beverly Dangervil and family, Paul Joseph and family, and Genevieve Cleanance; godchildren: Al Roberts and Karyl Ledee; as well as many relatives and friends too numerous to mention.
Tributes can be emailed to ascca_cb@yahoo.com no later than May 22.
Viewings and Funeral Service are as follows:
The first viewing will take place from 4-6 p.m., on May 30, at Turnbull's Funeral Home.
The second viewing takes place at 9 a.m. followed by a funeral service at 10 a.m., May 31, at the Memorial Moravian Church. (Colors are all shades of blue).
The body will be interned at the Eastern Memorial Moravian Cemetery (around Lionel Roberts Stadium/ Hospital Ground).
The family wishes to thank you all for your many phone calls, prayers, condolences and for your attendance.  God bless you all.
Funeral arrangements are entrusted to Turnbull's Funeral Home and Crematory Services.