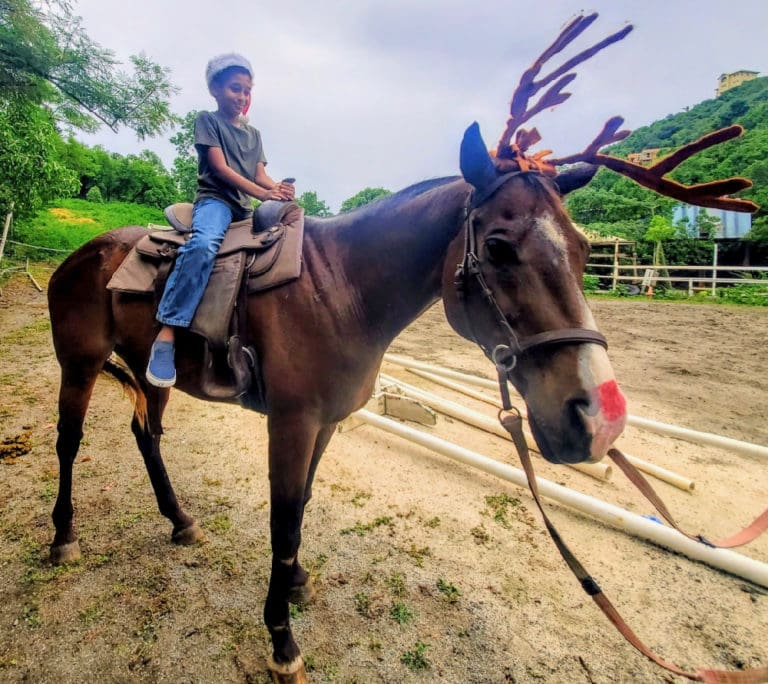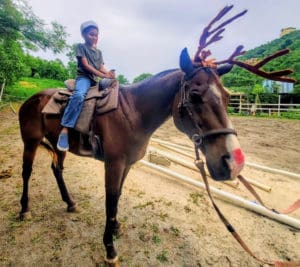 Golden Age Ranch on St. Thomas will host a holiday season fundraiser to garner money for vital supplies to rescued horses in the U.S. Virgin Islands.
The "Holly Neigh Photo Day" offers attendees the chance to take photos with horses from 1 p.m. to 4 p.m. Saturday and Sunday, Dec. 19 and 20. With entry, people will get a picture with a rescued horse dressed up as Santa Claus or Rudolph the Red-Nosed Reindeer, a tour of the ranch to visit the other horses and the opportunity to make a personalized ornament.
Entry is $10 for adults, $5 for children under the age of 12 and a $10 donation enters attendees into a raffle where one individual will win a diamond necklace supplied by Diamonds International.
"Virgin Islanders and horses have had a very special relationship for generations," Golden Age Ranch board member Holly Fletcher said. "Horses and donkeys were the main transportation, besides walking, before cars made their way to our islands. Horses were also important in agriculture, especially on St. Croix, before the arrival of machinery."
For the past few decades, Fletcher said most of the interactions and engagement Virgin Islanders have had with horses has been through horse racing.
"Now that the tracks have been, for the most part, closed since hurricanes Irma and Maria and now during the COVID-19 pandemic, we are dedicated to continuing the legacy of Virgin Islands horsemanship by inviting volunteers to join us in learning how to care for and handle horses."
Many of the horses within the care of the ranch are retired thoroughbred racehorses, but Fletcher said the ranch has also taken in abandoned or abused horses.
"Each horse has its own personality, friend group and behavior. When you meet the horses you quickly find their gentle souls will melt your heart. They are totally dependent on us for all their needs and actually show their appreciation to their caregivers in subtle, loving ways. Horses are playful, mischievous and empathetic. At times they have been described as big puppy dogs. When you see them play or even roll in the sand you will find the comparison is not that far off," Fletcher said.
The horses require a lot to be maintained, and Fletcher said the ranch is always in need of feed, medical supplies, grooming services and volunteers. Supporting the ranch during the "Holly Neigh Photo Day" is an opportunity to help with these expenses.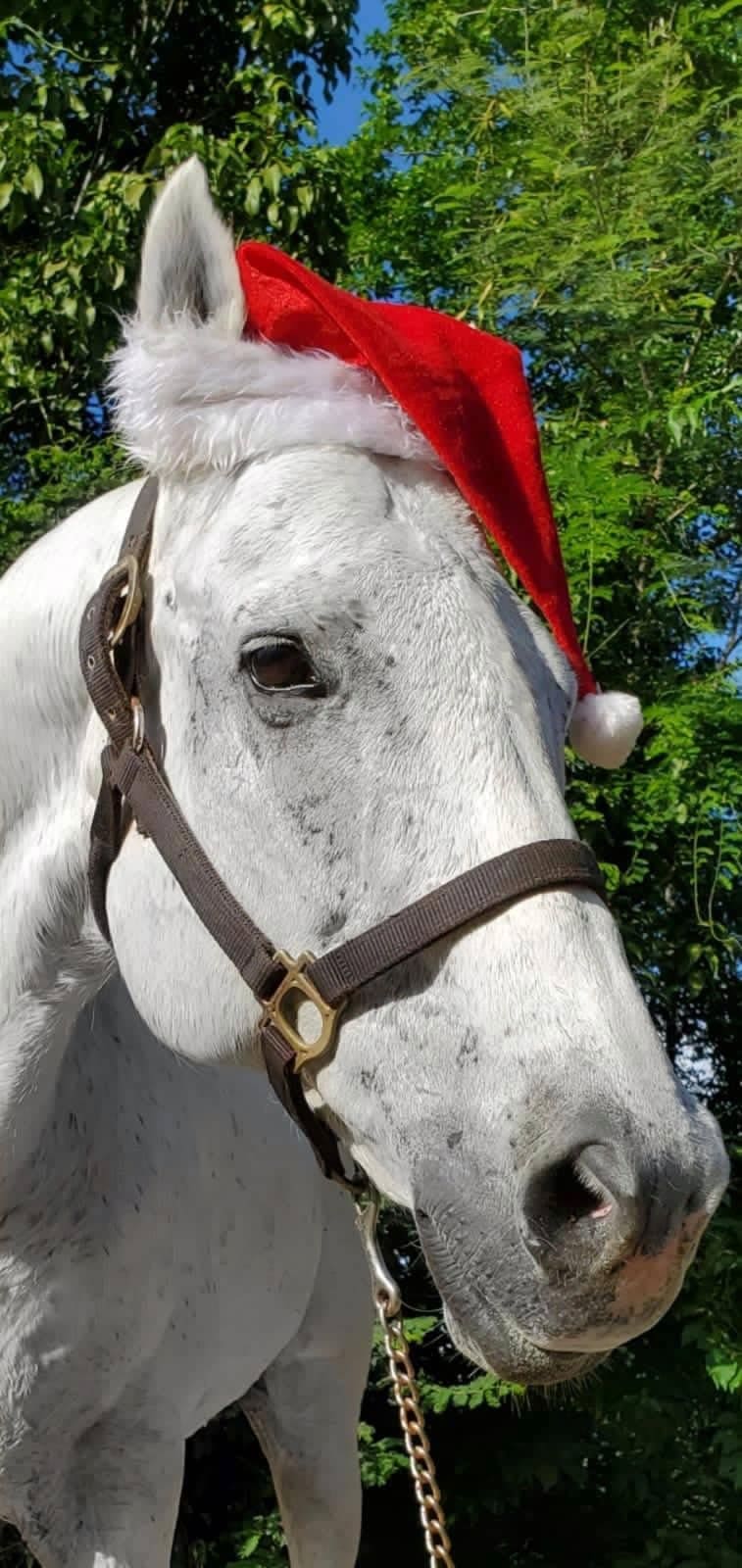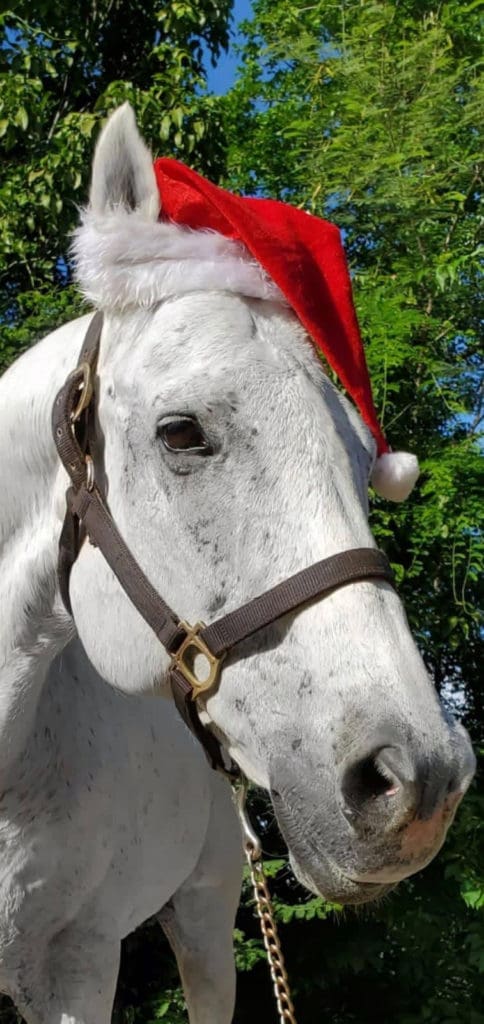 "When running a horse ranch on an island it seems you are always in need," Fletcher said. "This means it all comes at a premium because you not only have to pay for the supplies but also for the container and shipping. We also must purchase water by the gallon via water trucks for the horses to drink. In addition, we need to hire a hoof specialist, called a farrier, to trim the horse's hooves every six to eight weeks. These are just the basic needs and do not cover the expenses associated with programming, unforeseen horse health problems, staff pay or ranch maintenance."
Should residents be unable to attend the fundraiser, Fletcher said the ranch is always looking for volunteers. Anyone older than 12 years old can submit an email to AEharrell47@gmail.com or visit the ranch's Facebook page or website for volunteer opportunities.
Fletcher said jobs include feeding, grooming, cleaning up after the horses and around the ranch and maintenance of the property.
"Although the job is quite dirty and definitely not glamorous, it is sincerely appreciated and makes a huge impact," she said.