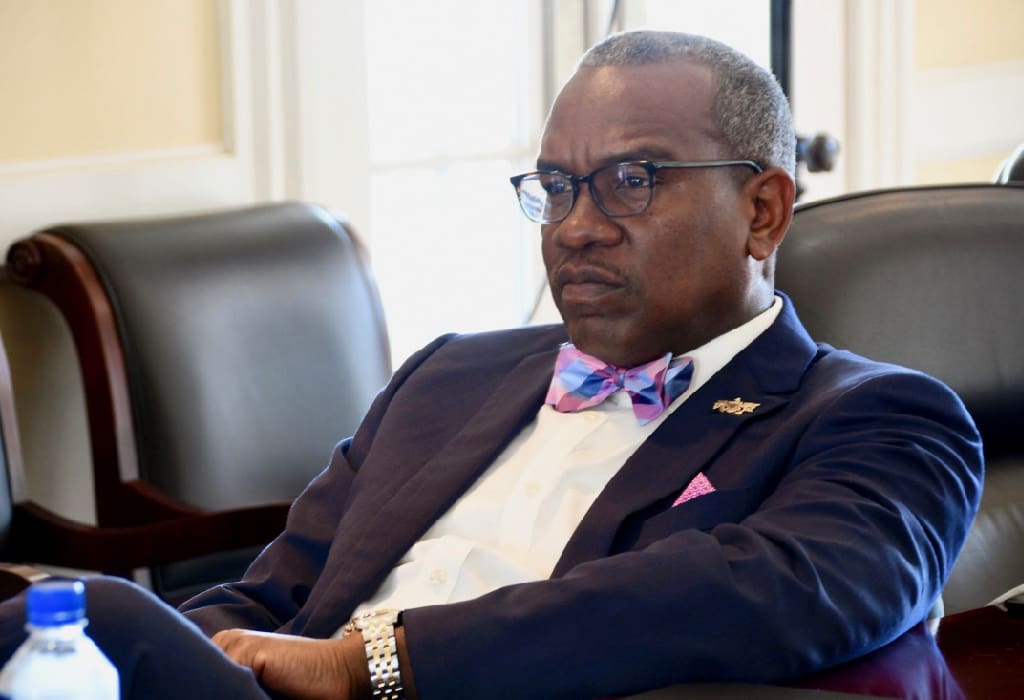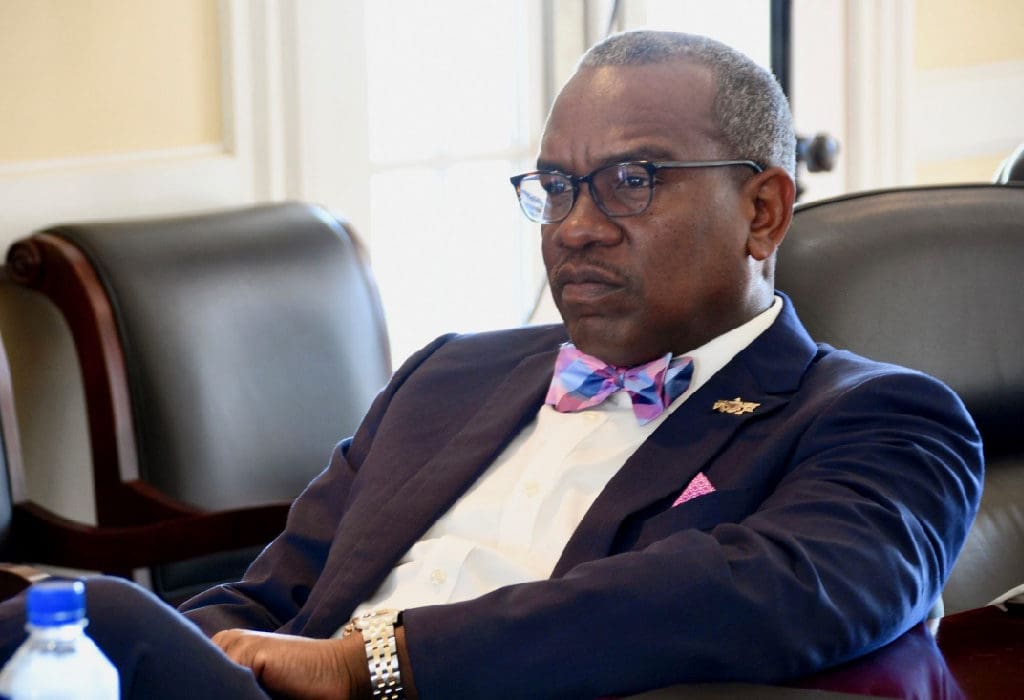 There are days during this global pandemic that Gov. Albert Bryan Jr. would like nothing better than to slip into the deep blue sea for an hour or so of escape.
Bryan is learning to scuba dive – a fact he revealed with clear delight during a recent interview with the Source. Aside from the majesty of the marine world, "You know what the best part of scuba diving is?" he asked, setting up a one-line zinger: Nobody can interrupt you on your phone when you're 20 feet underwater.
The joke's delivery came with a deep chuckle, but the last five months grappling with the novel coronavirus that Bryan noted is "slippery" have been a harrowing and uncertain time like no other, not just for the territory, but for the entire world.
"You know, I researched this job well," said Bryan. "I spent eight years under the de Jongh administration," serving as Labor commissioner from 2007 until the end of the governor's term in 2015. "So, I knew there was always going to be something – there is always something. Certainly, I was never expecting to have COVID," he said.
"The reality is, you don't know when this is going to end," Bryan said, noting how President Donald Trump initially boasted back in April that the pandemic would just disappear come the warmer summer weather.
"I have never wanted Donald Trump to be more right," said Bryan, but with August approaching there still is no end in sight.
"I think it was easier at first – we had a delayed arrival" of the virus and the benefit of seeing what was happening in states like New York and Washington, which bore the brunt of the initial outbreak in the U.S., said Bryan. "It's more difficult now – having to live with it in our midst. We can't just shut down. It's a very painful experience," he said.
"Our worst fear was it would get loose in that man camp," Bryan said, referring to the housing complex for workers of Limetree Bay Terminals on St. Croix.
Their return as the territory entered its "Open Doors" phase on June 1, with travel restrictions eased for the first time since the borders were essentially closed on March 25, caused a dramatic spike in cases starting at the end of June. The uptick led to reports in mid-July by national news outlets such as one on MSN.com, headlined, "The Biggest Coronavirus Hotspot No One Is Talking About."
While that article cited "an exponential 3,533 percent uptick in positive coronavirus cases" in the USVI, it lacked the context that the majority are contained to one location, said Bryan, who has not backed off his administration's reopening plans.
"You have got to give people a chance to make money," he said, noting that outside of Limetree Bay, not one person who has followed mask, social distancing and travel rules has gotten the virus. "The more you slow down the American economy, the longer it is going to take to restart," he said, citing as an example the precipitous drop in shipping during the pandemic as fewer hotels, restaurants and other businesses such as cruise ships required provisions – hence the empty shelves at many area stores as supply chains have been disrupted.
Finding that balance between reviving the economy and public safety is a delicate one, and his administration is assessing matters on a case-by-case basis, he said, examples being recent restrictions on weekend beach hours (they close at 4 p.m. Saturdays, Sundays and holidays to limit partying) and shutting down bar-top service. "That's for the foreseeable future," said Bryan, referring to local watering holes.
Basically, the administration is asking, "Where are you going to get it now?" – these days your home and office, he said – and taking appropriate measures.
"I know it's a scary time. The tunnel is just dark moving forward," Bryan said, but he insisted his administration is focused on being honest and transparent, and relying on science and the expertise of the officials he has put in place to combat the virus.
"When the tunnel gets dark, have faith and trust," he said. "By God's grace, we will get out of this."
Coming Wednesday: Bryan's vision for a more diversified economy