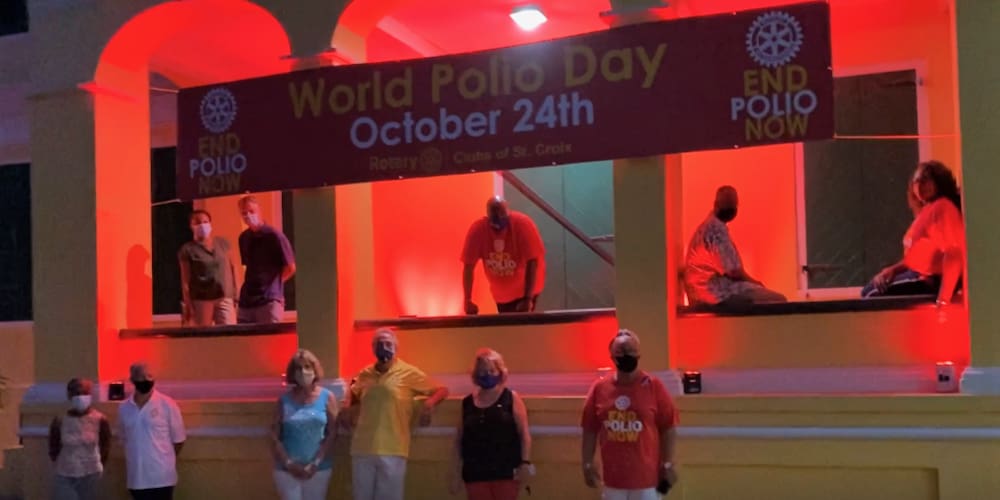 St. Croix's four Rotary Clubs praised Gov. Albert Bryan Jr. for proclaiming Saturday, Oct. 24, as Virgin Islands World Polio Day.
The four clubs illuminated Government House in red light on Saturday to commemorate the day and honor progress toward the final elimination of the once dreaded disease.
"Rotary Club of St. Croix is honored by Gov. Bryan's proclamation recognizing World Polio Day and the work of Rotarians worldwide and here in the Virgin Islands over the last five decades to eradicate polio and eliminate that disease. We are this close to the finish line and will not stop until we reach there together," Rotary of St. Croix President David Beck said in a statement issued on Tuesday.
"The Rotary Club of St. Croix West is thankful for the governor's proclamation of World Polio Day in the Virgin Islands," President Cheru Ross said. "The clubs are committed to the mission that Rotary International has been on since the 1970s to eradicate polio off the face of the Earth. With the help of people around the world and the Virgin Islands, we are close to ridding this earth of this crippling disease."
"We, the members of Rotary Club of St. Croix Mid-Isle, join with 1.4 million Rotarians and Rotaractors around the world in this most important endeavor, eradicating the wild poliovirus. Thank you, Gov. Bryan, for recognizing the efforts of Rotarians in the Virgin Islands and worldwide. As we work to eliminate this debilitating disease from the last two polio-endemic countries, Afghanistan and Pakistan, and commit to maintaining our vigilance so it does not reemerge, your support will help us end polio now," said President Jennifer Koockogey.
And President Lionel Downer said, "The members of the Rotary Club of Saint Croix-Harborside are proud to serve alongside our fellow Rotarians here in the Virgin Islands and abroad in the ongoing effort to eradicate polio. We thank Gov. Albert Bryan for his World Polio Day proclamation saluting the work of Rotary International and its partners, whose collective efforts brings us this close to ridding the world of this debilitating disease."