More than 30 years after the idea of the Enighed Pond Marine Facility was first discussed, the official opening of the terminal was marked on Friday, April 21.
Several government officials who attended the ceremony noted the importance of the historic day and acknowledged those involved in bringing the project to completion.
"I'd like to thank (V.I. Port Authority Executive Director) Mr. (Darlan) Brin, because he stayed focused," said St. John Administrator Julien Harley. "He survived it, and now we have a product. We will remember this day—April 21, 2006—the day that the Enighed Pond Marine Facility was officially opened."
Sen. Roosevelt David, who was a major supporter of funding for the project, spoke about some of the criticism he received along the way.
[adrotate group="6"]
"When I announced the project in Cruz Bay on the fourth of July, I was ridiculed," Sen. David said. "I was told it was a pie in the sky. Now, we're eating the pie, and it tastes so good, doesn't it?"
The project was being discussed when David first came to St. John nearly 40 years ago.
Dream Becomes Reality
"I am electrified, because approximately 40 years ago, when I landed here on St. John, this project was being talked about in a big way," said David. "What appeared to have been a dream is now a reality today. "
"It's a mark in history, and I'm so very pleased that I've been a part of this," Sen. David added.
Moving barges out of Cruz Bay will make the island a safer place, said Senator-at-Large Craig Barshinger.
"This is a wonderful occasion," he said. "It's going to make our town, and our island, easier to live on, and a safer place. Darlan Brin is an unsung hero."
Senate President Lorraine Berry, who has been involved with the project for several years, thanked the Port Authority for its hard work.
"The Port Authority deserves recognition and praise for their hard work and dedication," she said. "This project didn't come without years of discussions and delays. This facility will encourage much-needed commerce on St. John, and I hope St. Johnians enjoy their newest capital project for years to come."
Lt. Gov. Vargrave Richards and many others acknowledged David's effort.
"Senator David worked hard and demanded attention for this project's funding," said Lt. Gov. Richards. "Hats off to him, and his tireless effort to make this a reality."
Economic Benefit
The opening of Enighed Pond will help St. John economically, said Gov. Charles Turnbull.
"The opening of this modern facility will spur an upward trend economically," said Gov. Turnbull. "This is certainly a positive step for St. Johnians and for the Virgin Islands. It's a special pleasure for me to witness the completion of the project today."
Several speakers recognized the group effort that it took to bring the completion of the port to fruition.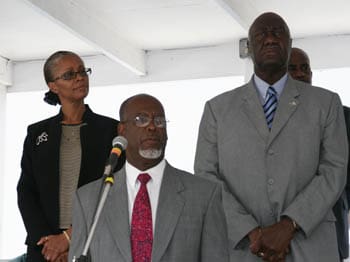 "It took a lot of people coming together to make this project a success," said VIPA board chairman Robert O'Connor Jr.
"The way we got this pond today was through dialogue within the community," said Sen. Barshinger. "The vision for our island is a shared vision, and no one can stand in the way of that."
Working Together for Success
Gov. Turnbull stressed the importance of working together.
"When you work together to do a good thing, it will happen," he said. "By working together, we succeed."
Officials addressed the public's concerns regarding the pond's operating plan and reinforced the importance of following the rules.
"We need to love it, cherish it, protect it, and follow the rules and regulations," said Harley. "I know we need restrooms, pay phones, running water; it's coming. Give the Port Authority time to tweak the facility, and let there be constructive criticism."
"I know there were concerns about transferring the congestion to this area," said O'Connor. "But, I think it's running pretty smoothly."
"There are Port Authority and Homeland Security rules that must be enforced, and we ask the users of the facility to abide by them and help us in our duties," he added. "What we put into it is what we get out of it
Delegate's Wishes for Safe Journey
Aldria Wade spoke on behalf of Delegate to Congress Donna Christensen, who was unable to attend the ceremony.
"The delegate is glad to see that it's come to fruition," she said. "She hopes that all who come through here have a safe journey."
Protesters who attended the ceremony were acknowledged by several government officials.