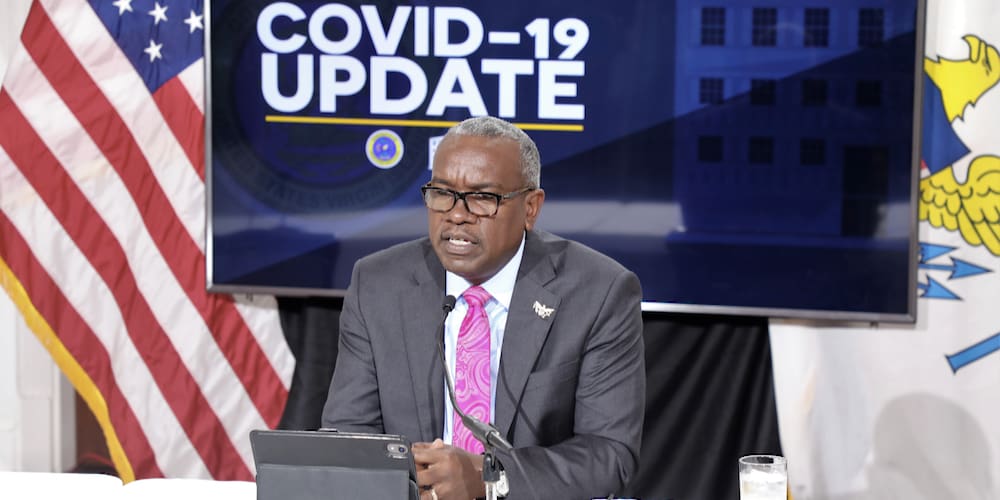 Starting July 6, the V.I. government will give away $100,000 per week for 10 weeks to fully vaccinated residents.
According to Gov. Albert Bryan, Jr., this vaccine lottery will help boost the number of residents getting the shot as the territory strives to reach herd immunity.
Speaking at Monday's weekly press briefing, Bryan explained that those residents who are already fully vaccinated will be automatically entered into the lottery and each week, only one resident will be chosen. At the end of the 10 weeks, $1 million will have been distributed, and hopefully, thousands more vaccines would have been administered.
Bryan had set a goal of having 50,000 residents vaccinated by July 1 and as of Monday, 41,673 first doses had been administered, with 35,486 residents fully vaccinated. Bryan said that calls into the vaccine hotlines had "slowed to a trickle" pushing the government to "jump on the bandwagon" of other states that are offering similar incentives to encourage vaccination.
Since the lottery does not start for a month, residents have "plenty of time" to get their shot, Bryan added Monday.
"We're going to try to make it as transparent as possible so that we have real winners and we will have the rules around who is excluded from it," the governor said, adding that the initiative is being rolled out in conjunction with the V.I. Lottery. At this point, the only eligibility requirement is proof of residency.
Also surrounding the push is the "persistent" number of active COVID-19 cases on St. Thomas, which Bryan said Monday is up to 111, with five of those individuals being treated at the Schneider Regional Medical Center. There are eight active cases on St. Croix and seven on St. John. Doing the most basic things, like wearing masks, social distancing and practicing good hygiene helps ensure a balance between safety and economic development, but the "best" form of protection is the vaccine, Bryan said.
The governor also spoke about the return of cruise ships to the territory and the "uncertainty" that comes with the potential for exposure from passengers, particularly in light of a recent law signed by Florida Gov. Ron DeSantis banning businesses from asking customers whether they've been vaccinated against COVID-19.
According to national news reports, cruise ship operators, who sail out of Florida's large southern ports, say the order will make it harder for them to safely return to the seas.
Monday, Bryan said he had penned a letter to DeSantis asking him to reconsider the legislation, saying that it contradicts the Centers for Disease Control and Prevention's guidelines and would stifle the restart of the cruise industry. A 95-percent vaccination rate for passengers is required for any line entering the territory, and to encourage participation from neighboring islands, who would also be on the port call schedule, Bryan said he also sent a letter to CARICOM Chairman and Prime Minister of St. Vincent and the Grenadines Ralph Gonsalves asking for support from the Caribbean region in finding the path forward to restarting the cruise industry in as safe a way as possible.
"The real issue here is these cruise ships are bringing American tourists to a small island with scarce resources, such as hotels, hospitals and limited medical personnel," Bryan said. "Those ships go from island to island and could end up spreading the virus with one or two passengers. We don't need a major disruption because people are not vaccinated, and we're continuing to use whatever limited resources we have to ensure that we have this thing under control."
In other news, the governor also: outlined several funding initiatives in the most recently submitted two-year budget proposal; said a bomb threat called into the Westin Resort on St. John is being investigated by authorities out of Puerto Rico; and shared that while there are ongoing financial and environmental concerns about the Limetree Bay refinery on St. Croix, it does not appear the facility is "out of the territory" yet. Rather, he added, the government is "working with them to try and make sure to get the refinery back up but in a safe way to make sure it doesn't affect our residents."