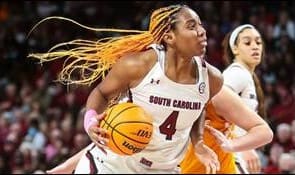 Gov. Albert Bryan Jr. issued a statement congratulating St. Thomian Aliyah Boston for setting a new record for SEC Women's basketball by recording 19 consecutive double-doubles (double digits in scoring and rebounds) as the All-American starting forward for the University of South Carolina Gamecocks.
Aliyah is a junior at South Carolina and has been named as an All-SEC, All-American and National Player of the Year while playing for the Gamecocks.
"On behalf of myself and all Virgin Islanders, I want to congratulate Aliyah for her stellar college career in women's basketball at the University of South Carolina. She became a starter for the Division I Gamecocks as a freshman, and she hasn't looked back, earning national acclaim for her skills that include numerous accolades and honors, including just being anointed by Sports Illustrated as 'The Future of Women's Basketball,'" Gov. Bryan said.
"Aliyah is a shining example of the great people who come out of the territory and help put the U.S. Virgin Islands on the national and global stage. As she continues her incredible basketball career and heads to superstardom, Aliyah makes all of us in the USVI extremely proud, and we all wish her continued success and excellence."