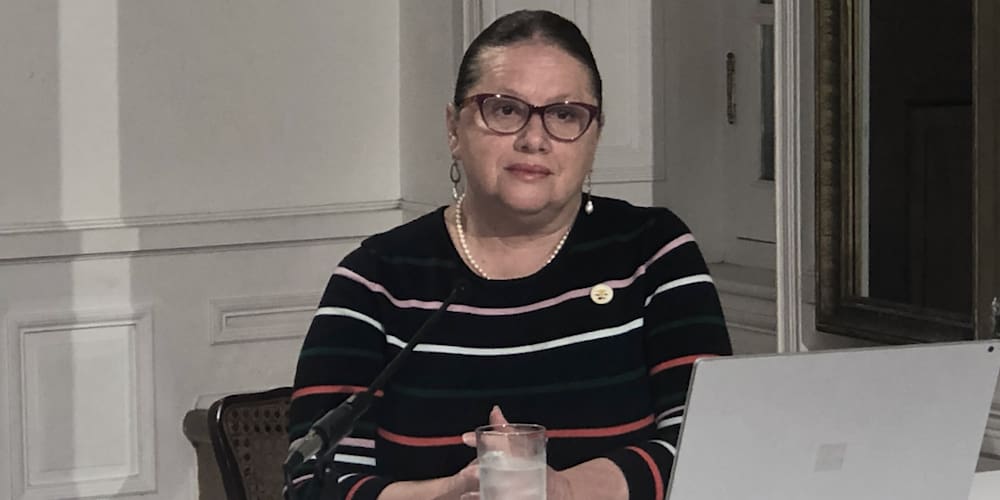 St. Croix still has a high number of people who have tested positive for COVID-19 – 156 – while St Thomas and St. John have seen decreases in their caseloads with 41 and seven cases respectively. But once the numbers on St. Croix go down, Gov. Albert Bryan Jr. said Monday he will ease some of the restrictions in place because of the pandemic, such as allowing larger crowds to gather.
Speaking during his weekly news update at the Public Finance Commission offices on St. Thomas, the governor said that slightly easing the restrictions – when that happens – won't mean the end of pandemic protocols, "unless there's a stark turnaround."
December's Boat Parade on the Christiansted Wharf will probably be allowed, he said, but the St. Thomas Carnival is too far away to make a decision at this time.
The governor also talked about rules for traveling into the territory at the weekly media session. Visitors will still be required to produce a COVID test taken within five days of travel, but Virgin Islanders can register their vaccinations on the USVI Travel Screening Portal instead of a test. Bryan said he "forgot" about the British Virgin Islands and apologized, announcing they will be subject to the same restrictions as travelers from outside the territory. If they were vaccinated here, they also won't be required to take a test and will be able to register their vaccine at the portal, allowing them to travel more freely between islands.
Health Commissioner Justa Encarnacion tallied the numbers for the territory ending with the current death toll of 72. As of Monday afternoon there were seven patients in the Juan F. Luis Hospital, with one on a ventilator, and two hospitalized at the Schneider Regional Medical Center on St. Thomas. Encarnacion said the vaccination rate is only 44.54 percent, with 46,629 total shots given. The rate needs to be closer to 70 percent before the territory can open up, she said.
Encarnacion and Bryan encouraged more immunizations and the commissioner announced that the monoclonal antibodies treatment can be administered to residents who are immune-suppressed and not just those with the virus. The treatment continues to work well on those who are not very sick but she stressed again, that people should take the treatment when it is offered – it doesn't work on severe symptoms.
Residents can make an appointment to receive a vaccine by calling 340-777-8227 or 340-718-1311.
In other news discussed at the news conference:
– The 20-year commercial fishing moratorium has been lifted and new licenses are being issued. Also for fishers and farmers, the V.I. Economic Development Authority offers no-collateral loans up to $150,000. Bryan said he is working to have the loan amount increased up to $300,000. There is also $10 million available for fishers who suffered hurricane damage.
– Repairs and rebuilding are scheduled for Virgin Islands piers including Sub Base on St. Thomas and Lagoon, Kings Alley, Gallows Bay and the Finger Pier on St. Croix.
– The governor will participate and lead some aspects of a Workforce Development Conference Wednesday on St. Croix, Thursday on St. Thomas and Friday on St. John. The conference is free but only 50 people will be allowed to attend in person. Others can view on the government's Facebook page from 8 a.m. to 3 p.m.
– Bryan expressed condolences to the families of Edgar Iles and Miya Marcano, a woman found dead in Florida who had ties to the Virgin Islands. All flags in the territory will fly at half-staff in honor of Iles on Tuesday, who was a former senator and a "true humanitarian."