Public Works has secured a competitive federal grant of $25 million – the maximum amount awarded – to allow the Veterans Drive/Waterfront Beautification Project on St. Thomas to continue into Phase 2, Government House announced Tuesday.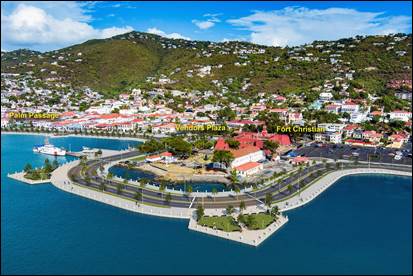 Phase 2 will continue the road project around the Virgin Islands Legislature using the same design elements as in Phase 1, such as a new seawall, widening the roadway, a wider promenade, and a divided median with more trees and historic street lighting, Government House said in a press release. Phase 2 will also include on-street parking areas and an improved Vendors Plaza area.
"I want to congratulate Commissioner Derek Gabriel, Federal Highways Project Manager Jomo McClean, and the entire department for securing these funds, which allows us to move forward on this project sooner rather later," Gov. Albert Bryan Jr. said. "Not only is this a boon for the territory in receiving the funding for the project, it allows the Bryan-Roach Administration to continue its momentum of recovery and rebuilding by using money earmarked for Veterans Drive for other vital projects."
The award from the Department of Transportation is part of the FY22 Rebuilding American Infrastructure with Sustainability & Equity grant program. The RAISE program enables USDOT to use a rigorous merit-based process to select projects with exceptional benefits, explore ways to deliver projects faster, save on construction costs, and make needed investments in the nation's infrastructure, the release stated.
"This award will fund the second phase of the Charlotte Amalie Waterfront Revitalization Program, the Veterans Drive (Route 30) Improvements Project. Phase II is approximately 0.92 miles, extending from Hospital Gade to Kronprindsens Tvaer Gade (Windward Passage Hotel)," according to the Department of Transportation Notice of Grant Award. "The project will construct a tree-lined four-lane roadway divided by an 11-foot raised median. The project will construct a new seawall, as well as develop the promenade," it said.