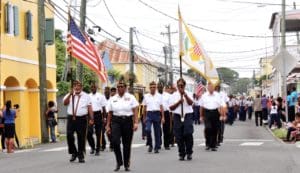 Gov. Albert Bryan Jr. has issued a proclamation commemorating Thursday, Nov. 11, as "Veterans Day," which also is known as Armistice Day, and has proclaimed the month of November as Military Families Month in honor of all members past and present of the U.S. military and the loved ones who support them.
The annual national holiday is celebrated in remembrance of the many brave men and women who have offered their service and risked their lives in defense of the United State of America and its freedoms.
"America's veterans have been steadfast guardians of peace and liberty not only here at home, but also around the world. The citizens of our nation and the territory continue to live in freedom because of the sacrifices made by those who served in the Armed Forces of the United States in times of peril," the governor wrote.
"This year, we continue paying tribute to the thousands of veterans in the U.S. Virgin Islands, who, by their continued devotion to the highest ideals of patriotism and citizenship, constitute a foundation of both strength and progress in the territory."
"The Virgin Islands community also joins in grateful thanks to the men and women of the United States Armed Forces and the Virgin Islands National Guard as we salute them for their dedicated, loyal and devoted service to our citizens and community," Bryan wrote.