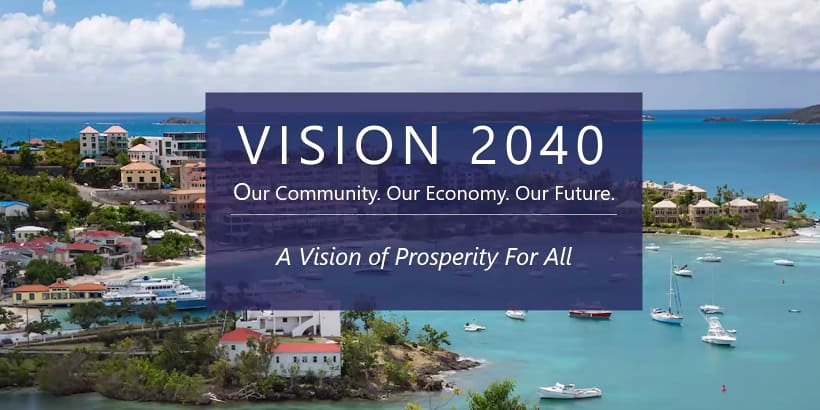 Governor Albert Bryan Jr. opened the USVI Community Business Forum on Wednesday with a list of priorities aimed at building a workforce and attracting new businesses to the territory as part of the V.I. Economic Development Authority's Vision 2040 economic development initiative.
Vision 2040 is a federally-funded plan to create a 20-year economic strategy for the USVI. In November, Wayne Biggs, EDA chief executive officer, hosted a virtual town hall to garner ideas from the public about prospects for and obstacles to future business ventures.
A forum Wednesday night to discuss survey results was canceled because of electricity outages. It has been rescheduled for Dec.18 from noon to 1:30 p.m.
Gov. Bryan spoke enthusiastically about infrastructure projects on Wednesday – several of which have been proposed for years – including the renovation of Protestant Cay, a Best Western hotel at the St. Croix airport, the Gallows Bay marina and boardwalk, dredging harbors, a boat building facility and Amalago Bay Resort on St. Croix.
[adrotate group="6"]
He also said there are plans to expand the refinery and the south shore of St. Croix with services to air and sea travelers. He also wants to attract other rum distilleries. The National Guard is planning to build a hangar that will become somewhat of a military hub at the Henry Rohlsen Airport with a $40 million federal grant.
Bryan called it a boon to St. Thomas that Moorings Charters will relocate to Charlotte Amalie since the British Virgin Islands is in quarantine due to the coronavirus. The charters are fully booked, he added. He expressed hope that another 200 moorings added to the harbor will be approved by Coastal Zone Management to enhance charters and other marine use.
Other projects on the agenda include dredging Crown and Long Bays on St. Thomas and building St. John's Summer's End Marina, just approved Friday by the Legislature. A $26 million federal grant will be used to expand cargo transshipment.
A closing on the sale of the Sugar Bay Resort on St. Thomas is imminent, the governor said, and the Mahogany Run Golf Course may have a buyer who also wants to build a boutique hotel on the property.
The downtown Charlotte Amalie project and Veterans Drive project are progressing, Bryan said. According to the governor, Main Street renovations will be finished in the first quarter of 2021 and the entire project will be completed by the end of his term, provided he gets a second term, he said.
Bryan predicts there will be 10,000 new residents in the territory within the next five or six years. While it will bring jobs and consumer spending, there are obstacles, such as a housing shortage, and pressures on the roads, hospitals and schools.
"One thing we have to understand is that success is costly," the governor said.
Bryan also spoke about his personal vision for 2040. He began with wishes for laptops for all school children and a war on poverty. He also wants a water use plan "to keep the Virgin Islands pristine and clear."
There will be an effort to encourage more air and yacht traffic to the territory, Bryan said, with more upscale accommodations, restaurants and activities. It would mean fewer tourists with a "bigger spend."
Along with a medical school under construction on St. Croix, Bryan sees a business school and nursing in the future, in part to bring young people to the territory.
In addition to an increase in air travel, Bryan wants to grow yacht and charter traffic and the services to accommodate both on St. Croix's south shore as well as on St. Thomas.
He also would like to see the territory able to compete worldwide with advances in technology.
"If you can work anywhere, why not in the fabulous Virgin Islands," he finished.