Julius E. Sprauve School students celebrated the end of their first day of classes, above, on Tuesday, September 2.
CRUZ BAY — Governoror John P. de Jongh missed the first day of school at Julius E. Sprauve School on Tuesday, September 2.
So did more than a few of the almost 400 students expected to attend the newly-combined island school, according to Principal Dionne Wells.   
The Governor did make a quick, early-morning visit to the Cruz Bay elementary and junior high school on the second day of the school year, but Principal Wells was still waiting for a final count of the enrollment as JESS.
The in-town JESS campus is welcoming students from the historic Guy. H. Benjamin Elementary School in Coral Bay which was summarily closed  by Department of Education officials during the summer.
Guy Benjamin school was the last of three historic public schools on the east end of St. John and was closed in anticipation of the long-delayed construction of a new island school which will include grades kindergarten through 12. More than 50 students were transferred from GBS to JESS for this school year.
Governor's Visit Is Quick
Principal Wells, almost missed Gov. deJongh's appearance on campus herself because she was in the morning assembly.
Gov. deJongh was scheduled to visit on the first day, but didn't make it.
Principal Wells said she received a telephone call about 10 minutes before the governor arrived on Wednesday, September 3.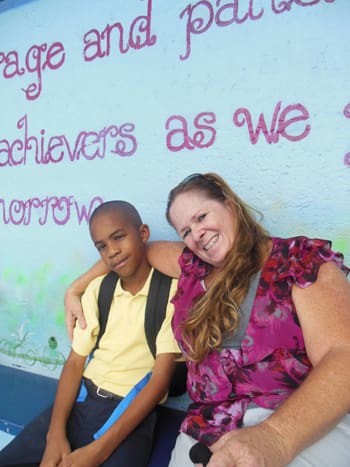 KD Munnelly marked the end of her 25th first day of school at JESS with student Jaheem Braithwaite.
The governor addressed students in grades 6-8, she added.
"And he did speak to some staff," Wells said.
The first week of school went very well, the principal said on Friday, September 5.
The school is in the process of filling the last few vacant staff positions, but all teaching positions are filled, Wells said.
With the two of the St. John resorts, Caneel Bay and Cinnamon Bay, having recently closed for the off-season in mid-August, many working parents chose to take their children on vacations or family visits to the states, regardless of the public school schedule, the St. Johnian principal explained.
"The parents just don't care," Wells said bluntly.
Governor Monitors New School Planning
Governor deJongh has taken a personal interest in the on-going negotiations between the territory and the federal government for a land-swap to secure a mid-island site on Centerline Road, Route 10, for a new public school complex.
The governor's staff is also closely monitoring the planning and design of the school complex for the Catherineberg site under consideration.