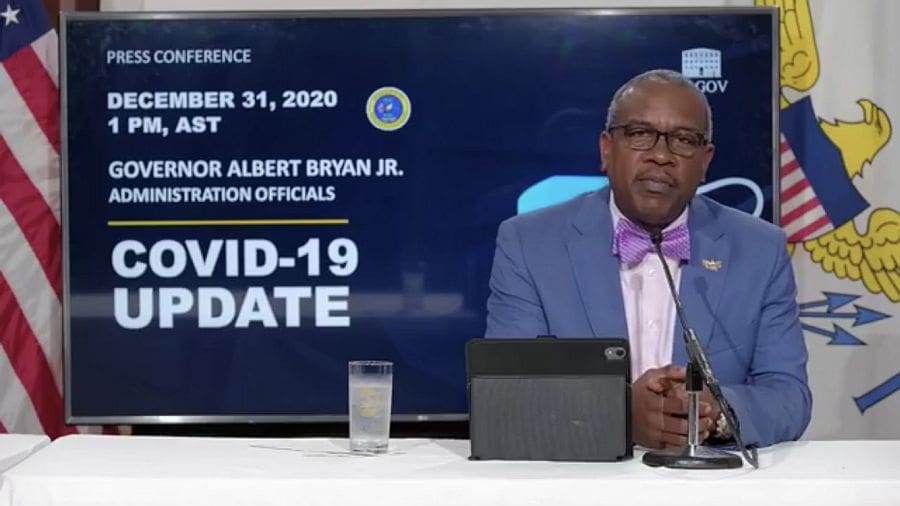 To keep COVID numbers down over the holiday season, Gov. Albert Bryan, Jr. said Thursday that as an extra precaution, no traveler is allowed into the territory without a negative COVID-19 test effective Monday, Jan. 18.
During his last press conference of 2020, Bryan said the territory's COVID positivity rate is at 4 percent, one percentage point below the national average for "low positivity." Over the past week, 2,324 residents have been tested, with 98 of those individuals testing positive.
"We're almost out of 2020 and hopefully 2021 will be a much brighter year," Bryan said. According to the numbers as of Monday's press conference, the Department of Health is tracking 124 active cases, with 36 percent of the population, or 36,241 residents, tested overall. Of that amount, 34,139 have tested negative, 2,031 have tested positive and 1,884 have recovered. At this point, there are two COVID-positive patients at the Gov. Juan F. Luis Hospital on St. Croix, and none at Schneider Regional on St. Thomas.
"We've been moving along and doing well in stomping out these surges that have been popping up," he said, adding that the government's ability to conduct upwards of 500 tests daily have helped to identify positive cases quickly and get them into isolation, while residents have done their part in quarantining while sick.
[adrotate group="6"]
As local bars and nightclubs remain closed until Jan. 8, Bryan said requiring travelers to present a negative COVID test within five days of departure to the territory will also help keep the numbers low.
"We want to make sure we work with the airlines to implement this," he said. "No one will be able to check in or get a boarding pass unless they display a negative COVID test within five days of departure. We want to be able to keep everyone safe, and when we're able to reduce the number of people coming in with the virus, then we will be in good shape."
Looking ahead to the new year, Bryan offered a balanced outlook for the next few months, saying that the new COVID relief bill passed by Congress will help residents and small businesses that have been impacted by the pandemic through new stimulus checks, unemployment benefits and rental assistance. With usually busy retail areas such as Main Street on St. Thomas quieted by low tourism numbers, Bryan said the government is trying to offer as much support as possible, including, once money becomes available, possible subsidies for electric bills. The V.I. Water and Power Authority will begin disconnecting customers with outstanding payments Jan. 7, he said.
"The pandemic changed the way we live, our cultural activities, our education system, our family lives and our economic outlook for the foreseeable future," he said. "I don't know many people who have not been affected in some way by a COVID positive, or a death."
Still, there is hope, he added. So far, more than 870 residents have received the COVID-19 vaccine, putting the territory ahead of most states. As a new strain of the virus has emerged, the world might be in a "holding pattern" for another nine months or so as distribution of the vaccine ramps up, but Bryan said that one lesson learned is that the U.S. Virgin Islands has blazed a trail.
"We've led the Caribbean and the nation in straddling the line between health and economic welfare," he said, adding that local hotels are currently booked, and a level of tourism has been maintained without "us having to shut our borders down completely forever."
"So many valuable lessons have been learned along the way," he said. "This experience taught a nation that was built on capitalism and profit that the health and well-being of its citizens is the most important thing above all else."