Gov. Albert Bryan Jr. was released from quarantine by the V.I. Health Department after testing positive last week for COVID-19. Richard Motta, Bryan's communications director, reported the governor was fully vaccinated and remained asymptomatic throughout the time he was in isolation.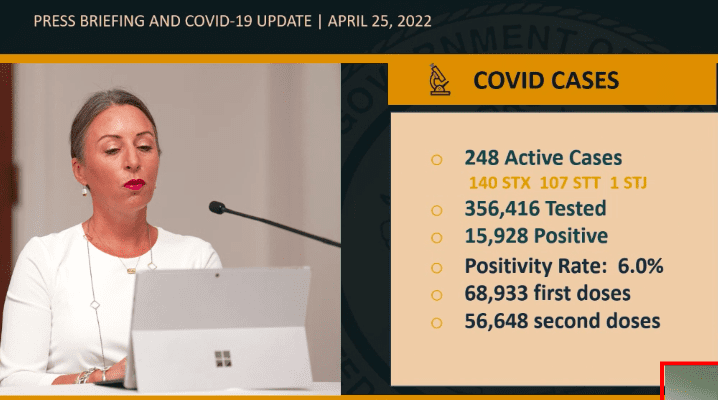 During the weekly press conference at Government House on St. Croix, Motta and VIDOH epidemiologist Dr. Esther Ellis cautioned Virgin Islanders to continue to use precautions, especially while attending upcoming Carnival events during the week.
"As St. Thomas embarks on its highly popular Carnival events, I caution all attendees to be extremely vigilant with respect to the extremely virulent COVID-19 protocols and to take every measure to protect yourselves," Ellis said.
The number of coronavirus cases has increased again, with 248 active cases in the territory, up from 152 on April 16. St. Croix has 140 infections, St. Thomas has 107, and there is one on St. John. Ellis said there are four people in the Gov. Juan Luis Hospital and four at the Schneider Regional Medical Center, but none of the patients is ventilated. Three of the patients were fully vaccinated but not boosted, although they were qualified. Ellis said those who are vaccinated tend to have milder infections.
The current Omicron variant – BA-2 – spreads more rapidly than previous forms, she said. Carnival-goers should wear masks in close spaces, social distance, and frequently wash their hands, she said. Those who test positive at home should go to a vaccine center to be eligible for treatments.
The Health Department will be present at the Food Fair and evenings at the Carnival Village for testing and administering vaccines and testing for STDs and HIV.
Otherwise, vaccinations are available at the Community Vaccination Centers at the Charles Harwood Complex on St. Croix and SRMC on St. Thomas. Vaccinations on St. John are available on Wednesdays from 1 p.m. to 4 p.m. at the Port Authority gravel lot, with testing from noon to 3 p.m.
Adults and children who become fully vaccinated in April will be eligible for a $250 gift card, Motta said, whether at Carnival or a vaccination center. The cards will be available to pick up at the Community Vaccination Centers.
The governor granted administrative leave for non-essential government employees on St. Thomas, St. John, and Water Island from 1 p.m. to 5 p.m. Wednesday for the Food Fair and all day Thursday. On Friday, all non-essential government employees in the territory will have the day off.