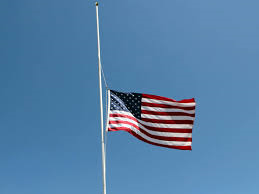 Gov. Albert Bryan Jr. has ordered that all U.S. flags in the territory fly at half-staff to commemorate the 20th anniversary of the terrorist attacks on Sept. 11, 2001, and in accordance with the joint resolution approved by U.S. Congress on Dec. 18, 2001, designating Sept. 11 of each year as Patriot Day.
All flags should be flown half-staff all day until sunset on Sept. 11, 2021, as a mark of solemn respect in remembrance of the 9/11 terrorist attacks on the World Trade Center, the Pentagon and United Airlines Flight 93, and in honor of all the victims and those who died trying to rescue them.
"Twenty years ago, our country witnessed an unimaginable act of terror that targeted our financial and military centers. September 11, 2001, changed our lives forever, and today, as the memory of that fateful day remains, we pray that for the families, friends and loved ones of those lost, the time has helped lessen the grief and pain of losing their loved one," the governor said.
"While 9/11 is a solemn day, we remember and celebrate the courage of our firefighters, police officers and first responders who bravely risked their lives and their health and safety in the immediate response to save others. In addition, we remember the Virgin Islanders who lost their lives on that fateful day," Bryan said.
"We also honor the many Virgin Islanders who were among those brave individuals who responded in the immediate aftermath and the many Virgin Islanders who served in our armed forces, and those who unfortunately lost their lives while defending our nation in the global war on terror," said Bryan.
Americans are asked to honor the dead with a moment of silence beginning at 8:46 a.m., the time that the first airplane struck the World Trade Center, and to respect the ceremonies of remembrance when they are conducted.
Please ensure that any American flags being flown at the workplace are properly raised fully, then lowered immediately to half-staff from sunrise until sunset on Saturday, Sept. 11, 2021.
All flags being flown outdoors must be lowered at the end of the day/sunset unless the flagpoles are properly lit at night.