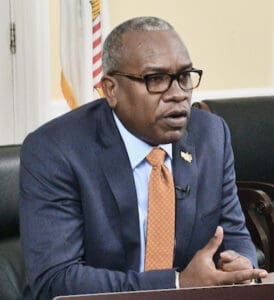 Gov. Albert Bryan Jr. has tested positive for COVID-19, Government House announced on Wednesday.
Bryan discovered he was positive for the virus after taking a COVID-19 test early Wednesday morning as a precaution after returning to the territory on Tuesday afternoon following a weeklong trip to Washington, D.C., and Miami, according to Government House.
While the governor is asymptomatic and in good health, in accordance with Centers for Disease Control and V.I. Health Department guidelines he has cancelled all of his public appearances and is self-quarantining until April 27, the announcement said.
Although he is fully vaccinated and boosted, Bryan has continued the practice of also taking a COVID-19 test upon his return to the territory since the beginning of the pandemic, Government House said.
The governor's positive test result comes as the territory is noting an uptick in cases in the weeks since the Omicron BA.2 subvariant was confirmed in the territory, just over a month since he lifted the indoor mask mandate and less than a week before Carnival festivities are scheduled to kick off on St. Thomas for the first time since the pandemic began in March 2020.
The Health Department urged Virgin Islanders to follow all safety precautions such as handwashing, social distancing and wearing masks in large crowds or enclosed environments at the weekly Government House COVID-19 press briefing on Tuesday.
As of April 19, the latest figures available, there are 135 active cases in the territory, with 70 on St. Croix, 61 on St. Thomas and four on St. John, according to the Health Department. Schneider Regional Medical Center on St. Thomas reported Wednesday that it is treating one COVID-19 patient, who is not vaccinated, while a Gov. Juan F. Luis Hospital official said it has no COVID-19 patients in-house.
The territory's positivity rate is at 5.67 percent, or double what it was a few weeks ago, Territorial Epidemiologist Dr. Esther Ellis said at Tuesday's Government House press briefing. She urged residents to follow all precautions, especially as Carnival approaches.
"During Carnival, the Department of Health will have both a van and a tent at the Village providing COVID-19 vaccines as well as COVID-19, STD, and HIV testing each evening from 7 p.m. to 10 p.m.," said Ellis. The van will be parked alongside the Emergency Management System and V.I. Territorial Emergency Management booths.
Ellis also said that as a bonus, anyone who becomes fully vaccinated between April 19 and April 30, whether at the clinics, the Village, or the Food Fair will receive a $250 incentive card.
If you suspect you have contracted the virus, call the COVID-19 Hotline at 340-712-6299 or 340-776-1519 for information on scheduling a test. The hotline is open Monday through Friday between 8 a.m. and 5 p.m.
Persons who have not yet received a vaccine or booster may still do so at:
St. Croix's Community Vaccination Center in the Charles Harwood Memorial Complex, open Monday through Friday, 1 p.m. to 4 p.m.
St. Thomas' Community Vaccination Center at the Community Health Clinic on the second floor of Schneider Regional Medical Center, open Monday through Friday, 8 a.m. to 4 p.m.
Vaccines and boosters continue to be available for individuals of all ages on St. John at the pop-up clinic in the Virgin Islands Port Authority Gravel Lot on Wednesdays between 1 p.m. and 4 p.m. Testing is also done at this same site between noon and 3 p.m.
Parents seeking pediatric vaccines for their children ages 5 to 11 on St. Thomas can do so at the Maternal, Child Health Clinic in the Elanco Building on Tuesdays and Fridays from 8 a.m. to 4 p.m. Appointments are strongly encouraged by calling 340-777-8227. Parents or guardians need to bring identification for themselves and the child as well as the child's birth certificate.
Visit www.covid19usvi.com for the latest COVID-19 health information or text "COVID19USVI" to 888777 to receive alerts.