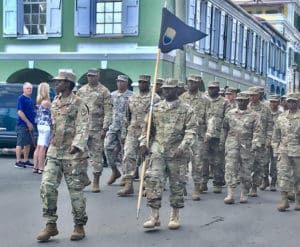 Governor Albert Bryan Jr. issued a statement thanking the territory's current and past veterans for their service in the armed forces to uphold the freedoms that Virgin Islanders and all Americans enjoy.
"There are few things more noble than a man or woman choosing to dedicate themselves to serving in the military and protecting our country, our democracy and our freedom," the governor said. "On behalf of First Lady Yolanda Bryan and myself and the residents of the U.S. Virgin Islands, I am grateful and honored for the sacrifices our veterans have made, and continue to make, to stand as the front line of the defense of our lives, liberties and happiness. God bless you and God bless the Virgin Islands."
Because of the expected inclement weather, the motorcades planned for Wednesday, Nov. 11, have been canceled. A ceremony for this year's honorees – Oscar R. James on St. John, Romeo A. Malone on St. Thomas and Abraham Hewitt on St. Croix – will take place at a later date.