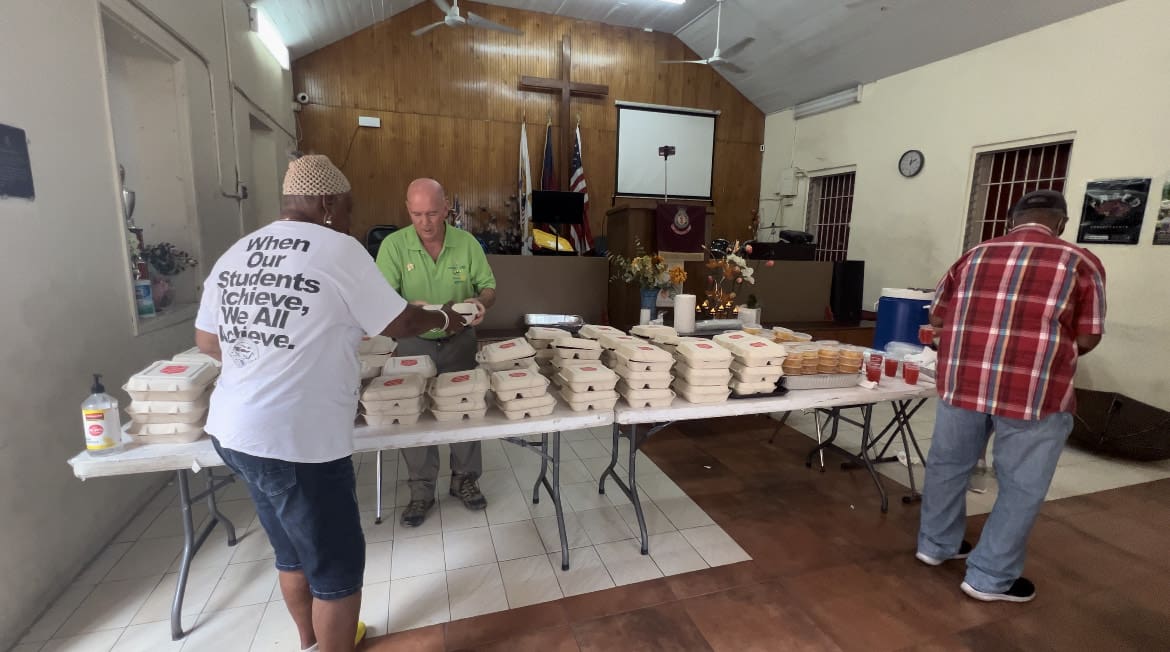 The holiday table brings people together in many homes across the Virgin Islands, but for those in need, the lonely, those who are far from home, or whose loved ones are far away, and for those who answer duty's call, Thanksgiving festivities may not appear. That's where charitable groups step in, sharing food, drinks, and fellowship.
Churches, nonprofits, and fraternal organizations are among those gathering ingredients, cooking and serving holiday meals this week. In fact, some of those groups began sharing holiday dinners one week ahead of time. Their efforts serve as a reminder of Thanksgiving lore that says it began as a communal act of sharing among those facing a winter of want in New England.
Bethlehem House in Hospital Ground and Yellow Cedar Residence in Estate Tutu were among the first venues serving meals hosted by the Alpha Psi Phi Fraternity. "It was the night before their Founder's Day — Nov. 17, 1911," said Canon Sandye Wilson from All Saints Cathedral.
At the Salvation Army near Market Square, Major Steven Pearl said their holiday fare will be served Wednesday to those they feed on a daily basis at lunchtime. "We're not serving dinner on Thursday because there are other groups that are serving Thanksgiving dinner that day," Pearl said.
One of the longest-serving traditions on St. Thomas takes place on Thursday at Emancipation Garden. "We start serving at 11:30 a.m. because we'll have some soup, and then we'll serve dinner until the food is finished," said community member Francine Penn-Scipio.
Former Democratic Party District Chairman Edgar Baker Phillips and family members are among the donors supporting the Emancipation Garden service event. "We're donating a turkey, our juices, and a ham," Baker said.
All Saints Cathedral and St. Andrew's Episcopal Church are offering Thanksgiving meals after Thursday morning services. Hyacinth Hendricks, a member of the St. Andrews Armor Bearers, said holiday lunch service will begin around 12 Noon.
At the Rothschild Francis Market Square, members of Feed Caribbean join together with the Methodist Training and Outreach Center to serve dinners in Charlotte Amalie. Outreach Center Executive Director Dan Derima said Thursday will be their second-holiday offering for the month. "We did our feeding last week, Thursday. We are doing another feeding with Basketball Travellers, starting at 11:30 a.m.," Derima said.
Basketball Travellers is the group that organizes the annual Paradise Jam tournament at the University of the Virgin Islands. Women's division contests are set to begin on Thanksgiving Day.
Our Lady of Mt. Carmel Church on St. John is offering meals to its regular breakfast service clientele, first responders, and visitors who ask on Thursday, starting at 11:30 a.m., said administrative secretary Simonia Athnese-Dagou. The church's outdoor chapel in Coral Bay on King's Hill Road will also serve as a Thanksgiving Day meal-sharing site across the street from the Agriculture Department.
The Perfect Ashlar Lodge conducted meal distribution over the weekend and visited the Julius E Sprauve School on St. John to hand out turkeys to a number of families, one lodge member said.
The holiday weekend wraps up with another feeding at Bethlehem House for the Homeless and Yellow Cedar Residence for adults with assisted living on Saturday. Omega Psi Phi is also expected to assist with the distribution of meals on that day, Wilson said.