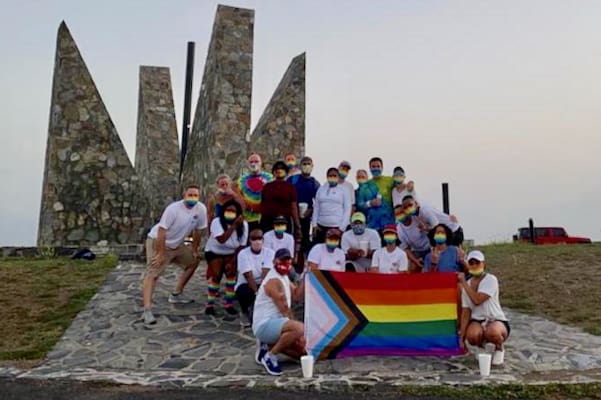 Sunday, a couple of dozen people walked from Cramer's Park to Point Udall to support St. Croix's LGBTQIA+ community after the COVID-19 pandemic disrupted the annual June Pride celebration.
The participants began the uphill walk at 5 a.m. in the dark and rode back in vehicles after sunrise. The group enjoyed a complimentary Crucian breakfast of boiled eggs, stew saltfish, steam spinach and okra, fritters and Johnny cakes.
According to Rodney Kidd, the event organizer and board member of PFLAG-VI, a support group for parents of gay and lesbian children, the walk was important to give participants the opportunity to show one another the kindness, support and empathy that they all deserve.
In addition to helping and educating each other, the walk helped spotlight organizations that offer professional guidance. They can be accessed on Facebook, by phone or email:
– The Frederiksted Health Care Inc. Division of Social and Community program offers counseling and education. It can be reached at 340-772-0260.
– One Luv Inc, a local support group can be found on Facebook.
– Parents interested in information on PFLAG-VI can contact queensinboots340@gmail.com.
"The vision of PFLAG VI is a territory-wide manifesto to empower people to grow, connect, strive and thrive as Virgin Islanders and residents of all four islands," Kidd wrote to the Source.