Pictured above (left to right): Race Director Matt Crafts, Race Winner Derik Harrison and Race Director Mary Vargo.
Photos provided by Mary Vargo. 
St. John, USVI – Close to 60 runners turned out for the first Ten Bay 10K Road Race on St. John on Saturday, December 3rd. The Ten Bay 10K featured a challenging and scenic course within the Virgin Islands National Park along North Shore Road. Beginning at the Virgin Islands National Park Visitor Center, the course traversed the north shore of St. John for 6.2 miles, overlooking ten of the world's most beautiful bays and beaches. The race finished at the Maho Bay beach pavilion.
The top male finishers were Derik Harrison (40:15), Evan Jones (43:35) and Beau Layton (45:32) of St. John. Harrison recently moved to St. John from Colorado. A sprinter in high school and college, this was his first long-distance competition. He runs the north shore route regularly and his 6:30/mile pace placed him minutes ahead of runner-up Evan Jones, a cross-country standout and senior at Gifft Hill School. Of the event, Harrison said, "It was a lot of fun and I'm very grateful to have had the chance to run with everyone. The course was hard and everyone gritted through. It was amazing to see."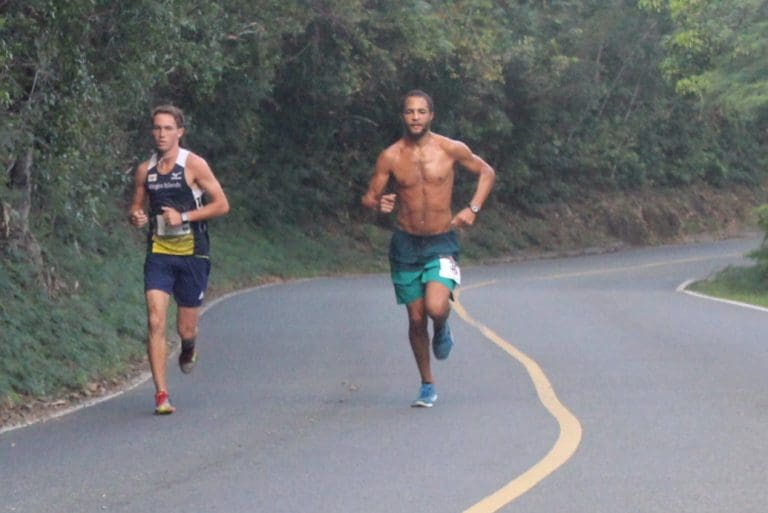 [adrotate group="6"]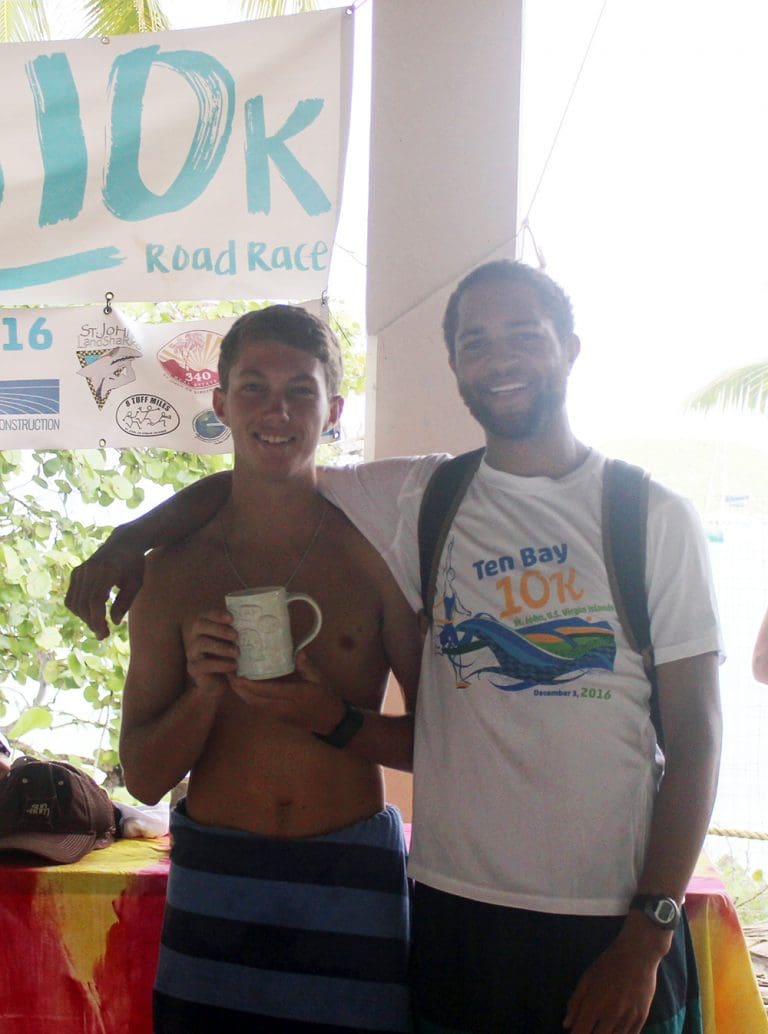 On the women's side, Katrina Crumpler of Tortola (55:02), Catherine Lambright (56:50) and Brenda Simpson (57:09) of St. John took the top spots. A regular 8 Tuff Miles Top 100 Finisher, Crumpler is a familiar face on the St. John race circuit. Last year, she finished 1st among women and 4th overall in the St. John Trail Race. All Ten Bay 10K top finishers received a mug created especially for the race by Gail van de Bogart of Maho Bay Clayworks/Pickles in Paradise.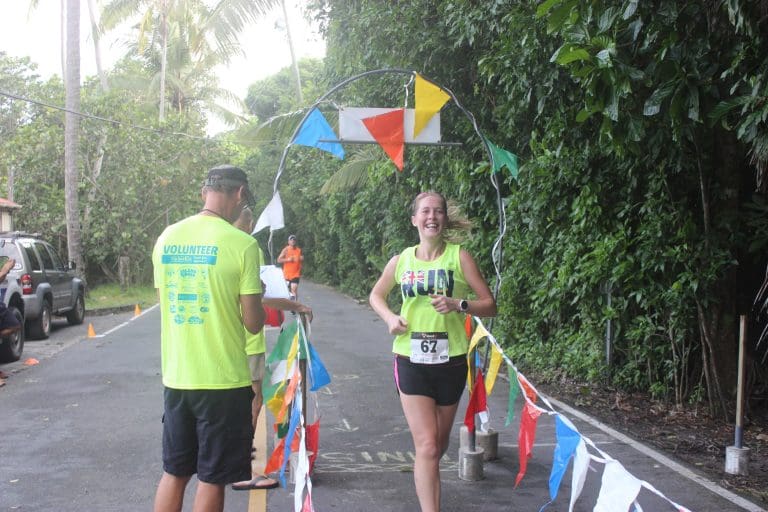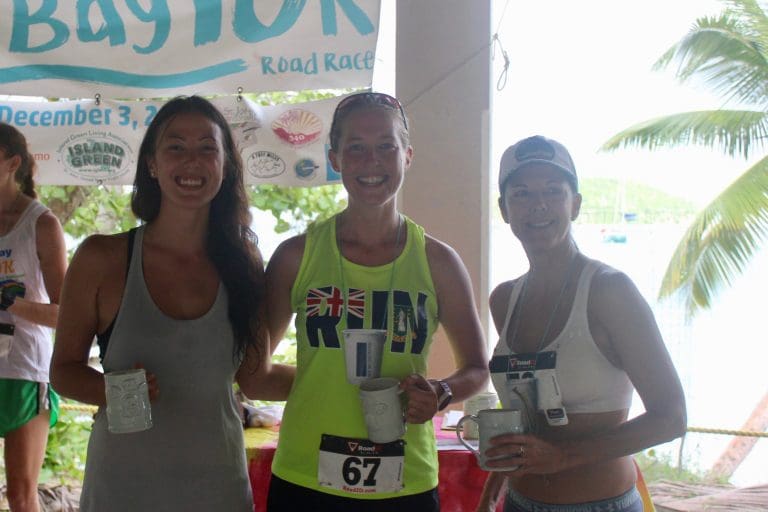 The 56 participants ranged in age from 13 to 67. The race had a 1 hour 30 minute time limit, but this posed no problem for the runners and the race ended earlier than scheduled. Runners received a t-shirt or tank top, as well as an engraved stainless steel drinking straw as they crossed the finish line (a collaboration with the Plastic-Free St. John initiative). Runners also received commemorative aluminum water bottles courtesy of The DiGiacomo Family and Island Green Living Association (IGLA).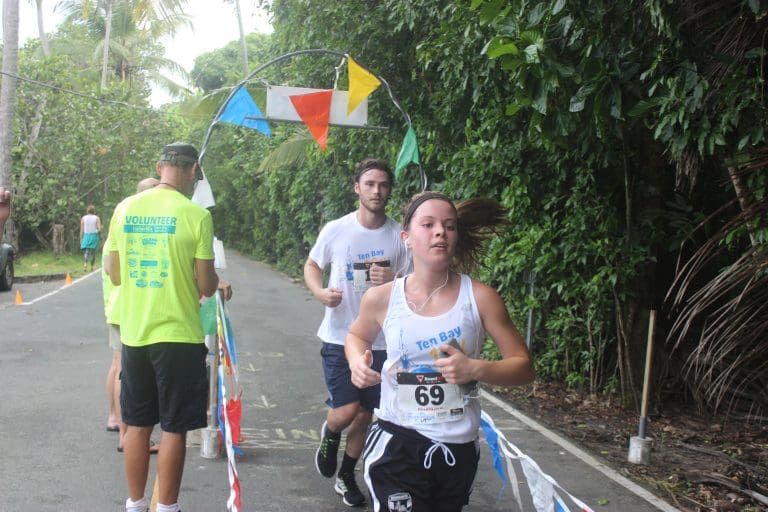 Mary Vargo and Matt Crafts of Coral Bay planned and directed the event and also ran the race. Another participant was Peter Alter, Race Director of the 8 Tuff Miles Road Race, which is coming up on its 21st year. According to Alter, "The St. John Ten Bay 10K will soon be another positive St. John event that we will all look forward to each December. I believe that in a very short amount of years, the number of entries will grow along with popularity for this challenging and scenic North Shore run."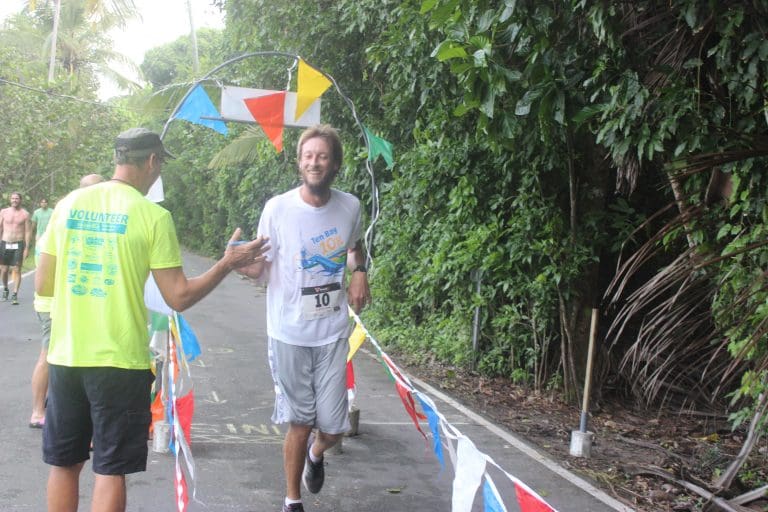 The Ten Bay 10K was supported on site by St. John Rescue, National Park Service and thirteen volunteers–both locals and visitors. The event was also made possible by fourteen local sponsors, including IGLA, The DiGiacomo Family, Blue Bay Construction, St. John Hardware, Jolly Dog Trading Co., St. John Brewers and The Tap Room, Carlson Construction Company, St. John Repair Shop, 340 Real Estate Co., Global Solutions VI Facility Supplies, Freemans Farm, St. John Landsharks, St. John Scoops and 8 Tuff Miles.
Runners can look forward to St. John's next racing event, the 8 Tuff Miles, on Saturday, February 25, 2017. Registration is open for locals on St. John and St. Thomas, and online at www.8tuffmiles.com.
Full results and photos of the Ten Bay 10K may be viewed at www.tenbay10k.com. For more information about the event, contact Mary and Matt at tenbay10k@gmail.com.