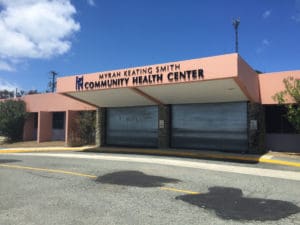 Four years after hurricanes Irma and Maria heavily damaged the U.S. Virgin Islands' health infrastructure and exposed its vulnerability to a catastrophic event, the territory is still working to develop a plan to handle medical evacuations in an emergency.
Ovid Williams, the preparedness director at the Health Department, said Tuesday he expects the plan to be finalized by late October or November, which means at the end of the current hurricane season.
If evacuations are needed this year, they will be implemented with a major twist.
In the wake of the 2017 storms, the federal government spent more than $28 million on travel and care for USVI evacuees, according to previous statements from the Health Department. It's ready to help again but in a different way.
"The federal government was adamant to say that because of COVID, we've got to shelter in place," Williams said. They don't want people traveling, and many of the facilities that housed V.I. evacuees before don't have space now.
"A lot of those places are already filled" with COVID patients, Williams said.
Instead of taking patients to stateside facilities, he said, "they're more focused on bringing things here" – things like a hospital ship, for example.
But for the long term, there is still work ongoing on an evacuation plan.
There was a public outcry over the issue in the months following the September 2017 hurricanes. Family members of medical evacuees and some evacuees themselves told stories of medical records lost in the shuffle, abrupt transfers from one facility to another, "lost" patients, whose whereabouts could not be determined or verified by V.I. health officials, and, later, evacuees who languished in stateside facilities for months.
For the first few weeks, official reports of the number of evacuees kept shifting widely. There were unconfirmed reports that about 50 evacuees died in the ensuing months. Senators began calling for an accounting and demanding a plan for the future.
In June of 2018, the then-Health Commissioner Michelle Davis apologized for the problems during her testimony at a legislative budget hearing by the Committee on Finance.
Davis put the total number of hurricane evacuees at 805, including some caregivers but primarily patients. They had been sent to facilities in Puerto Rico, Florida, Georgia, Mississippi, Louisiana and South Carolina. In addition, there were some transfers from St. Thomas to St. Croix, presumably after Irma devastated St. Thomas and before Maria did the same to St. Croix.
At the time of Davis's testimony – nine months after the disaster – there were still 95 evacuees out of the territory, 56 of them dialysis patients, 15 other patients, and 24 "non-medical attendants."
Despite repeated requests over several weeks to the Health Department for either confirmation or an update of the 805 total figure, Williams said this week that he was unsure of the total for the 2017 disaster; he was not with the department at that time.
However, he said his division has been working with various local and federal agencies, and "we have been re-engaging the persons who left" after the 2017 storms in an effort to identify the gaps in the system and rectify problems.
While the plan has not been completed, it does outline "the process of moving and evacuating patients in worst-case scenarios" according to an email response from the Health Department earlier this month.
The first thing to know is who and where are the people likely to need evacuation? If facilities are damaged, if water or oxygen supplies are low, if electricity is out, persons with chronic illness and the need for regular care will be affected. In 2017, kidney patients receiving dialysis made up the bulk of the evacuees. Another group was cancer patients receiving radiation treatments at the cancer center that was destroyed by the storms.
"We're spending a lot of time making sure we have all the names" of such patients, Williams said. Currently "according to our count, there are 234 dialysis patients within the territory."
There could also be hospital or clinic patients who would need to be evacuated, and Williams said the Health Department is helping ensure that hospitals and clinics have transport available to get them to the embarkation point. Once there, the federal government under the auspices of FEMA takes over.
The V.I. Code allows for one person – generally a family member or other caretaker – to accompany an evacuee, Williams said. But "there's no partner or (local) agency personnel that goes with the patients."
A major change in the plan outline involves the use of a federal system for keeping tabs on evacuees, known as the Joint Patient Tracking and Assessment system. Patients would wear wrist bands similar to those routinely used in hospitals. The band would be scanned each time its wearer entered or left a checkpoint, such as a bus transporting patients to a point of embarkation; a plane or ship moving them off-island; a bus meeting the plane or ship; a medical facility to which the bus transported them. Williams said local personnel have been trained on the system.
As for repatriation of evacuees – another problem identified after the 2017 evacuations – Williams said that piece of the process falls to the Department of Human Services and "we're waiting for DHS to get to us" with their plan. However, in general terms, it would be up to medical personnel attending an evacuee to determine when he/she was medically able to return to the territory, and it would be a "group decision" among local government agencies to determine when the territory was able again to care for patients who were evacuated.
The plan the Health Department is working on is not just for hurricanes. "It's a year-round plan," Williams said. "This is an all-disaster plan."
And, he stressed, "Evacuation is our very last resort."