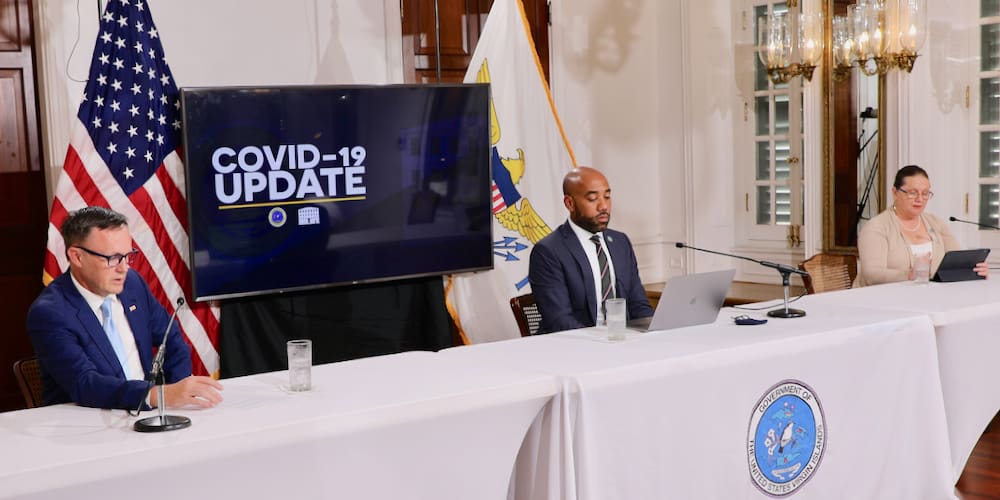 The opening of public COVID vaccine centers on St. Thomas and St. Croix has increased the access residents 16 years old and older have to the vaccine. Taking it a step further, the government has now made available an online option for booking an appointment and filling out the necessary paperwork.
At Monday's weekly press briefing, Government House Communications Director Richard Motta Jr. said that residents can visit the V.I. Health Department's website and click the "book appointment" button to get started. Those without internet can call the V.I. Territorial Emergency Management Agency's appointment hotline at 340-777-8227 (1-340-777-VACS).
A week of having the centers open has helped push the territory almost halfway toward the government's overall goal of vaccinating 50,000 residents by July 1, with almost 25,000 residents having received shots. As of Sunday, 16,929 first doses of the COVID vaccine have been administered, along with 7,959 second doses for a total of 24,888 doses overall. Community centers are situated at the University of the Virgin Islands Great Hall on St. Croix and at UVI's Sports and Fitness Center on St. Thomas.
With the territory moving closer toward its goal and the numbers continuing to remain low, newly eased restrictions went into effect on Monday, including:
– Restaurants can seat up to 75 percent of their allowable capacity and can seat parties larger than six people;
– Taxis can transport more than the 50 percent restriction if all of the passengers are of the same party or group; and
– Beaches will remain open until 5 p.m. on weekends and holidays.
Masking and social distancing requirements are still in effect.
As of Monday evening, the territory was tracking 97 active COVID cases. To date, 49,593 residents have been tested for the virus, with 46,834 testing negative and 2,744 testing positive. Fifteen tests were pending. As of Monday afternoon, three COVID-19 patients were hospitalized at the Gov. Juan F. Luis Hospital on St. Croix, with one on a ventilator, while Schneider Regional Medical Center on St. Thomas has no COVID-19 patients.
Pop-up testing sites this week are as follows:
– Home Depot on St. Thomas on Tuesday, March 9, from 1 to 3 p.m.
– Canegata Rec. Center on St. Croix on Tuesday, March 9, from 10 a.m. to 1 p.m.
– The V.I. Port Authority Gravel Yard on St. John on Wednesday, March 10, from 1:30 to 4:30 p.m.;
– Buddhoe Park on St. Croix on Thursday, March 11, from 10:30 a.m. to 1:30 p.m.; and
– Lionel Roberts Stadium on St. Thomas on Thursday, March 11, from 1 to 3 p.m.