St. John business owners welcomed about 630 passengers of a recently launched high-end cruise ship last month and looked forward to having the vessel in port again on Monday, December 3, and three more times during this high season.
Celebrity Cruise Line's Miami-based Azamara division was launched just this year and made its first call on St. John on November 17. A similar second vessel, Journey, will be added to the line next year.
[adrotate group="6"]
On board amenities include reflexology and massage treatments at Sensory Heaven Spa, swimming pools, fitness facilities, internet, gourmet dining and a piano bar.
With a capacity of just more than 700 passengers and a staff of around 350, the upscale, 539-foot Quest is a perfect fit for St. John, explained Edward Thomas, the president and chief executive officer of the West Indies Company Limited (WICO).
Perfect Fit for St. John
"I think it is absolutely a great fit for St. John," said Thomas. "The ability to have these people with high incomes moving around St. John is going to be great. The last time there were 638 passengers which is a nice size for St. John."
With stops like Gustavia, St. Barths and Carbrits, Dominica, Quest avoids the usual ports of call, Thomas added.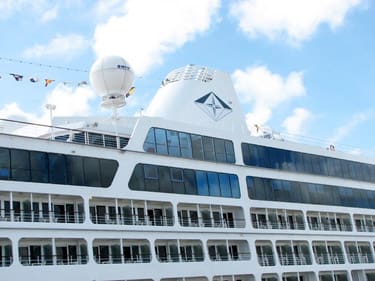 "These are high-end ships doing special itineraries," he said. "They don't go to the big ports or traditional docks. The passengers don't want to be on the beaten path with everyone else."
The ship was moored outside of Cruz Bay from 7 a.m. to 6 p.m. on November 17, which allowed passengers plenty of time for an excursion in the morning and shopping in the afternoon.
"We understand that things went very well that day," said Thomas.
Familiarization Tour
Passengers aboard Quest are hopefully seeing St. John for the first, but not the last, time, Thomas explained.
"Everything we do is geared to people returning," he said. "We hope the guests like what they see on St. John and book a return trip to stay on the island. At the end of the day, a cruise is a familiarization tour."
Quest will be arriving on St. John from St. Barths on December 3. The ship will remain in port from 7 a.m. until 6 p.m. before heading to Ponce, Puerto Rico.
The ship will return on January 10, February 19 and April 3, arriving in port at 7 a.m. and staying until 6 p.m.
WICO representatives are pleased that Quest is calling on St. John, Thomas added.
"We would like to encourage these kinds of visits," he said. "We have always intended to get those upscale vessels to come to St. John. We work with the cruise lines all the time and we think this is a perfect match."