From the brightly-colored costumes to the pounding calypso beats, the crowd's senses were highly stimulated at the St. John Festival July 4 parade.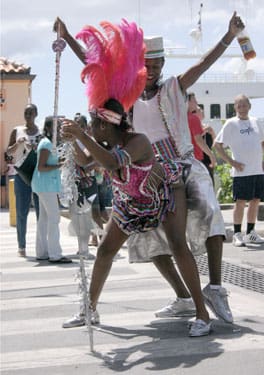 Parade Marshal Graeme Davis, who rode atop a bright red Pontiac Sunfire, set the tone for the day, yelling out to the residents and tourists who lined the street in an effort to raise levels of enthusiasm for the ensuing parade. Carnival royalty, including the Miss St. John and St. John Princess contestants, beautifully dressed in their formal wear, smiled and greeted the crowd.
Close behind were the Middleage Majorettes, decked out in their usual bikini-themed t-shirts, performing a choreographed dance to Gloria Gaynor's "I Will Survive." The troupe's theme this year was pink, in honor of four Middleage Majorettes who have survived breast cancer.
The St. Thomas Majorettes, dressed in bright orange and yellow costumes, entertained the crowd with lively routines to calypso favorites, including Shurwayne Winchester's "Open the Gate" and Faye Ann Lyons' "Party."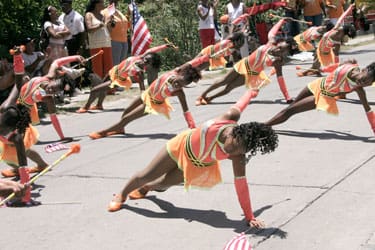 The St. John AARP chapter, dressed in their trademark red t-shirts, carried signs promoting "Health insurance for all," and "Preserve GERS for future generations to come." The group also passed out handheld fans to a hot and grateful crowd.
St. John Brewers, Shaka Zulu Crowd Favorites
The Mighty Groover, always a crowd favorite with his unique parade entries, featured the theme "Bake me a cultural treat and something sweet."
The Westin Resort and Villas' troupe had an under the sea theme this year, while Caneel Bay Resort's troupe was themed "A musical and cultural blend." Caneel's float featured large geckos playing the guitar and trombone.
The Juvenile Delinquency Prevention Program Jammerz, which led the Infernos troupe, got the crowd moving with their upbeat tunes. The Infernos women were brightly dressed in yellow, purple and blue costumes, and they instantly won the hearts of the crowd by handing out sample bottles of Cruzan rum.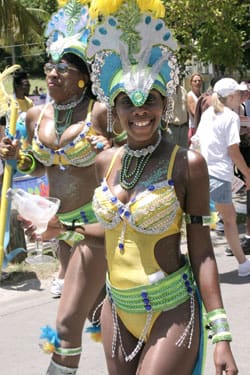 Other popular troupes included We 'N Dem Youths, a makeshift group of St. John teenagers, whose theme was camouflage. The troupe featured several mocko jumbies, also dressed in camouflage.
St. John Brewers provided relief to the thirsty crowd as the company's founders, Kevin Chipman and Chirag "Cheech" Vyas, along with several of their friends, donned "Got Beer?" mug-shaped hats and handed out samples of their new brew, V.I. Summer Ale.
The Shaka Zulu troupe, another crowd favorite, wowed with their primitive-looking leopard and tiger-print costumes and makeshift weapons. The troupe even featured a donkey painted with tiger stripes, further adding to the group's appeal.
Wrecktion Band headed up the Love City Showgirls, decked out in shimmery gold and silver sequined costumes and feather and sequin Vegas-themed headpieces.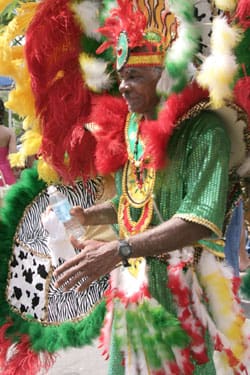 Visitors Enjoyed Costumes and Music
This year's parade drew both tourists and locals alike, including one family who traveled to St. John specifically to partake in St. John Festival events.
"This is our first time here, and we purposely coincided our trip with carnival," said Robin Johnson, who took in the parade across from Mongoose Junction with her husband and children. "We did research on what was going on in different places."
The family seeks out unique local events, explained Robin Johnson's husband, Hunter Johnson.
"We like unique parades and unique activities, and this one seemed different," said Hunter Johnson. "We are enjoying the local costumes, the people, and the music that accompanies each troupe. They all look like they're having fun."
For one Love City couple, joining the Cool Sessions Brass troupe was the opportunity of a lifetime. Long-time island residents John and Sue Brandi, die-hard fans of the band, were asked to join the troupe, explained Sue Brandi.
"They know how much we love them, so we were asked to join," she said. "We love them. This is the thrill of my life."
Later that evening, a colorful and fast-paced fireworks show entertained crowds lined along Cruz Bay beach and at the Battery, where hors d'ouevres and refreshments were served.
The fireworks show, which was paid for entirely by community donations, was done by Bob Reed of Moonlight Fireworks.
Barbados soca queen Alison Hinds rounded out the festivities in Festival Village with a high-energy performance.
Revelers enjoyed a safe 2007 St. John Festival. No major incidents were reported during this year's festivities.