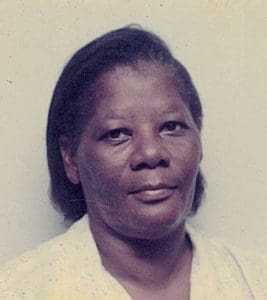 Hilda Adinah Laudat of Estate Richmond died on July 24. She was 85 years old.
She is survived by her daughter, Fabia P. Laudat-Dover; son, Hilarie Andre Laudat; stepdaughter, Carolyn Brown; stepson, Fredrick Laudat; grandchildren: Adinah Joseph, Trevaughn Dover, Andre, Camila, Nyah and Himylie Laudat; step-grandchildren: Shatanya Brown, Sharlene Brown and Kadheem Hennemann; great-grandchildren: Amirah Joseph and Faith Harris; and sisters: Christiana Teague, Beatrice Owen, Marjorie Hampson, Joan Hampson, Alexandra Hampson and Jasmine Hampson.
She is also survived by brothers: Eugene Hampson, Stephen Hampson, John Hampson and Anthony Hampson; nieces: Joy, Jel, Lydia, Valeesha, Pearl, Lisa, Jackie, Shantel, Gem, Terri-Ann, Jewel, Chanda, Lorna, Cora and Antoinette; nephews: Eugene, Everrette, Marvin, Paul, Kevin, Cleavon, Peter, Rohan, Ceaser, Barnabos, Stephen Jr., John, Phillip, Ives, Jay, John and Chandy; aunts: Yvonne Brown and Albertine Peters; uncle, Clem Peters; daughter-in-law, Cynthia Santos; son-in-law, Okang Dover; and brother-in-law, Joseph Teague.
Other survivors include sisters-in-law: Myrtle Hampson, Hilarie Hampson and Cleothilda Hampson; godchildren: Joan Adams and Natalie Samuel; special friends: Agatha James, Jacklyn Dyer, Brendalee Watley, Edith Thomas, Olivette Hamilton, Mr. and Mrs. Sidney Samuel, Marie Richards, Lyle Henry, Victoria Anderson, Nolma Simaj, Tyrone Hazelwood, Sister Griffith, Sister Liburd, Pastor Davis and family, Angie Petrus and family and the Trinity Wesleyan Holiness family; as well as cousins and other relatives: Hampson, Knowles, Joseph, Christopher, Elvin and other family in Antigua too numerous to mention.
Funeral service and burial will be held at 10 a.m. on Tuesday, Aug. 11, at Kingshill Cemetery.  The family respectfully requests that attendees wear a face mask and adhere to the social distancing requirements.