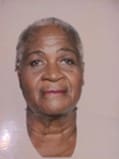 Hilda Lucille Ogiste-Hade, also known as "Lucille," "Trini," "Mama Lu," or "Luci," died on March 2 at the age of 89 in Orlando, Fla.
She was preceded in death by her son, James Thomas Jr.; her stepson, Oswind Thomas; and her grandson, Kevin St. Clair.
She is survived by her daughters: Ermine St. Clair aka "Cheryl" (son-in-law Gerald St. Clair), Dianne Dempster, Andrea A. Auguste (ex-sons-in-law: Albert Callwood and Tony Auguste); son, Kenrick Thomas aka "Smoke" (Nytha Brathwaite); and stepsons: Winston Thomas (wife and three children) and Davidson Thomas (wife and five children).
She is also survived by grandchildren: Sharon Thomas, Afua DeWindt (grandson in-law Donald DeWindt Jr.), Kizzy St. Clair, Keston St. Clair, Elizabeth Thomas, Devon Thomas, Allison Thomas, Keishma Queeley, Nester Thomas, Shaness Thomas, Sharifah DeWindt, Lester Thomas (wife Tammy Thomas), Alston Callwood (wife Safiya Callwood), Alfred Callwood (wife Chinelle Callwood) and James Thomas Jr.'s son.
Other survivors include great-grandchildren: Shadee Baskin (husband Jessie Baskin), Malik DeWindt, D'Aja DeWindt, DeAvian Thompson, Kayleb Thompson, TeJean Somersall, Synia Somersall, Kevin Wonie St. Clair, Te'Naija Stevens, Taijah Stevens, TeKhai Stevens, Tiron DeWindt, T'Moi DeWindt, Tenan DeWindt, Zahara Kante, Victoria Thomas, Kayla Callwood, Justin Callwood, Dominic Callwood, Rylie Callwood, Kye Little, Madison Little, Kabrea Thomas, K-Cee Jean-Paul, and Emily Shade Thomas; great-great- granddaughter, Madison Hope; and step-nephews: David Ogiste and Steven Ogiste.
She is also survived by her special friends: Sarah Rawlins, Winston Clark, Sylvia Son, Gemma Williams and many other relatives and friends too numerous to mention, including the pastor and members of St. Thomas Church of Christ.
Relatives and friends are invited to attend the first viewing from 3-5 p.m., Thursday, March 25, at Blyden Memorial Chapel. The second viewing will be held at St. Thomas Church of Christ, Hoffman Estate, from 9-10 a.m. The service will follow at 10 a.m.