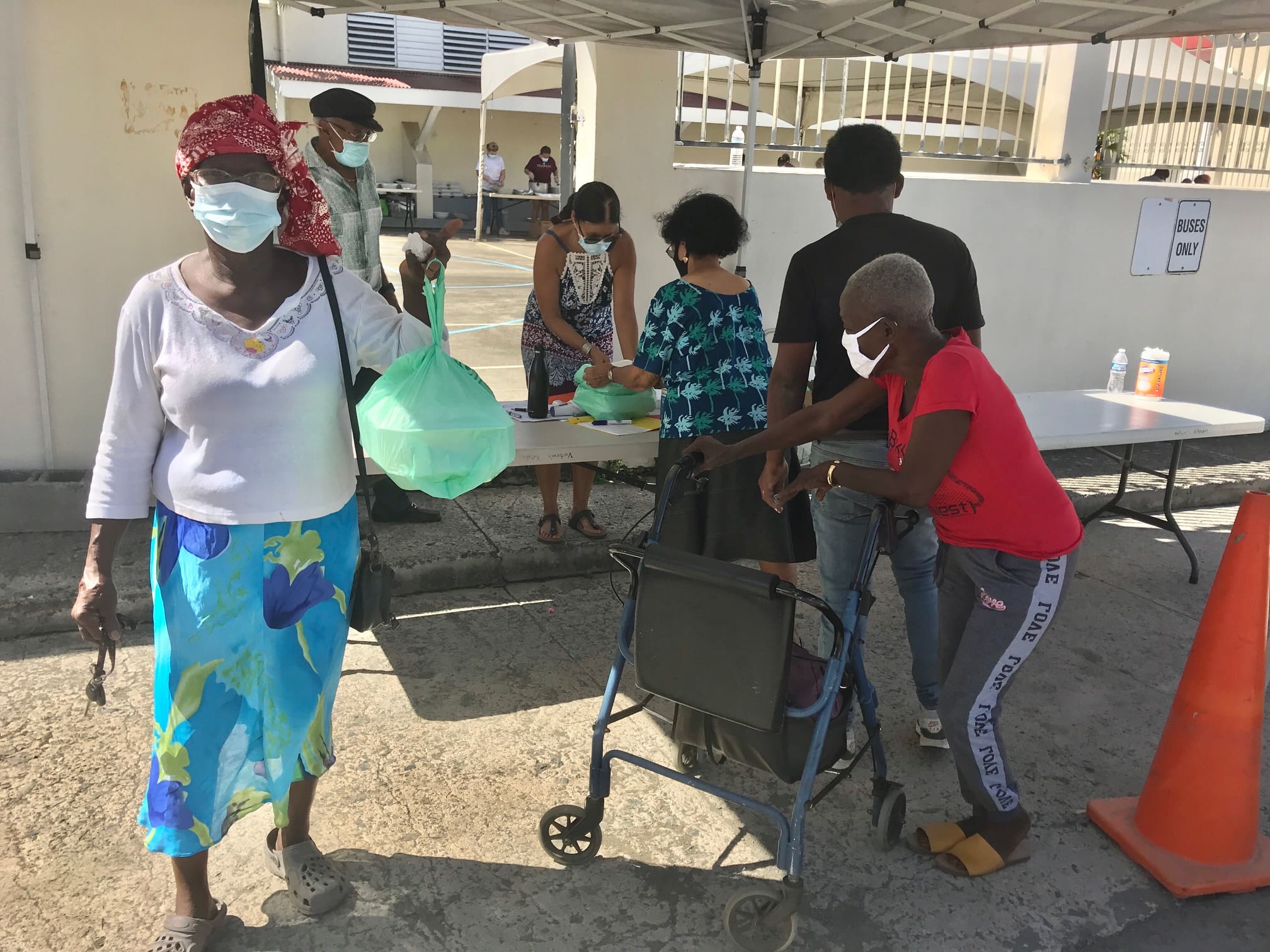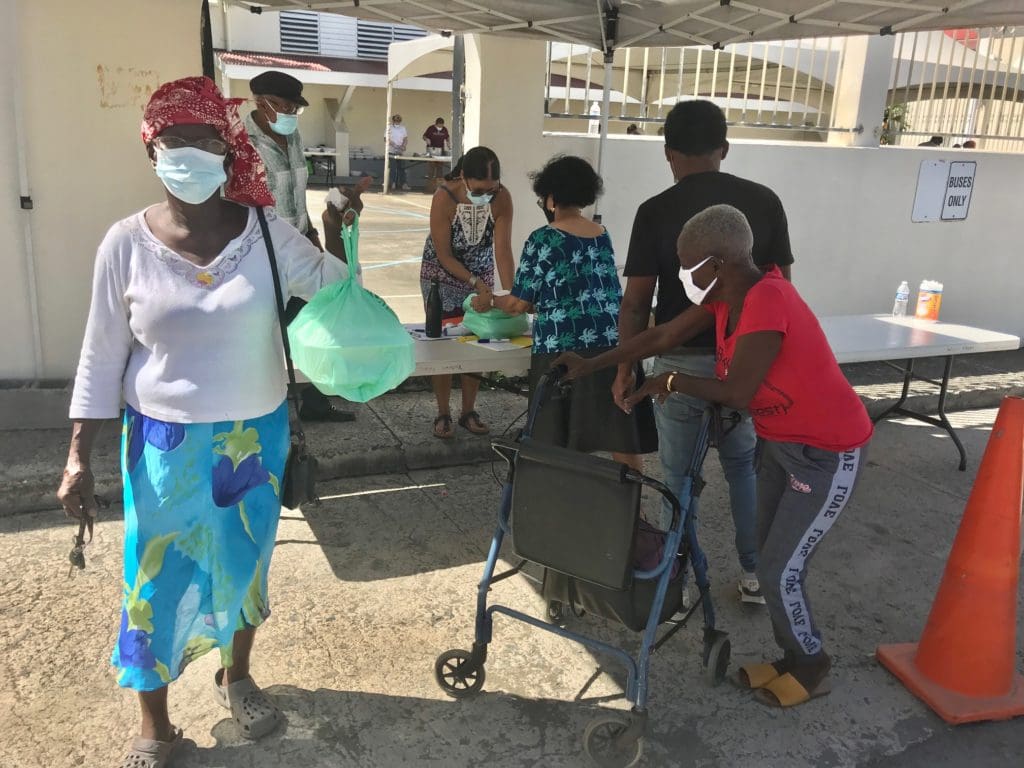 Under a clear and sunny Thanksgiving sky, 33 volunteers came together to spread the love by donating their time and energy – carving hams and turkeys, scooping up macaroni and cheese with rice and veggies and making the day a happy one for many folks on St. Croix.
History tells us the Thanksgiving Luncheon Project was the brainchild of Pedro Guillon from the Sacred Heart Chapel. In 1990, after seeing people in Mexico on TV going through garbage looking for food, he became mindful of the increase in the homeless population and the less fortunate on the island.
Together with other parishioners from Sacred Heart Chapel, he came up with a plan to feed the less fortunate and followed through with the idea for the first three years serving meals from a shed on the east side of the chapel.
The project grew and was moved to St. Mary's cafeteria from its humble beginnings, with three turkeys, two hams and donations of $60 feeding a total of 135 people.
[adrotate group="6"]
Lenore Finch joined the project in 1993, and when Johanna Chenet left the island in 1999, Milly de Chabert joined. Finch and de Chabert have continued at the helm since Chenet's departure.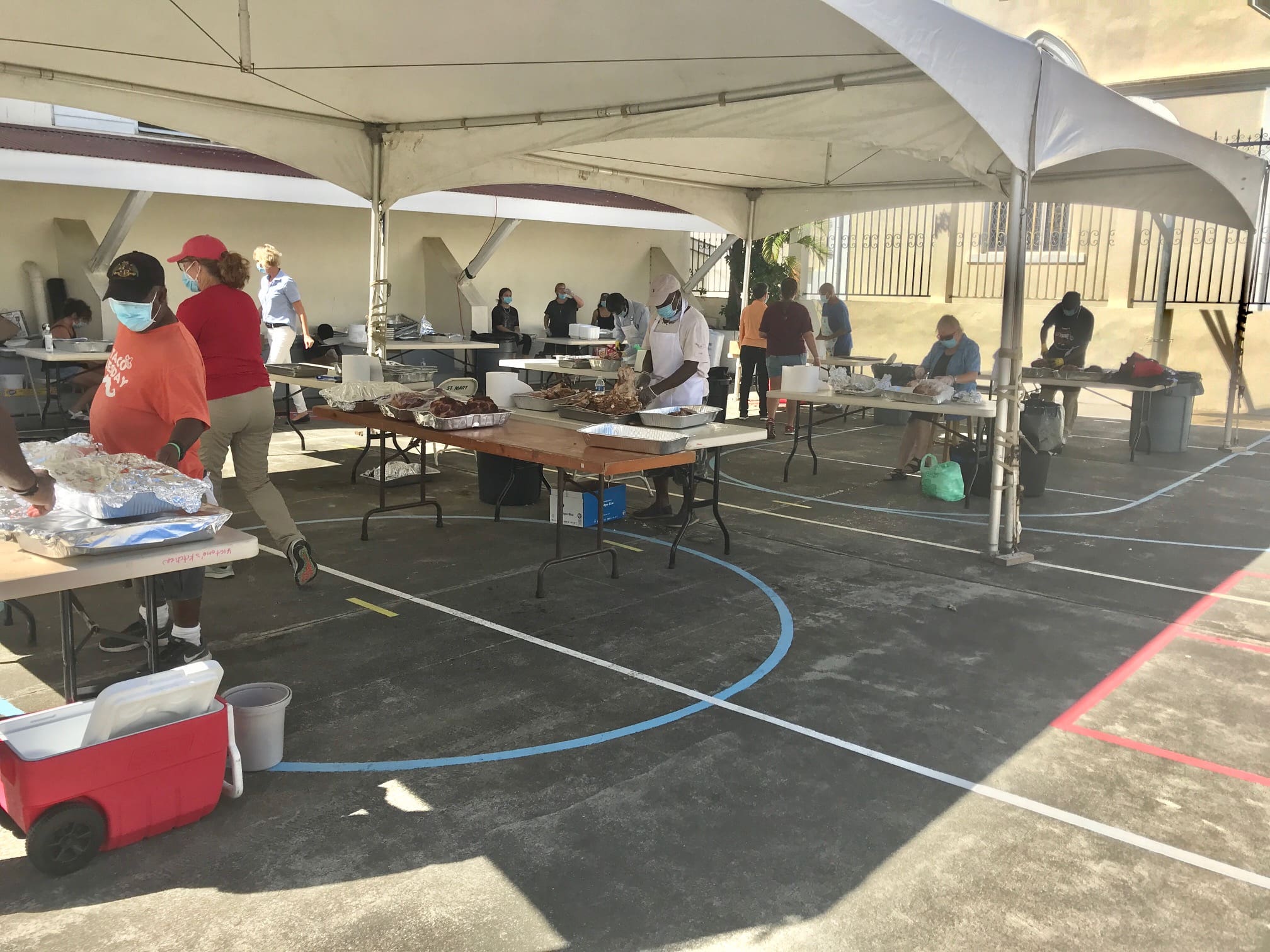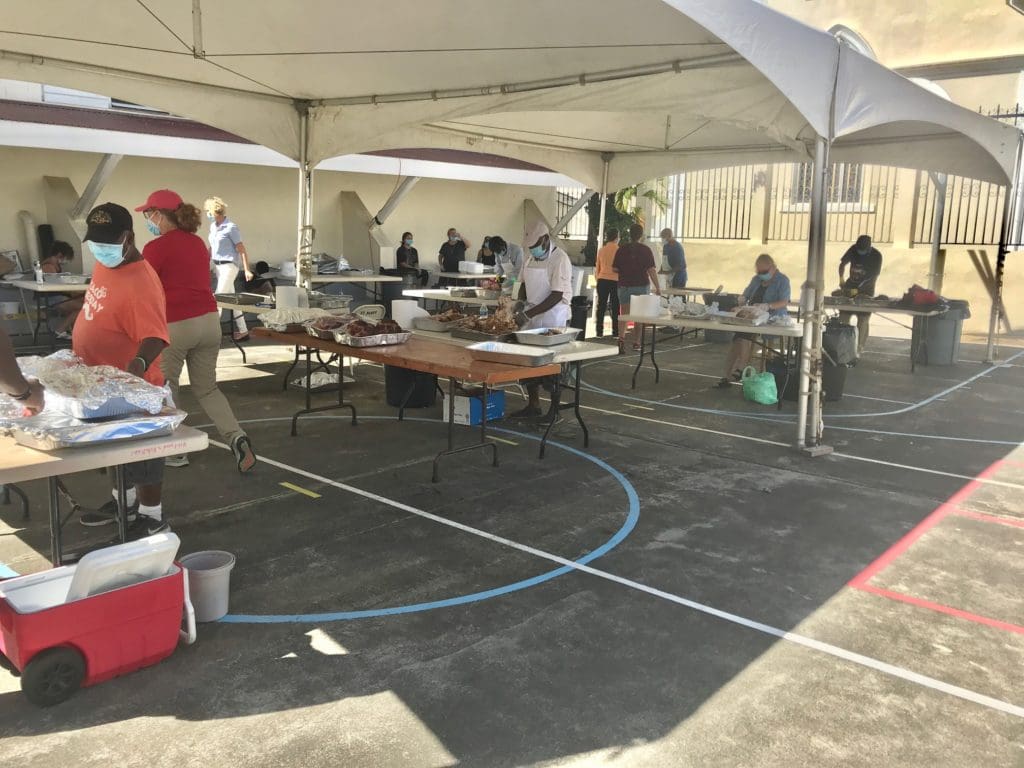 "This Thanksgiving, with over 50 turkeys and hams, a variety of sides and desserts donated by people of different religions with a good heart and a passion for community service, we were able to prepare over 1,000 meals for the less fortunate in our community. To God be the glory," Finch said.
Marilyn Parris was leaving the area with her Thanksgiving meal and stopped to give thanks again. "My friend told me about this project going on. This is so great. I can't afford to buy a whole turkey. And this means I don't even have to cook. I appreciate it so much," she said.
Volunteer Lucien Downes said he usually comes every year. "I came out at about 6:30 this morning, and I've carved 25 turkeys so far."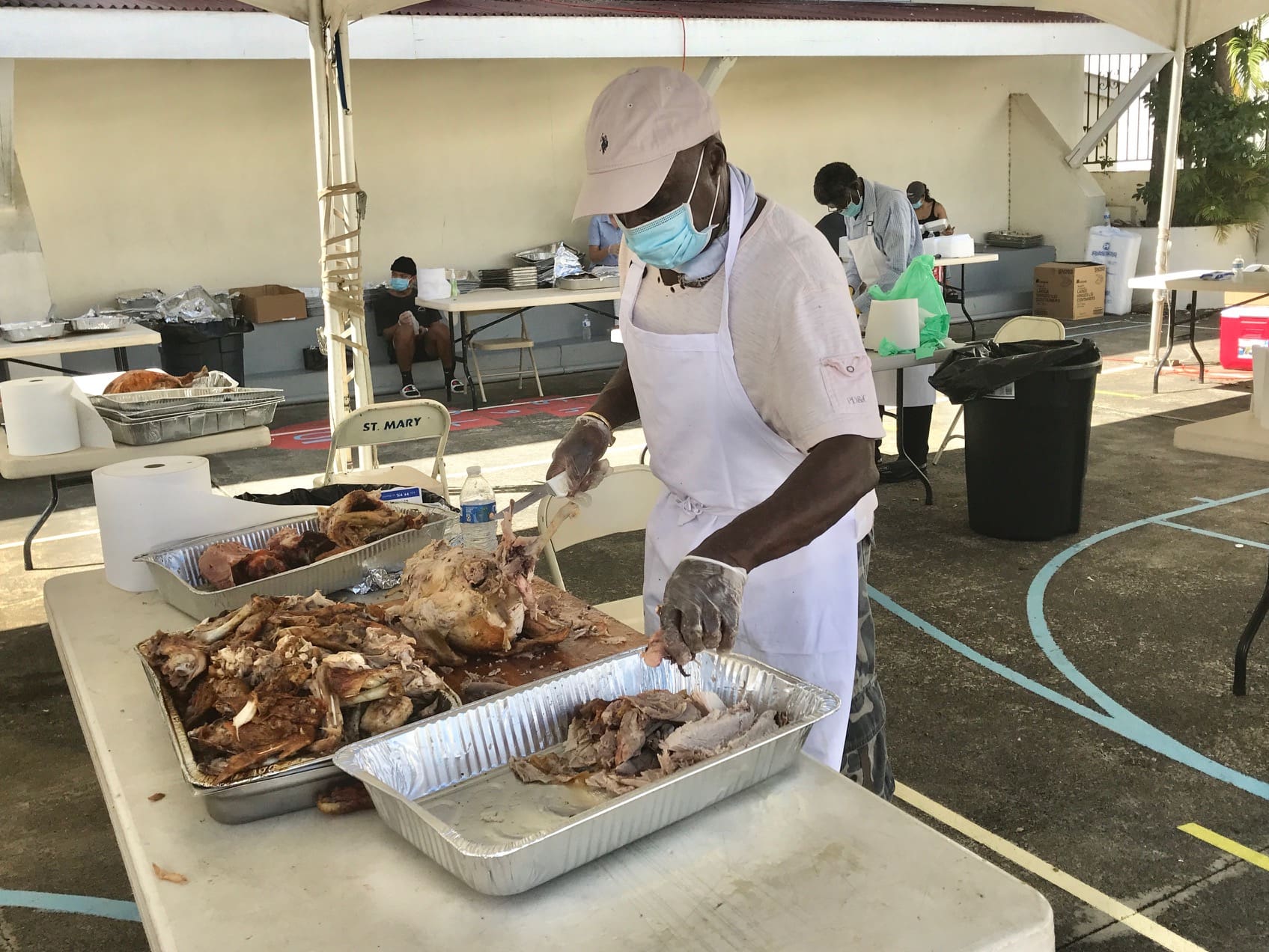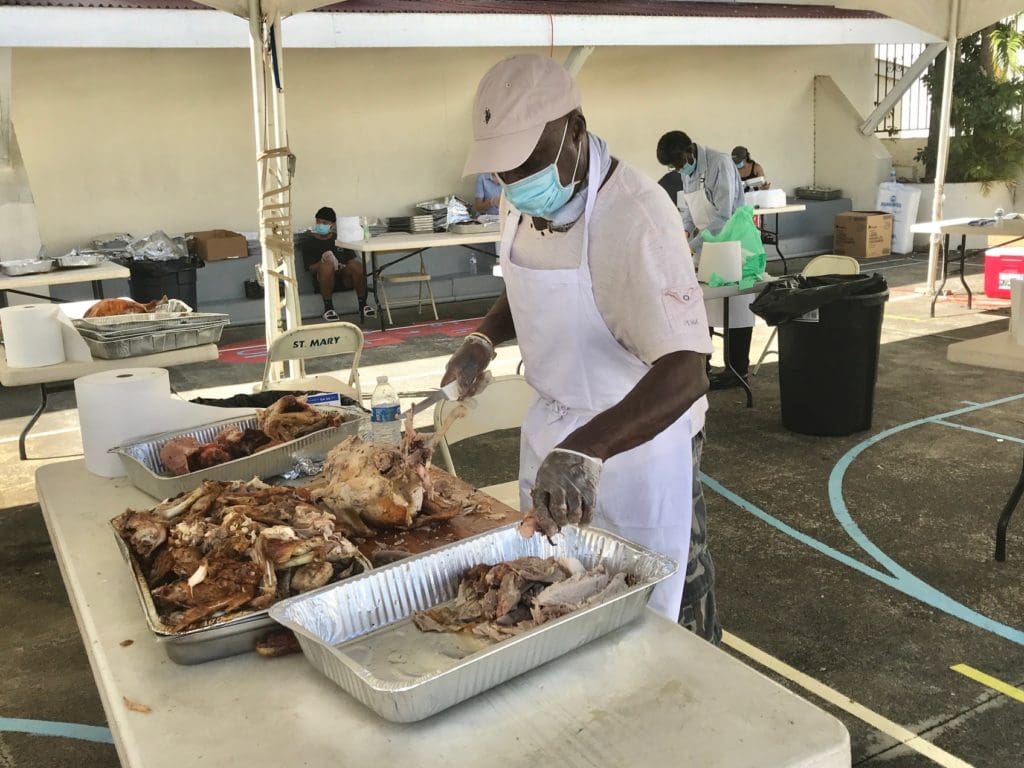 Mary Schurbert has been a Holy Cross Church member for 44 years. "I came out at 8 a.m. and carved six turkeys and a ham. I love doing this every year," she said.
Rikki Nelthropp has been with the project for a couple of years. She said she has seen a huge growth of the project in those years.
"It's too hard physically to make the Crucian seasoned rice and potato stuffing and roast the turkey. We pay people to cook. This year we had to do things differently because of COVID-19," she said.
"We usually do 1,200 meals, but this year we committed to 800 with only half of our regular volunteers. We got permission from the commissioner of Health and the governor to use the space, with everyone adhering to social distancing," Nelthropp added.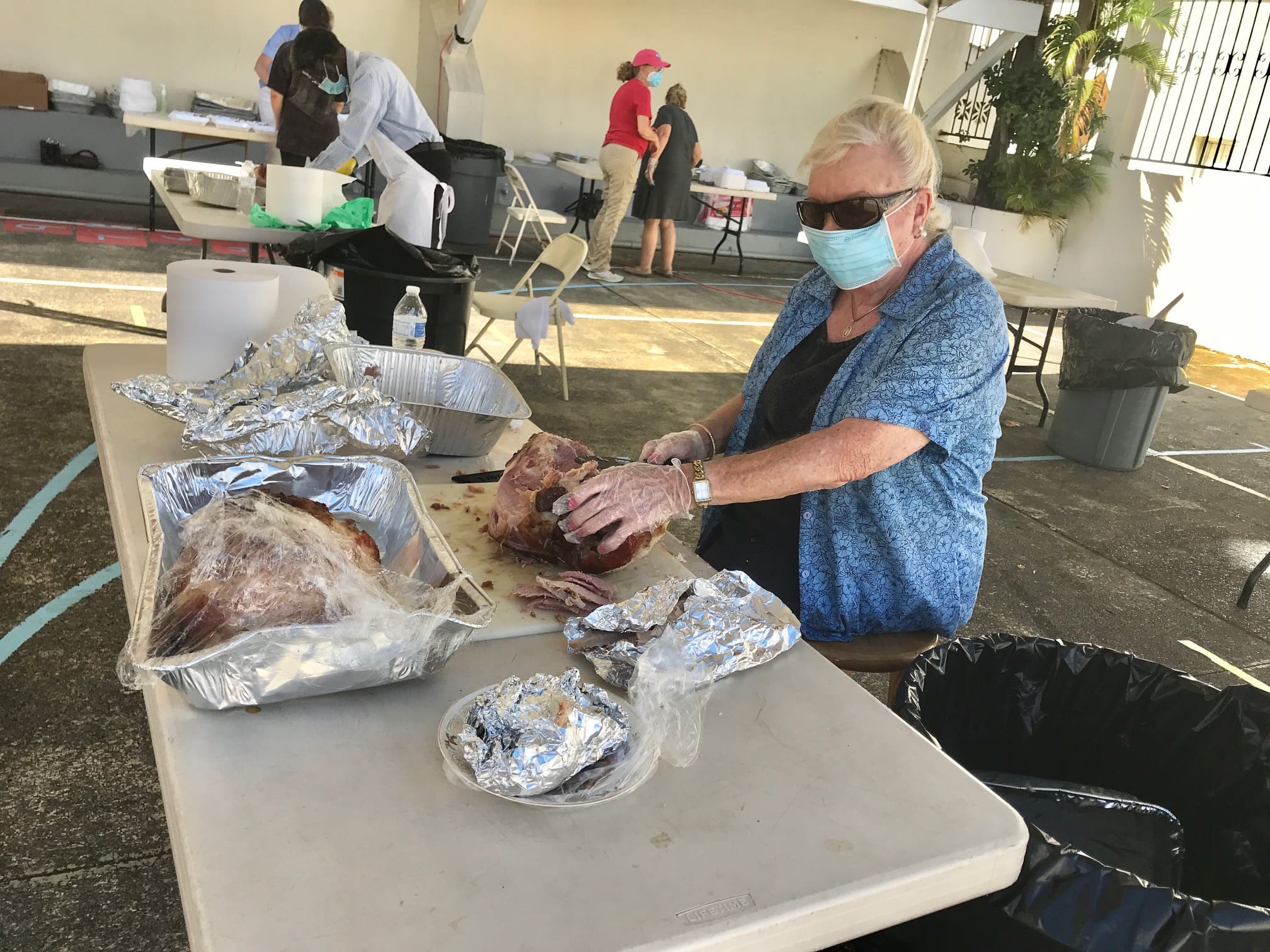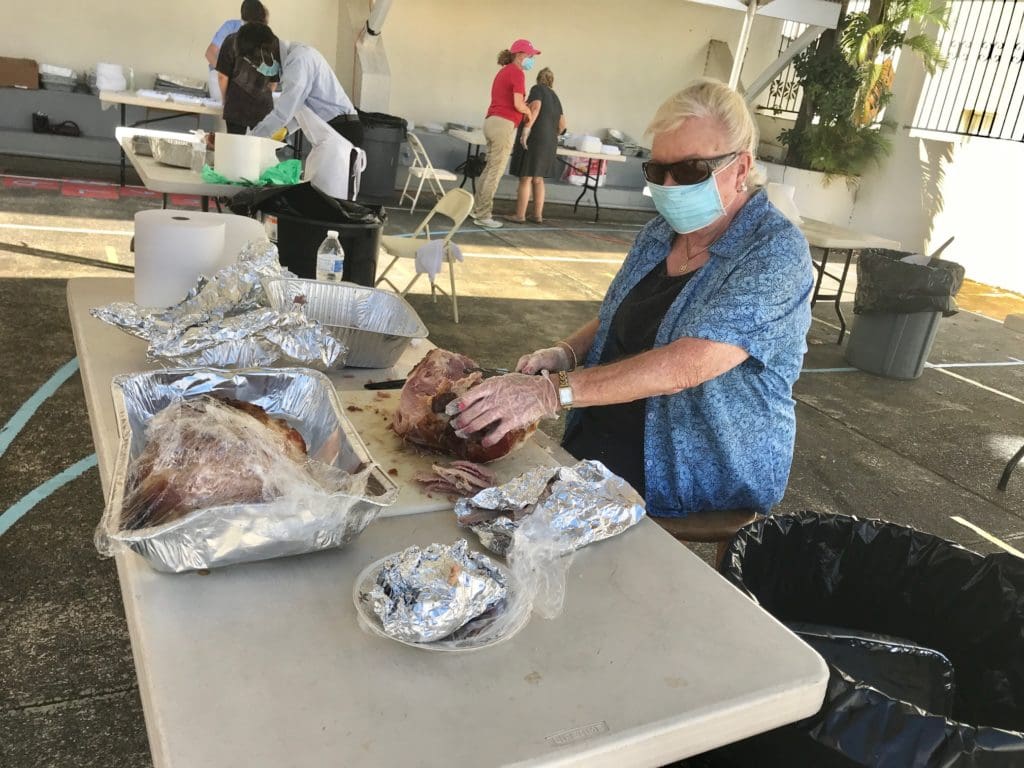 There was help from many to deliver meals throughout the island. The church sisters took 300 meals. Doc Petersen took 75. The Fire Service took 100 meals to Sunny Isle and Flamboyant housing communities, she said.
"A local lady made 600 tarts for dessert. Our final count was 60 turkeys and 60 hams. St. Mary's School had a drive for vegetable donations."
Nelthropp thinks there may be some money left over from today's activity.
"We're thinking of using it to do a small version of this for Christmas. We can pick a single community like Genip Gardens or Sunny Isle Housing and focus on getting the food out to them."
Nelthropp would like the Holy Cross Project to get together with other community organizations and possibly pool resources to serve the community on Christmas, Easter and other holidays. It could be interdenominational, she said.
"We need young people to pick up the baton," Nelthropp said. "We can't continue by ourselves. If we don't have young people to carry on, we won't be able to do it. We need succession plans," she added.
Several young people came out to volunteer today. The Capdeville quadruplets – Savanna, Donovan, Gabriel and Douglas; Dr. Mavis Matthew's nephew, Makari Matthew; Dr. Michelle Dizon's children; and a number of other young people.
Makari Matthew said, "This was my first time volunteering for this project. It was a great experience. I uploaded all the turkeys and hams. Seeing all that food and all that had to be done made me so happy to be a part of it."
Gwen Brady of the Office of the Lieutenant Governor and Savanna Capdeville, freshman at Syracuse University, worked together bagging the food containers for takeout.
"This activity takes you out of the office into the area of those in need, those who are less fortunate," Brady said. "The contributions from the community have been tremendous – monetary as well as the food. There is no way we could do this without all of St. Croix coming together," she said.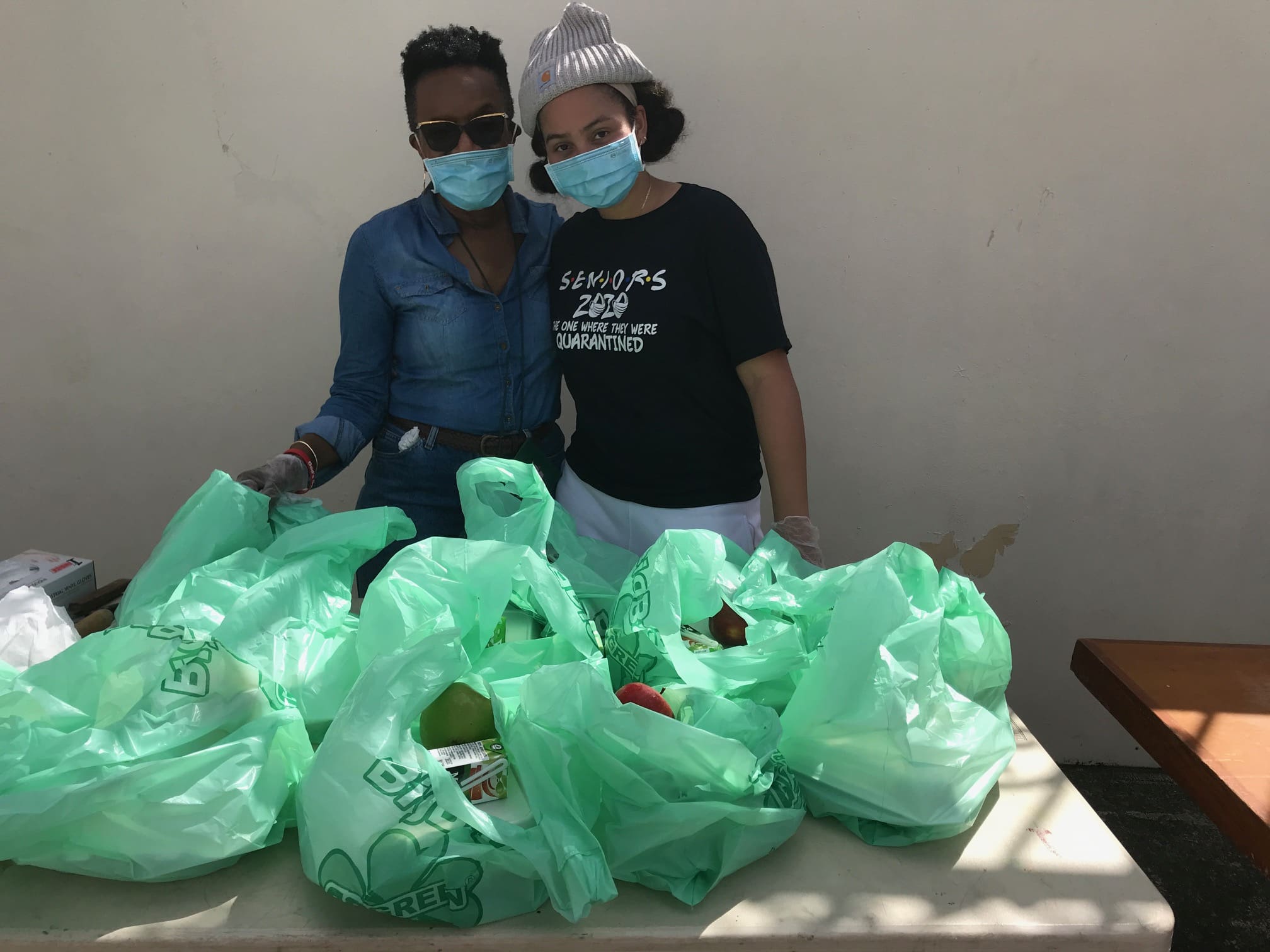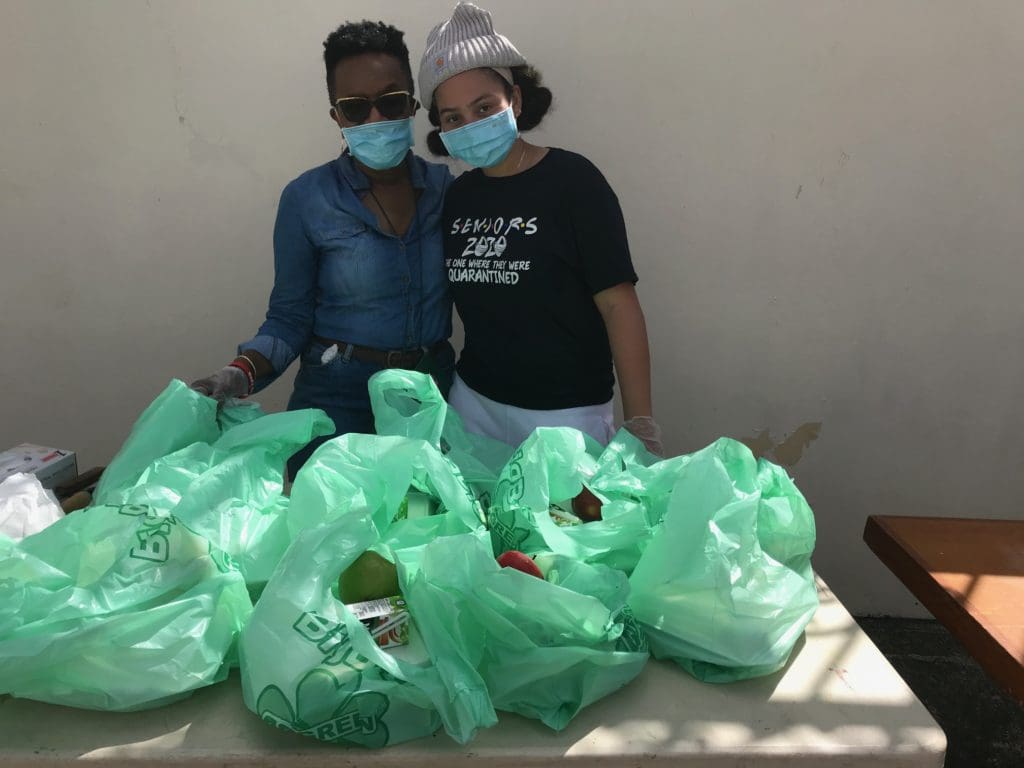 "The virus has impacted us, and the need gets greater when there is a crisis. The beauty of this is you can make adjustments. It's when people respond to a crisis and you're doing the work and you can see the results," Brady said.
Both Brady and Nelthropp directed attention to Andre McBean. He is known for his service to the community, from the Women's Coalition to the People United for a Better Virgin Islands and the legendary Gentlemen of Jones Organization.
McBean was in his element doing all things possible to keep the ebb and flow of today's project going, Nelthropp said.
Nelthropp thanked Reliable Rentals for the tent, Ballard at Limetree Bay for 30 turkeys and hams and macaroni and cheese, and Becksted Law Firm, Vivot Equipment Corp. and Team Consultants for their monetary donations.