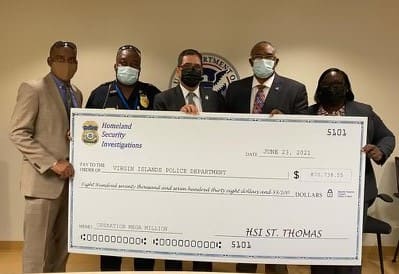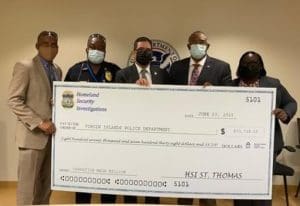 On Sept. 16, Homeland Security Investigations (HSI), Special Agent in Charge (SAC) San Juan-Ivan Arvelo presented a symbolic check to U.S. Virgin Islands Police Department (VIPD) Commissioner Ray Martinez in the amount of $870,738.55. The check represents the amount that was transferred to VIPD as part of the Homeland Security Investigations Equitable Sharing Program.
Through equitable sharing, federal forfeiture proceeds can be shared with cooperating state and local law enforcement agencies.  This helps to enhance cooperation amongst these agencies and provide valuable additional resources to state and local law enforcement agencies.
To receive an equitable share of seized assets, an agency must assist in the law enforcement effort resulting in the federal forfeiture. The amount presented on Sept. 16 represents a portion of assets that were seized from criminal organizations by CBP Air and Marine Enforcement Officers and HSI St. Thomas agents with support from VIPD.
"This collaboration with law enforcement partners is an essential element towards combatting transnational criminal organizations and their illicit activities in our area of responsibility said SAC Arvelo."