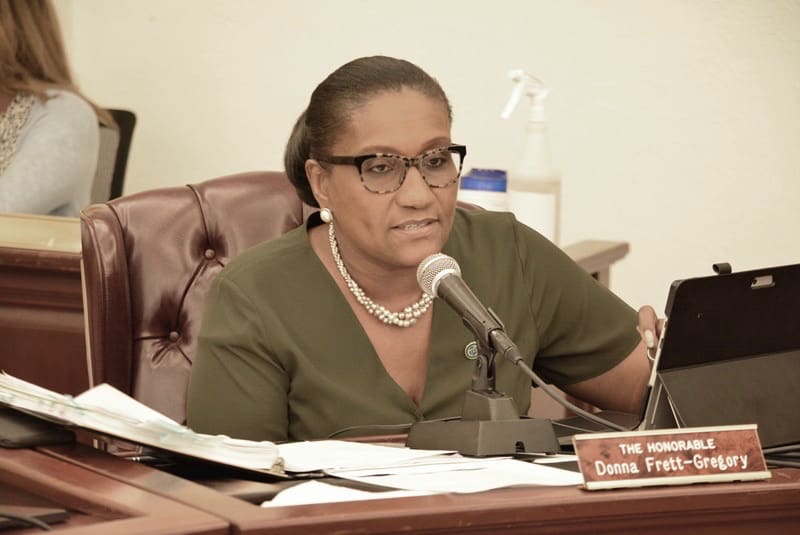 The Senate Education and Workforce Development Committee tabled legislation seeking to regulate homeschooling Wednesday after the bill proved controversial with testifiers. The bill aims to set criteria for parents who have chosen home instruction instead of enrolling their child in public school and to establish a Home Instruction Advisory Board.
The bill was met with criticism from a variety of testifiers, including officials from the Virgin Islands Board of Education, all of whom advocated strongly for the option of homeschooling, but said they would only support the bill if a slew of amendments are added.
While most testifiers agreed with the portion of the legislation that lets parents retain full control over home instruction of a child – including teaching, testing methods, curriculum, instructors and location of instruction – many other aspects were debated.
The main parts of the bill that testifiers opposed, though not unanimously, were the establishment of a Home Instruction Advisory Board and a requirement that parents would need a GED or higher education to instruct their children.
Testifiers said stipulations within the legislation are counter to what most parents exercising their right to an education independent from the public school system are trying to achieve.
"Frankly, all we really need is a very simple one-page Notice of Intent to home educate a child. That is it," said Amy Rose Herrick, president of USVI Homeschoolers. "Instead, to move forward and protect our freedoms to educate our children we have pages of unnecessary rules and regulations created to plow through. It is a heavy responsibility we share for all the territory to protect the freedom of educational choice for parents."
Herrick said the choice for parents to educate their children should come without government meddling.
"The choice to home educate and how best to home educate our children, is a choice that should be made solely by the parents without unnecessary, burdensome or misdirected governmental non-vested interference," Herrick said.
"There is no need for more bureaucratic intrusion when the parent is solely responsible here for the education of each child represented in this bill," she later added.
Herrick did not stand alone in her opinion.
Home School Legal Defense Association attorney Scott Woodruff said, "The bill before you today … contains way too much red tape. It will waste the time of parents and administrators alike. There is too much filing, too much shuffling of papers, too many transactional events that benefit no one."
With its weight of red tape, Woodruff said, the bill "would cause immediate and powerful opposition." He listed more than 25 states where a bill similar to the one being proposed met opposition.
Woodruff said the establishment of a Home School Advisory Board that would have the power to adopt homeschool regulations "was absolutely unacceptable to the homeschool community."
While the Virgin Islands Department of Education was in favor of the bill and the creation of a Home School Advisory Board, the Board of Education was not.
In a submitted letter, Education Board Chairwoman Arah Lockhart said the board had inadequate time to thoroughly review the legislation but did not agree with the creation of a Home Instruction Advisory Board.
The legislation will move forward only at the call of the Education Committee chair and remains in committee for further scrutiny.
The committee did advance a separate bill that aims to codify the ability of homeschool students to receive scholarships. That bill was forwarded to the Rules and Judiciary Committee. Department of Education officials said homeschool students have always been able to receive scholarships, but they added they understood the importance of legislation to secure the right.
Sens. Donna Frett-Gregory, Kurt Vialet, Allison DeGazon, Kenneth Gittens and Janelle Sarauw were present for the hearing. Sens. Steven Payne Sr. and Stedmann Hodge Jr. were absent.