HOPE founder Ivy Moses celebrates the opening of the non-profit's St. John satellite office.
Surrounded by colleagues, friends and well-wishers, Ivy Moses officially opened HOPE Inc.'s new St. John satellite office on Wednesday, December 1, on the third floor of The Marketplace.
It was a fitting day for the non-profit to open its first Love City office, since December 1 also marked World AIDS Day.
Moses founded Healing Others in a Positive Environment (HOPE) Inc. a decade ago. Her determination and commitment to providing sorely needed services to AIDS and HIV patients has helped HOPE Inc. to become a leading agency in the fight against the preventable disease.
HOPE Inc.'s headquarters are in downtown Charlotte Amalie and the group partners with various agencies to offer free AIDS and HIV testing, safe sex kits and counselling across the St. Thomas/St. John District.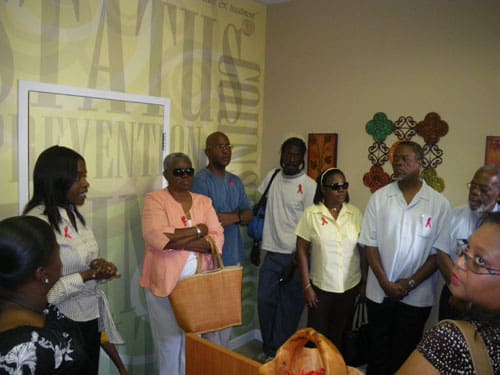 HOPE founder Ivy Moses, at far left, welcomed residents to the group's new St. John satellite office on World AIDS Day, December 1.
Before opening a St. John office, the group offered its services twice a week at the Myrah Keating Smith Community Health Center. With its new office, which will be open Monday through Friday from 9 a.m. to 4 p.m., residents can have access to HOPE's services on a regular basis.
HOPE will also be offering diabetes, heart disease and obesity monitoring and prevention services at its new office, Moses added.
Pastor Carlyle Sampson offered a prayer and dedication as Moses cut a red ribbon on HOPE's door, officially opening the Love City satellite office.
Residents enjoyed a tour of the group's three room office, which includes a reception area, director's area as well as a private testing area. Following the ribbon cutting ceremony, Moses offered a few words about the organization she founded in 2000 and the ongoing struggle to contain the growing AIDS rate in the territory.
"It is a good match to be here opening HOPE Inc.'s St. John office on World AIDS Day," said Moses. "One percent of the USVI population has been diagnosed with HIV or AIDS. In 2006, the Centers for Disease Control and Prevention ranked the Virgin Islands in the top five HIV/AIDS cases per capita in the United States."
"That places the VI in the high-incidence category," Moses said. "There are more than 900 cases of HIV/AIDS in the territory and this year alone HOPE Inc. saw seven new AIDS/HIV cases — five in St. Thomas and two on St. John."
Lifestyle choices and cultural norms have played a part in the high incidence of AIDS and HIV in the territory, Moses added.
"Youth in the Virgin Islands are more sexually active and change partners more often than their peers in other parts of the states," she said. "We have the highest rate of teen pregnancy for girls between 18 and 19 years old. Multiple sex partners, injecting drug use and unprotected sex are the main transmission points of AIDS and HIV in the USVI."
A lack of complete health education and the economic reality of the territory are also factors in the HIV and AIDS rate in the Virgin Islands.
"The lack of comprehensive reproduction education, health information and services coupled with the large portion of the population living in poverty all contribute to the high incidence of AIDS and HIV," said Moses.
Gender specific marketing campaigns and frequent radio and television advertisements are some ways to fight the preventable disease locally, Moses added.
"Routine screenings are needed and necessary," Moses said. "Now there are free services on St. John at The Marketplace five days a week."
Senator at Large Craig Barshinger and Senator-elect Janette Millin Young offered words of encouragement and promises of commitment to Moses and HOPE Inc. Health care officials from the Frederiksted Health Clinic, Morris F. deCastro Clinic, East End Medical Center and YWCA were also in attendance.
Later on Wednesday night, Moses and HOPE Inc. officials hosted a candle light vigil outside their new office in commemoration of World AIDS Day.
For more information about HOPE Inc.'s services, call the new office at 714-1540.