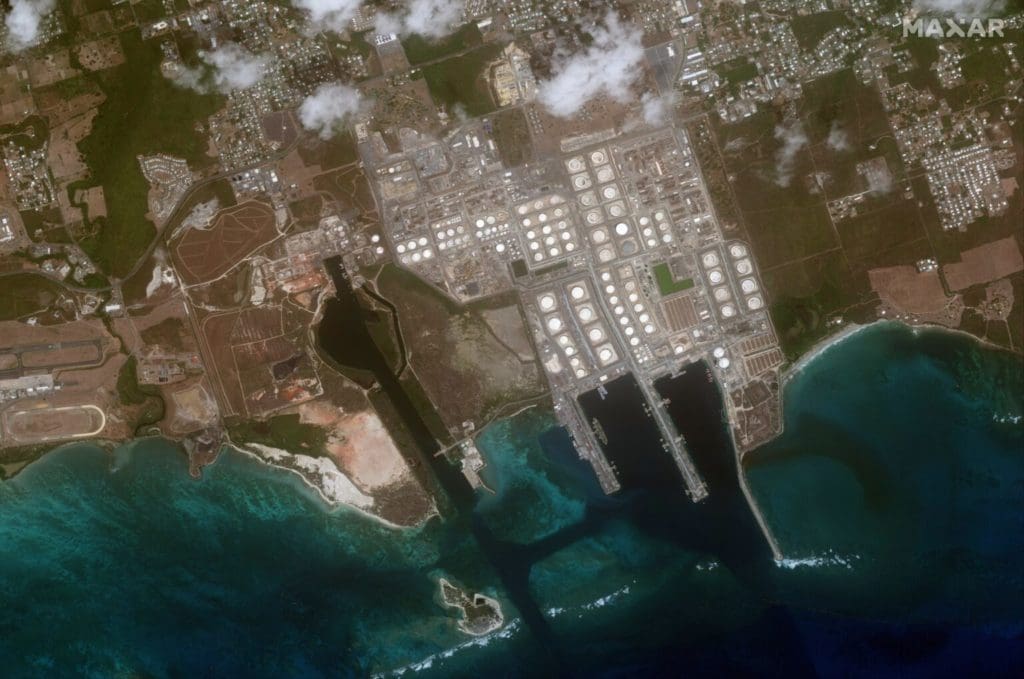 Litigation against Limetree Bay Refinery mounted as Lee J. Rohn and Associates became the third law firm in a week to file a class action seeking recompense for the oil sprays and noxious emissions that have affected its downwind neighbors since February.
More than 200 residents have signed up to be part of the class action, according to a news release from the law firm, which is seeking a stateside partner in Berger Montague, an environmental law firm that successfully represented the class action against the Exxon Valdez pipeline disaster.
By early afternoon Friday more than 100 people a day were coming to the law office, according to attorney Lee Rohn, while just as many were finding the firm through its website.
"I don't think it's the money," Rohn said. "I think the people in the Virgin Islands have had enough. They have all said they want the lawsuit to make sure the refinery is safe. Money can't bring back your health."
[adrotate group="6"]
The legal brief claims personal injuries and property damage due to "unreasonable odors, gases, vapors, and fumes because of Defendants' conduct in operating the Limetree Bay Refinery," and alleges "a blight and nuisance" that lowers residents' property values and prevents them from fully enjoying their homes.
It argues for "a medical monitoring program to be established for the continual screening and detection of illnesses, diseases, or disease processes necessitated by the exposure to toxic wastes released by Defendants, and a diminution in the value of their homes and other real properties."
Rohn said that where people are exposed to chemicals that can make them more susceptible to cancer over a long period, medical monitoring checks for developing conditions so they can be treated as early as possible. A fund is set up to pay for X-rays, chest MRIs and other tests; and if someone gets sick, it pays for their care, she said.
A person's pre-existing condition doesn't matter, according to Rohn.
"Everybody who has lived downwind of the refinery for a long period has a pre-existing condition, asthma, for example," she said. "If their condition is aggravated by a next event, the last person who was responsible is responsible for all."
As Limetree struggled to resume refinery operations after eight years in mothballs, it exceeded the emission standard for hydrogen sulfide concentrations at No. 8 flare on April 19, 20, 21, 22, and 23, at one point by as much as 565 times, according to a U.S. Environmental Protection Agency report.
Limetree insisted in a press release it had released sulfur dioxide only, but during a site visit, the EPA learned it had no S02 monitor to measure the concentrations entering the atmosphere or to confirm that only S02 was released. Nor was it operating five SO2 monitors that it was supposed to maintain in the community.
"Having fought Hovensa and Hess, this is typical," Rohn said. "The reason those monitors are not working is because Hovensa dismantled them because we were using them in court to show what people were being exposed to."
Elevated hydrogen sulfide was again reported on April 25 and on May 5, 6 and 7, and EPA air quality monitors installed around the refinery have recorded elevated levels as the refinery goes through its EPA-ordered shutdown.
An EPA expert confirmed that individuals who were exposed were faced with 'imminent and substantial danger to their health,'" supporting the agency's order to shut it down for 60 days.
Besides monetary and punitive damages, the latest class action seeks an injunction that could potentially go beyond the EPA's, Rohn said, "to prevent the refinery from operating in an unsafe, unhealthy manner."
This is the third lawsuit in as many days against Limetree. Attorney John Dema filed a class action on Thursday seeking compensation for plaintiffs who've lost the use and enjoyment of their property. On Wednesday, plaintiffs represented by Colianni & Colianni, Burns Charest, LLP and the Pate Law Firm filed a class action also seeking medical monitoring and nuisance damages.
As more residents sign on, Rohn said, Limetree "has tons of people going through neighborhoods offering $5,000 if they sign a release that says 'you can't sue us.'"
"Clearly those people have no clue what they are releasing. There is a thing in the law called 'fraud in the inducement.' I think I can get around those releases because it wasn't a knowing release," she said.
The full case filing can be read here: Third Limetree Complaint.