"Waiting To Race"
With artists on both sides of his blood line, it's not surprising that Brian Sage eventually choose to pursue a career in the field. What is surprising is how quickly Sage gained success after deciding to dedicate himself to his art about eight years ago.
"My mother was an art teacher and my grandfather on my father's side was a really smart architect and a cartoonist and painter, so it's in my blood," said Sage. "I think between the two of then, I got an eye for it. My whole life, I've always been the class artist but it was a struggle for me for a long time to figure out what I wanted to do."
Today, Sage is poised to take his painting to the next level, but before the Whitney Museum calls, Sage is calling St. John home.
The former cabinet maker — and tennis instructor, yacht broker and carpenter — moved to Love City about a year ago from Deep River, Connecticut, to repair a family home. After remodeling and selling the wooden house, Sage decided to enjoy St. John for a few months while planning his next move.
"My Prayer"
"When I decided to move here I had been going through some changes at home," said Sage. "I had to put my dog to sleep and I had been in a bad relationship and I looked at moving here as an opportunity to do something different. I fixed up the house and sold it and then just decided to stay."
"I needed a little change and the with the economy, art sales were down, so I thought this was a good opportunity to step away from things and regroup," he said.
While getting a different view of the world, Sage has been soaking up the Caribbean light, which has reflected on his canvases. The classically trained Impressionist — Sage earned a bachelor's degree in fine arts from Rollins College — has started to paint island seascapes and landscapes with light, airy and loose strokes that evoke a relaxed tropical feeling.
In "Waiting to Race," for instance, a group of people on shore anticipate the start of an island sloops race with towering green hillsides that recede into a soft sky. But while the objects in the painting are instantly familiar to the viewer, light alternately plays off the boats' sails and hints at shadows and reflections just out of sight.
"Bryant Park"
A detailed story is easy to conjure from the scene, which is no accident. Sage's paintings can be somewhat deceptive. Since his paintings are so pretty, it is easy to simply appreciate the canvas.
But taking a step back reveals intricate brush strokes which direct the viewers' eyes and tease out emotions.
"I paint landscapes and seascapes and city-scapes, but the focal points of my work are usually figures," said Sage. "They are very subtle sometimes, but the relationship to one another between the figures and their relationship with their environment is the main focus.
Everything supports the mood — the tone and the color."
"I want to create something beautiful and have it be mysterious and thought-provoking," he said.
Sage learned some of his technique and was certainly influenced and inspired by a Massachusetts painter named John Terelak. As Sage tells the story, back before he pursued painting as a career he was working as a cabinet maker in Boston.
"The Launch"
At the time, Sage had just started to paint at night in his apartment and knew he wanted to do something different when a day off found him strolling through the streets of the artist haven Rockport, Mass., where he stumbled upon a window display that changed his life.
"I was just strolling around Rockport when I saw in a window these amazing paintings," said the artist. "The paintings had a lot of atmosphere and mood and emotion. The strokes were loose and painterly and as I was staring at the paintings in the window, I knew I had to go in this direction."
The artist who so captivated Sage was John Terelak, who is widely regarded as one of the most influential living American Impressionist painters.
"I went inside his gallery and asked if John taught workshops or took on students, but I was told he kind of keeps to himself," said Sage. "I pleaded my case with the woman who worked there and I was saying things that I wasn't totally convinced of myself, but I was convincing her."
"I was about to leave and she said, 'wait, every so often, he'll take on a student,'" said the artist. "She gave me his number and I called him the next day and told him about myself."
Once Sage got Terelak on the phone, he pleaded his case to the esteemed painter and heard himself saying things aloud that he had only begun to think to himself.
"The Muse"
"I told him how much I loved his work and how that was the direction I wanted to go in and how unsettled I was at the time," Sage said. "I told him how I had started to paint and I asked about classes and for the first time I was materializing that I was really serious about this. It takes interacting with the right person to bring that out of you."
"There was a pause and he said, 'I'm going to help you,'" said Sage.
Sage met Terelak a few days later and started a lasting mentorship and relationship that would have a profound effect on the young painter.
"He is this big, burly ex-football player," Sage said about Terelak. "He taught me painting almost like a football coach. He gave me a stack of books and told me to copy a painting out of one of them and come back next week."
"From that point on we met probably a few times a month for the next three years and after that when I had moved away, we'd always meet up and we became really good friends," said Sage. "We went on painting trips to Vermont and the Bahamas. He and his wife are like my family now."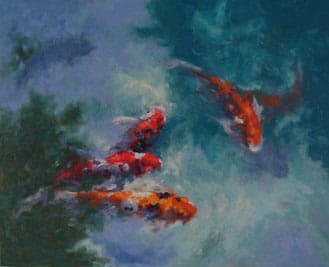 "Koi"
Through his friendship and mentorship with Terelak, Sage gradually grew more confident in his art and has pursued painting as his full time work for the past eight years.
Now 35, Sage's work is featured in six galleries across the country and graces the walls of offices and homes from Lexington Avenue, NYC, to La Jolla, California. On St. John, Sage's work can be seen on the walls of Happy Fish on the second floor of The Marketplace.
The next step for the artist will be either graduate school, large commissions or living in an artist community stateside, he explained.
"I've applied to graduate school because I'd like to teach at the college level," he said. "But I'd also like to be in a community of artists where it's really creative."
No matter where he ends up, Sage is confident that it will be the right place for him.
"I'm going to let life figure me out," he said. "I'll put the intent out there and work hard and I'm going to let things in my life evolve naturally. Like a tree that doesn't rush to grow to reach its full potential."