Thousands of public school students made their way back to brick and mortar schools across the Virgin Islands Monday. Some made it into classrooms while others stood in long lines or car queues, waiting for a COVID-19 test.
At the other end of the wait, principals and school staff welcomed their students, who took turns handing over paperwork and having their temperatures scanned. Still, others remained in the world of virtual learning, at the parents' request, one administrator said.
Some educators said they were pleasantly surprised at the first-day turnout. Others said they had to stagger admissions in order to get each student through the process.
Primary students in public schools, grades K-3, have had in-person instruction since the start of the school year. As the Omicron variant of Covid-19 swept across the Virgin Islands at the end of 2021, those classes went virtual for two weeks, said Lockhart Elementary School Principal Audrey Bowry.
[adrotate group="6"]
Younger students were the first to undergo testing, a requirement to resume classroom learning. By Monday, at Lockhart, they were ready.
"The first day ran pretty smoothly. We didn't get as many students as we expected, but we hope to see more tomorrow," Bowry said.
At the Julius E. Sprauve School on St. John, administrators opened a side gate, giving students access to the campus one by one. School crossing guards greeted students as they got off the yellow school bus and lined them up for the walk to the gate.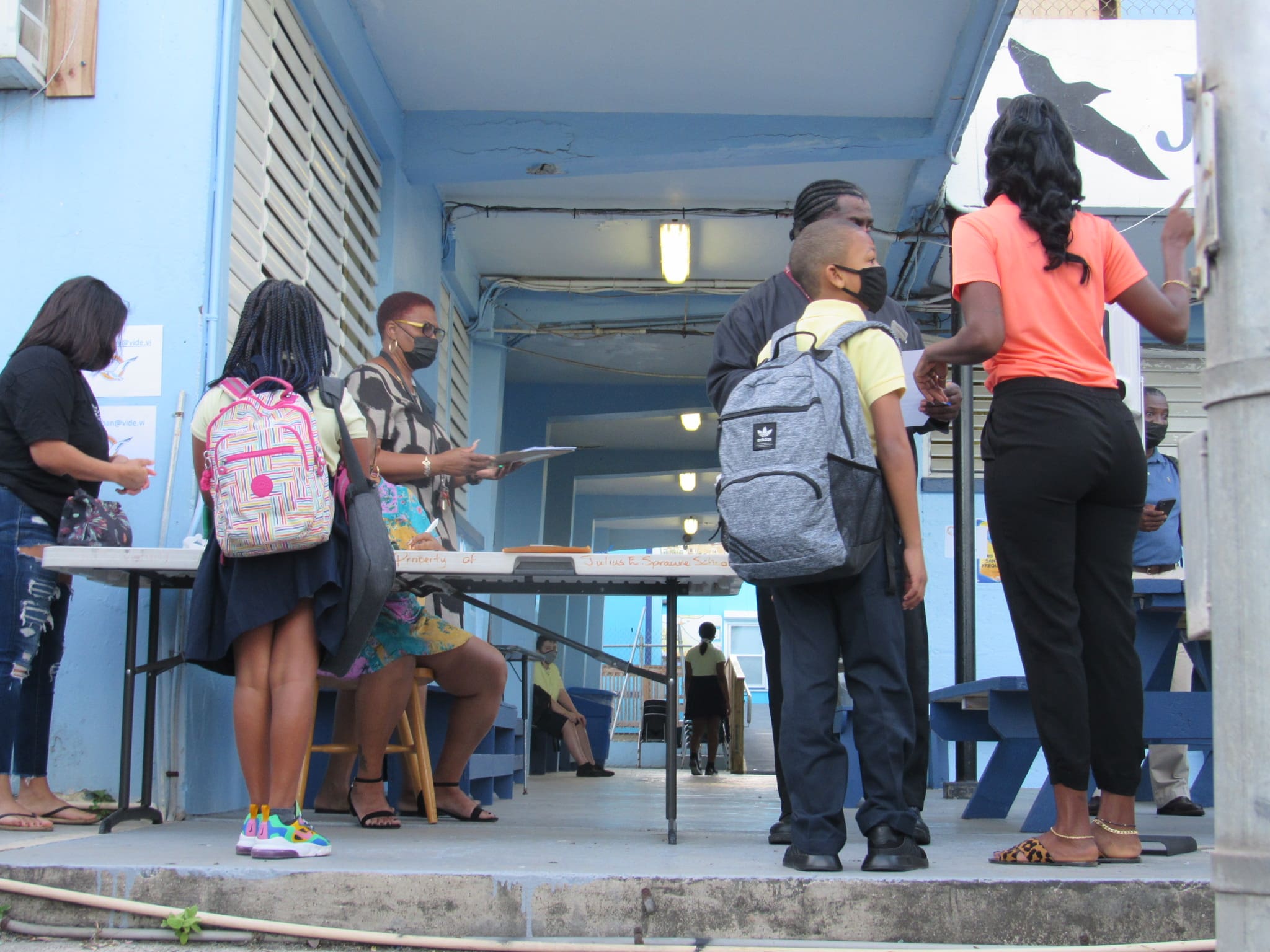 Other Sprauve students arrived by ferry from St. Thomas, in the company of parents. Iesha Dawson said she, for one, was glad to see sons Demani Chitolie and Amir Joseph go back to in-person school.
"I wish it had happened sooner, but we're going to take all the precautions we need to; wearing masks and getting tested," Dawson said.
Some other older students said they were going back to class after virtual learning but were sitting in the classroom earlier this year. Seventeen-year-old Junior Fenelon stood on the testing line on the campus of Joseph Gomez Elementary School Monday, along with his mother.
Junior, a 10th-grader, said he was one of those attending in person.
Mother Marie Fenelon said she spent some of Junior's virtual class time at home, trying to make his laptop work.
"I'm working with him and the laptop for the fall schedule. The laptop was just working, but when he's in class, he gets everything," the mother said.
It took a few more minutes before mother and son stood before Health Department medical technicians, answering questions and taking a COVID-19 nasal swab.
A long line of patient families waited for their turn.
Back at Kean High on Monday, there was a virtually empty campus. Two school employees stood chatting near a bench by the main building entrance. One told a visitor high school students would come back on Thursday and were getting their COVID tests Monday.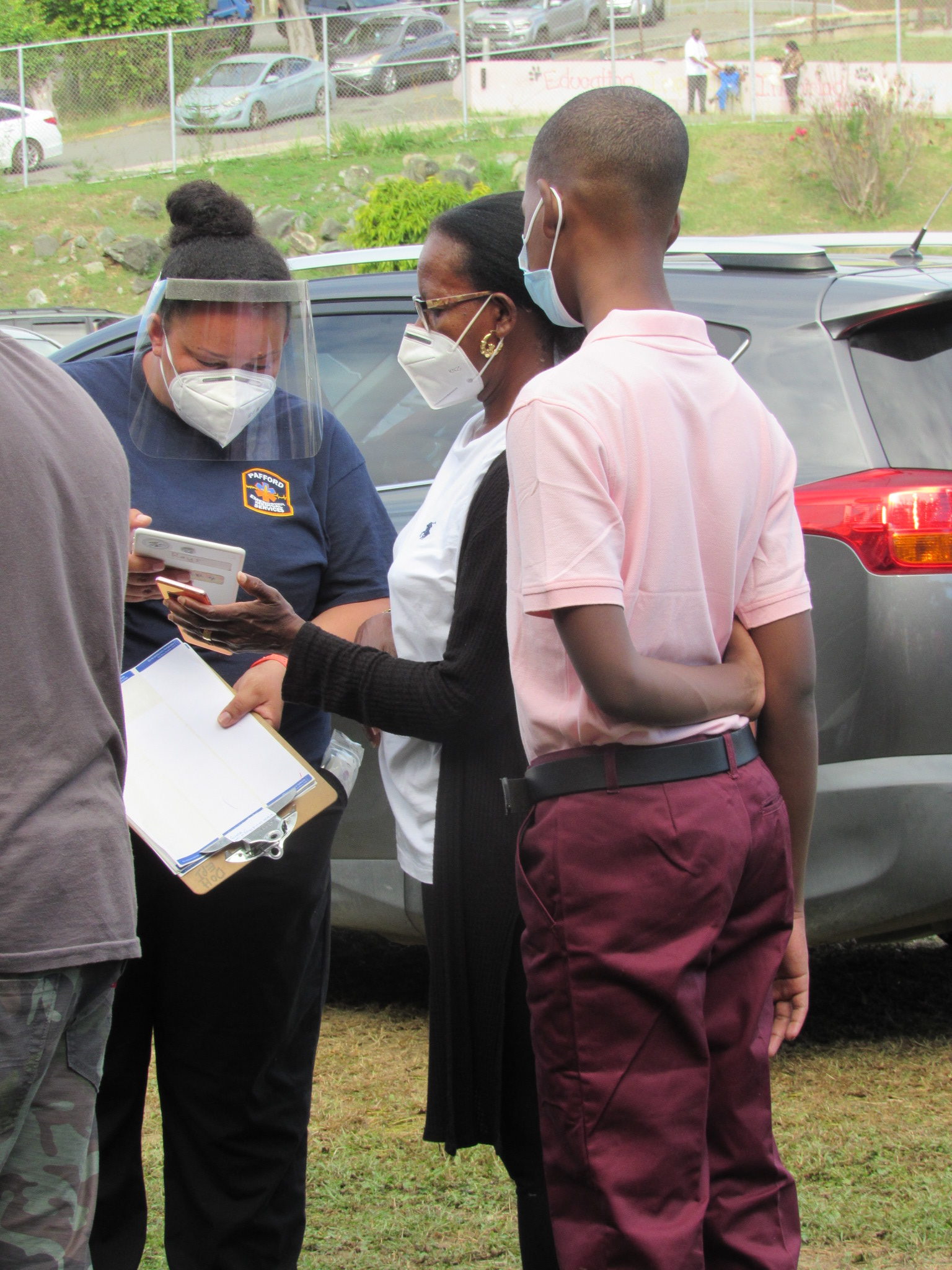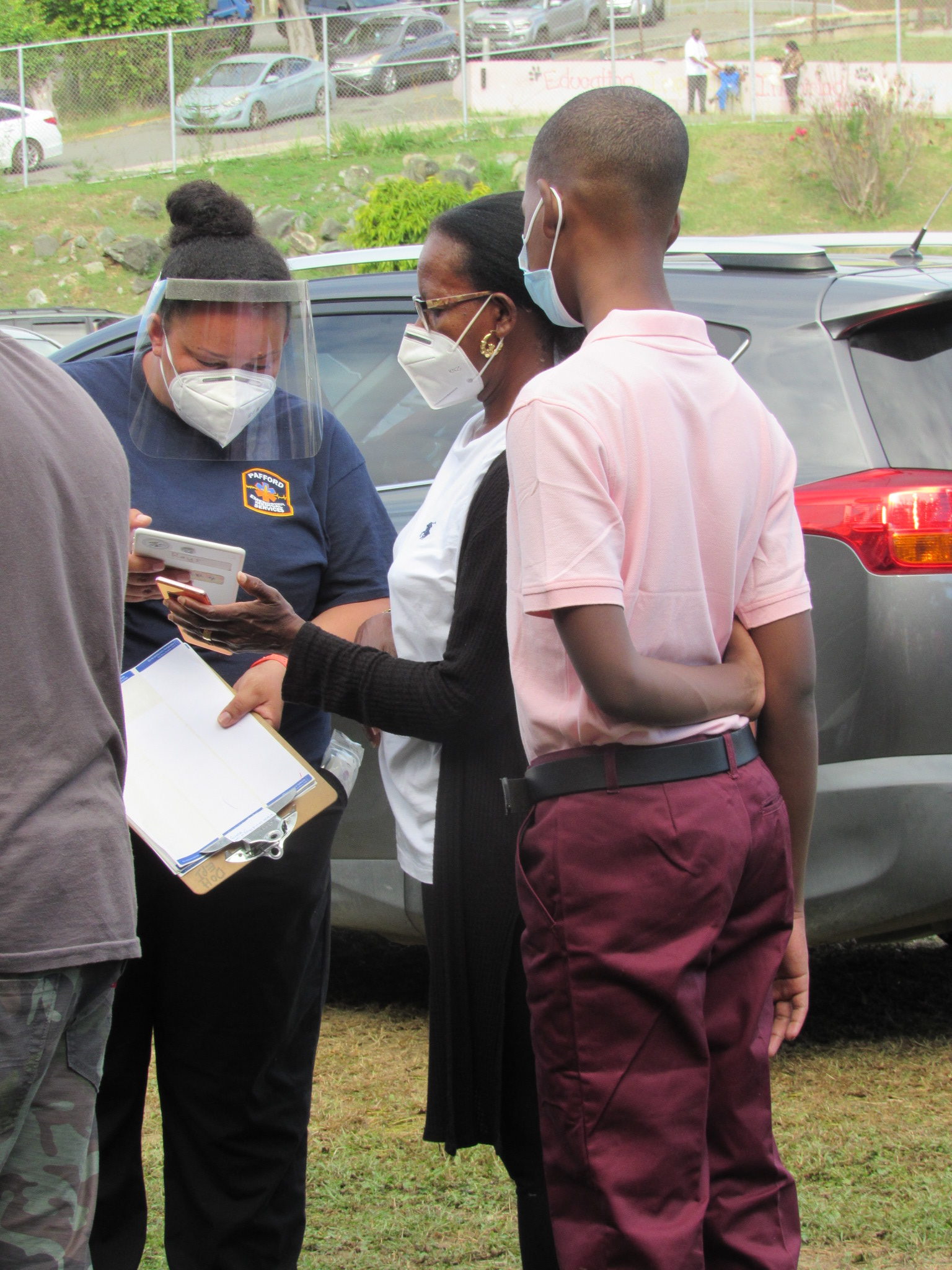 At the Addelita Cancryn Junior High School, Principal Lisa Forde said she was also expecting to welcome returning students on Thursday. With an enrollment of 800 students, the principal said Cancryn administrators would work with returning students in groups of 200-300.
The first to arrive on Monday were seventh- graders. "We were expecting 214. Two hundred showed up," Forde said.
Students in grades 4 to 6 — about 300 — are expected on Wednesday, with eighth-graders coming in on Thursday.
When the public three-school St. Thomas campus formed after Hurricanes Irma and Maria, Cancryn absorbed the upper primary grades that were once part of Lockhart School, along with Lockhart's main building. "It's a hybrid. It gave me a chance to work with these children," she said. Charlotte Amalie High School is the third school on the campus.
And while virtual learning has ended at Cancryn with the resumption of classroom instruction, it continues at Lockhart. "We now have students who have purely in-person, and we have purely virtual classes. It's the parent's choice," the principal said.