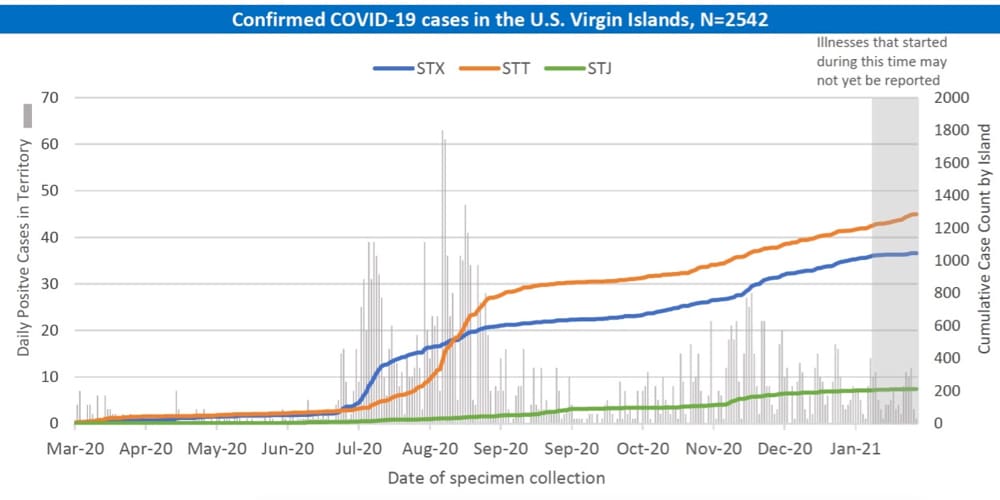 After many weeks of puttering along with five to 10 new positive COVID-19 test results per day, St. Thomas is again trending upward, outstripping St. Croix. According to the Health Department, Feb. 13 saw 15 new confirmed cases on St. Thomas, while St. Croix saw one new case since the previous, Feb. 11, report.
St. Thomas has had 10 to 15 new confirmed cases every day since Feb. 9. Before then, the St. Thomas numbers hovered between two and eight cases on most days.
The percentage of tests coming back positive for the virus is trending up again, too. But it remains well below 5 percent, putting the territory ahead of much of the nation.
The territory marked its 25th confirmed fatality from the disease on Feb. 10. The 24th confirmed fatality occurred at the beginning of January. Those figures do not include patients who left the territory for treatment.
The current upward trend indicates that it remains necessary to follow the recommended precautions: Avoid large gatherings, particularly indoors; maintain a distance of six feet; avoid physical contact, such as hugs or handshakes, with people outside of your immediate household; wash hands frequently; and wear masks when forced to be indoors with others, such as when shopping.
Vaccinations continue as Health Department officials work to distribute doses of the vaccine through tiered phases which are described on the department's website here. Currently, Health is in Phase 1A and 1B of the vaccination rollout, which includes but is not limited to healthcare workers, many government departments, and people over 65 years of age.
Meanwhile, new treatments are improving outcomes. In November, the U.S. Food and Drug Administration authorized the emergency use of Bamlanivimab, Casirivimab and Imdevimab, which are monoclonal antibody treatments designed to block viral attachment and entry into human cells. These antibodies neutralize the virus and can potentially treat patients with COVID-19. The antibodies were identified from blood samples taken from some of the first patients who recovered from COVID-19 in the United States.
The territory has these new drugs in its arsenal now and reportedly those patients treated with them have done well.