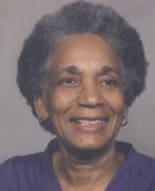 Iona E. Nibbs-Williams of St. Thomas, Virgin Islands, died on Sept. 9.
She is survived by her daughters: Andrea E. Williams-Ruan, A. Louise Williams-Vincent, Lena A. Williams-Nibbs, Linda M. Willams-Jackson, Patricia A. Williams and Elsa Corinne Williams: and grandchildren: Lennise and Lennie Reed, Arlene Williams-Tatum, Christine, Daniel and Quianna Nibbs, Chanél Bailey-Ross, Jemila Benjamin, Asar Gregory, George and Cherelle Williams, Esau, Sayif, Jahnyah and Shaqueena Brooks.
She is also survived by great-grandchildren: Adejah Myers, Faith Joseph, Nevaeh Nibbs, Gabriel and Lando Eloi, Zevroy Halliday, Kinyah and Kinylah Williams, Amira and Geron Stokes Jr., Emelia Brooks, Amir and Ayden Isaac; sons-in-law: Simon Vincent and Henry Jackson Jr.; grandsons-in-law: Pastor Lorrie Tatum and LeRell Ross.
Other survivors include granddaughter-in-law, Natalie Yeager-Brooks; sisters: June Nibbs-VanHolten, Delores Nibbs-Daniel, Arona Nibbs and Amona Nibbs; and special friends: Bernice Gomez and family, Liston Gregory Jr., the Robles, Callwood and Nibbs families, and the Holy Trinity Lutheran Church family; as well as a host of extended relatives and friends too numerous to mention.
Face masks and observance of COVID-19 protocols will be required.
A viewing will be held on from 4-6 p.m., Thursday, Oct. 7, at Turnbull's Funeral Home. The funeral service will be held at 10 a.m., Friday, Oct. 8, at Frederick Evangelical Lutheran Church. Interment will be at Western Cemetery No. 2.
In lieu of flowers, donations may be made in her name to the Frederick Evangelical Lutheran Church 355th Anniversary Stewardship Campaign. Donations may be dropped off at the church office or made on the website at https://felcvi.org .
https://www.turnbullsfuneralvi.com/
Funeral arrangements are by Turnbull's Funeral Home and Crematory Services.