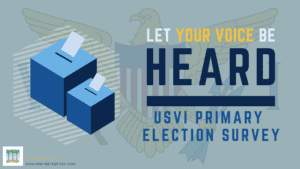 Island Analytics and Marketing LLC continues with the 2022 USVI Election polling and has launched its Primary Election survey. This survey will collect the opinions of USVI residents about the candidates running in the Aug. 6, 2022 primary elections. Like the previous survey, residents will select their candidate of choice for the gubernatorial and senatorial races. Residents will also be able to choose their candidate of choice for the senator-at-large race.
Island Analytics and Marketing (IAM) is conducting these polls to provide the community with a way to assess the performance and engagement of candidates during the election process. Interactive data on the polling results will be available from June 30 until the Primary Elections on Aug. 6 on IAM's website at www.islandanalyticsvi.com.
Participation in this and future election surveys will be anonymous. The USVI election survey is open to USVI residents to participate: https://www.surveymonkey.com/r/USVI_Primary2022
Island Analytics and Marketing is a company based in the U.S. Virgin Islands that seeks to build an in-depth understanding of the Virgin Islands' unique cultural, socio-economic and political landscape. Its vision is to see a "data-driven US Virgin Islands."
For more information on Island Analytics and Marketing, visit www.islandanlyticsvi.com or email islandanalytics.vi@gmail.com.