It's good to be home.
While traveling recently in California, I was able to see many different types of green energy and energy-saving devices in action.
I started the driving portion of my trip to Merced, California from San Francisco. I rented a hybrid car from Hertz, a four-door Ford Focus. What a nice car! Very comfortable and quiet, and also lots of power. It has a display that grades you on your acceleration, braking, and cruising habits. Give the car too much gas and you will see your grade drop dramatically; ease up on the accelerator and you will see it increase.
In a hybrid car, braking is also used to generate power, so you need to be mindful of how you brake: too fast and you lose energy; nice and slow and you gain energy. You are also graded on your cruising speed—if you travel down the highway faster than the speed limit, you'll lose energy and reduce your grade. If you follow the speed limit (or close to it), you'll see how your energy consumption will be less than it would at a faster speed.
I had about 150-mile trip to Merced, so I reset all the odometers before I got going. As I started out, my mileage per gallon of gasoline was 36 MPG. As I traveled along the highway, I saw that number slowly increase to 38, 40, and then up to 42 MPG.
Now, I am not sure how well this car would handle on the hills of St. John. I highly doubt it would get 42 MPG!
Only about 20 miles west of San Francisco lies one of the world's largest wind-generating farms. On the hills off of I-580 in an area called the Altamont Pass, it is the oldest wind farm in the United States and at one time produced nearly half of our country's wind energy. It started in 1981 with just a few windmills, and within a year there were 400 of them. Now the farm has 4,930 of these windmills for a total capacity of 570 megawatts! (Yes, this farm would be able to power all of the Virgin Islands!)
Of course, wind energy does have drawbacks—the wind generators have been killing lots of birds, especially golden eagles. The good news is that Google has just purchased the Altamont wind farm to power its Googleplex, the company's corporate campus. Google plans on replacing many of the old wind generators with new technology that is less lethal to birds. The newer generators will stand about 450 feet tall, and each one will produce enough power to replace 23 of the old type of wind generators. The newer ones feature a much slower type rotational blade that uses constant velocity, so it will spin more easily and more slowly, with better efficiency.
I was also able to tour the University of California's Merced campus, where my son is the director of project management for the school's expansion. It is a state-of-the-art campus that is LEED (Leadership in Energy and Environmental Design) Platinum Certified for energy consumption, energy savings, and environmental design. UC Merced is the only university in the country to have this certification for the construction of every building on campus.
Before the buildings were even started, UC Merced was designed as a sustainable campus. The school has its own 2-megawatt solar array. All of the windows have eyebrow shading to minimize the sunlight coming into the building so it does not heat up classrooms, reducing the need for air conditioning. The buildings' colors are all in natural shades, dark brown and light brown, to match the natural landscaping around the campus. They have also incorporated stainless steel siding, glass panels, and plastered cement finishes that will not need to be painted and will not corrode in the outdoor environment.
The campus even has a Water Watch board with data online so everyone can monitor how much water is being used on campus. Between 2014 and 2015, UC Merced was able to cut water consumption by 52% with everybody's help on campus. I am sure some villa owners would love to have a Water Watch board of their own!
Students are encouraged to show and share their commitment to sustainability with others on and off campus by becoming "eco-reps" as part of a peer-to-peer sustainability education program. I was able to see this firsthand, engaging with students about solar energy and other sustainable energy devices. These students are learning what needs to be taught in today's world about living sustainably and efficiently.
Watching these young students at work, it sure makes me feel like our country is on the right path with teaching sustainable living and energy independence.
For a greener tomorrow,
Dan Boyd
Lovango Cay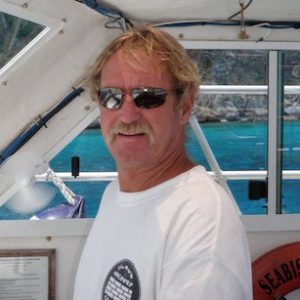 Dan Boyd of Island Solar is a Virgin Islands Energy Office authorized vendor. For more information, call Boyd on his cell phone at 340-626-9685 or by email at islandsolarvi@gmail.com.