It's not often one sees so many smiling faces early on a Monday, but a crowd of excited shoppers lined up outside Starfish Gourmet and Wines on Monday morning, November 5, for the store's ribbon cutting and grand opening.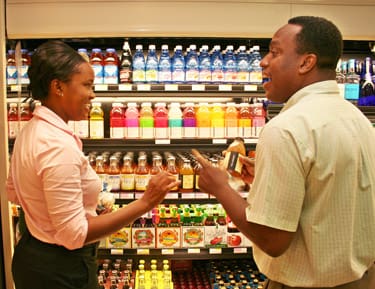 Featuring an impressive array of high-end merchandise from imported truffle oil to micro-brewed ales in a brightly tiled interior, the new addition to the first floor of The Marketplace was well-received.
"It's really nice," said Stefan Cortello, who along with infant son Sebastian, was one of the first customers to enter the store.
"I just love it," Debbie Hayes said. "I love the sauces and the seasonings and all the gourmet items — oh and the wines. I can't wait to dive in here with my pocketbook."
"I'm impressed," said Eileen Victor. "And it's not easy to impress me, I'm a New Yorker. I was hoping they would have some nice high-end frozen foods and they do."
"I also like the utensils they have available," Victor added, pointing to the aisle of wine openers and sundry items. "That's nice to offer."
With the shelves filled with every type of imported delicacy from around the globe, shoppers should take their time and check out all the store has to offer, explained Starfish Gourmet manager Paul Tsakers.
"There are treasures all over this store including down on the bottom shelves," Tsakers said. "People should not forget to check down deep."
A combination of new hires and experienced employees of Starfish Market made the run-up to the opening a breeze, Tsakers added.
"We have such a lovely team," he said. "Everyone contributed to making this happen. Everyone in this family is so excited."
The new shopping option is just what the community needs, according to the store manager.
"This is going to be great for the community because we are all becoming food adventurers," he said. "We have so many items that will contribute to the fun and festive lifestyle that our residents enjoy."
The store offers something for everyone. Oenophiles will delight in the array of wines while non-drinkers will be pleased to see the shelves stocked with a wide variety imported sparkling beverages and lemonades.
Those with international tastes will welcome the selection in the Greek and Italian sections and anyone who appreciates good olive oil will appreciate the extra virgin fill-your-own option which includes a glass bottle with pour top. And the price can't be beat. The first fill is only $12.95, with re-fills a mere $9.99.
With duck breast, rabbit sausage and prosciutto also in abundance Starfish Gourmet and Wines is a bit like having an alimentari and a boucherie rolled into one.
And dessert lovers won't want to miss the large selection of confections available as well. So add chocolaterie to that list.
If some of the offerings sound daunting, starting small can be the way to go with a jar of caviar, salmon roe or truffle aroma, explained Tsakers.
"People should enjoy something special every single day," said the Starfish Gourmet manager. "Either a confection, a drizzle of oil or a small garnish, people can find that special something here."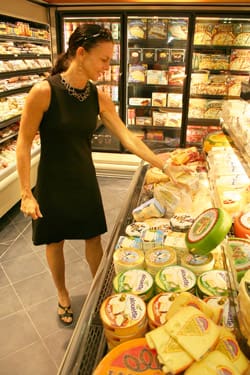 Check out Starfish Gourmet and Wines on the first floor of The Marketplace, open daily from 9 a.m. to 9 p.m.