If you've ever toyed with the idea of getting a tattoo, now is the time to do it. Octopus Ink owner and tattoo artist Pat Mazza is ready to leave her mark on island residents at her shop, which opened at the Raintree Court in June.
The tattoo artist, who has been a sketch artist and painter "since day one," she said, has been living on St. John off and on for the past five years. Mazza, who was educated at the School of Visual Arts in New York, got her start in the tattoo business when a friend of her brother's opened a tattoo shop.
"I was here at the time, and my brother's friend mentioned he'd like to have me apprentice with him," said Mazza. "I apprenticed for one year, then came back and worked at Virgin Ink on St. Thomas for a couple years."
Mazza traveled back and forth between the islands and New York, where she worked at Murder Ink in Queens. The tattoo artist looked at a few potential places to open a shop on-island, when she came across the perfect space, located under the Fish Trap.
Mix of Locals, Tourists
"I decided to act on it," said Mazza. "I like this place. It's really quiet."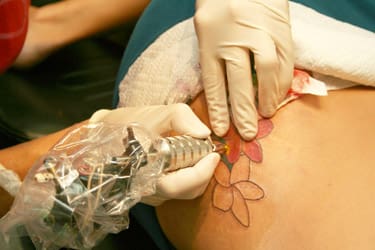 Since then, business has been steady, with a good mix of both locals and tourists coming in to get inked by Mazza. Vacation is a great time to get a tattoo, she explained.
"Tourists finally let their guard down on vacation," said Mazza. "They take a deep breath and realize it's okay to get a tattoo."
Word of mouth has been a big source of business for the local tattoo artist, and her signs directing patrons through the maze of stairs and hallways to her shop has helped as well. Mazza estimates she's tattooed nearly 30 people so far.
The diverse artist can help a customer design a tattoo in several different ways. Customers can bring in an image they like, describe what they're looking for, or find an image in one of Mazza's many different books or on her computer.
"I try to be as versatile as possible," said Mazza. "Anytime I feel myself giving myself limitations, I try to change my thinking and say, 'how can I keep on doing this and make it fun?'"
The tattoo artist's forte is Asian art, but she can do almost anything. Mazza does draw the line, however at tattoos that are too small.
Affordable Tattoos, Clean Standards
"I won't do anything too small, because it won't look good in five to 10 years," she said. "I don't want somebody seeing what looks like an ink blotch that looks terrible years later."
Mazza also will not force her customers into getting a design they are not completely happy with.
"I try not to do something if the person is not ecstatic about it," she said.
The artist has several ink colors and can create any color imaginable. She also keeps up with the latest techniques and technology by keeping current with trade magazines. Mazza is very "clean conscious," she said, and must submit to inspections by the V.I. Department of Health to ensure her sterilization techniques are up to par.
Tattoos at Octopus Ink start at $50, and the average tattoo costs $150 to $200.
"I give really good deals for larger work because I need it for my portfolio," Mazza added.
Octopus Ink is open Tuesday through Saturday from noon to 8 p.m. Walk-ins are welcome. For more information, call 777-9954.
Go to: stjohntradewinds.com/forum to discuss this story on our forum.