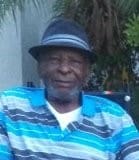 Jacob "Revlay" Luke died on Aug. 9.
He was preceded in death by his mother Virginia Henry Luke, father Daniel Luke and wife Floretta "Cynthia" Luke.
He is survived by his sons: Rev. Leroy Luke, Patrick Luke, Dean Luke, Barrymore "Garry" Luke, Bryan Luke and Dexter Luke; and daughters: Jacqueline Luke, Camille McGann, Roslyn Luke, Angelique Maria Luke, Carol Frederick, Joan Rawlins and Elese Andrews.
He is also survived by son-in-law: Steve McGann; daughters-in-law: Elzar Luke, Wendy Luke, Peggy Luke and Charlene Luke; 38 grandchildren; 30 great-grandchildren; along with many other families and friends too numerous to mention.
A service will take place at 9 a.m., Monday, Aug. 23, at Faith Wesleyan Holiness Church. Interment will be at Eastern Cemetery, Smith Bay.
Funeral arrangements are entrusted to Turnbull's Funeral Home and Crematory Services.